Twitter Can't Get Enough Of This 'Jesus Christ Superstar' Breakout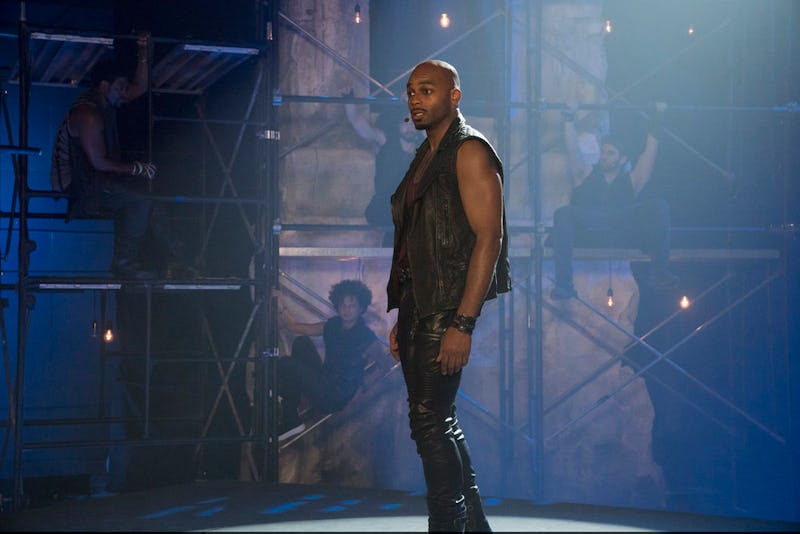 NBC
NBC's live musicals tend to have a healthy mix of popular artists and Broadway veterans — and Jesus Christ Superstar Live In Concert is no exception. The televised concert of Andrew Lloyd Webber's hit is anchored by a performer who previously made waves in Hamilton, and in the news. Brandon Victor Dixon plays Judas in Jesus Christ Superstar after making quite an impact as another historical antihero, Aaron Burr.
Not only is Dixon the replacement Aaron Burr in Hamilton, he is the cast member who delivered Lin-Manuel Miranda's message to Mike Pence when the Vice President was in the audience of the Broadway play. Dixon read:
"We, sir, we are the diverse America who are alarmed and anxious that your new administration will not protect us, our planet, our children, our parents, or defend us and uphold our inalienable rights," he said. "We truly hope that this show has inspired you to uphold our American values and to work on behalf of all of us."
His theatre credits are out of control amazing, too. Dixon was nominated for a Tony Award for his Broadway debut as Harpo in The Color Purple. He then went on to star in Motown: The Musical as Barry Gordy, Of Mice And Men, Hedwig And The Angry Inch, and Shuffle Along, Or The Making of the Musical Sensation of 1921 and All That Followed just before stepping into Leslie Odom Jr.'s shoes at the Richard Rodgers theater.
Wondering who he is, but not a Broadway baby yourself? Dixon has been seen on television in Power as Terry Silver, in The Good Wife, Law & Order: Criminal Intent, and in two episodes of One Life To Live.
While it makes a certain vocal range and infamous historical figure sense that he was cast as Judas after playing Burr, he is a well-established performer.
"The thing I love about this piece is breaking apart the mythology of these archetypes," Dixon said in an interview with The Wrap. "And being able to dive into the truly human elements of love and duty. And looking at the different sides of these archetypes of Jesus, Judas and Mary. So for me, Judas in many respects is an anti-hero in the same way that Burr was. So the thing I enjoy here is being able to reveal the color of Judas, since people have a very concrete limited view of who that archetypal figure is supposed to represent."
"What I've learned is that Judas is far less culpable of the things that he is accused of than people assume," Dixon told The New York Times in a recent interview. "Judas feels acutely a perversion of the message, and he also feels the danger of the message getting out of control — of dedication and love and unity and community turning into fanaticism and zealotry."
Want more of this incredible singer, already? Here's Dixon singing some Adele.
Here he is singing "Being Alive" from Stephen Sondheim's Company.
In 2017, Dixon and his Hamilton replacement costar Mandy Gonzalez took on "One Second And A Million Miles" from the Bridges of Madison County musical at Miscast — an annual gala in New York City where Broadway performers sing roles they wouldn't otherwise be able to thanks to their gender or race, etc.
Oh and, you know, if you weren't obsessed with him already, Dixon threw in a Black Panther reference by doing the Wakanda salute during his bow. Amazing!! Nerd worlds collide.
Hopefully Jesus Christ Superstar Live In Concert leads to Dixon getting even more work and face time in our lives. He is an incredible performer and this was a perfect role. Do it for the sequins alone, Hollywood, honestly.