Why 'Jesus Christ Superstar' Looks COMPLETELY Different From Every Other Live TV Musical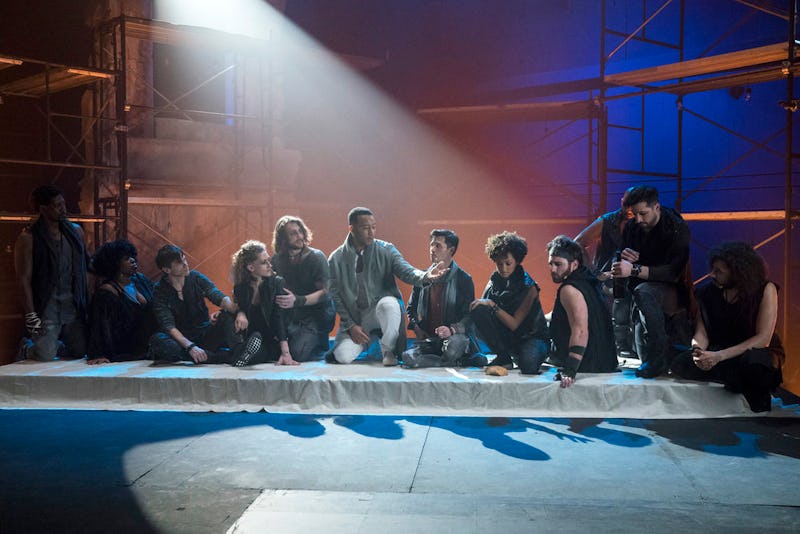 Virginia Sherwood/NBC
Television's latest live musical extravaganza, Jesus Christ Superstar: Live In Concert, airing April 1 on NBC, is taking risks that are so ambitious, they just might work. In an armory in Brooklyn, an array of artists are coming together for an explosion of sound, color, and music that might feel more like watching a high production value jam session than seeing a Broadway musical. Why is NBC's Jesus Christ Superstar a concert? The artists behind the event revealed all of the rock and roll details that will set this Easter Sunday event apart at a recent press event.
The show itself began as a concept album in 1970 from composer Andrew Lloyd Webber and lyricist Tim Rice. Jesus Christ Superstar premiered on Broadway the following year, starring Ben Vereen as Judas, and ran for three years. A film was released in 1973 with much of the original cast. It follows Jesus through the last week of his life, making it an appropriate project for the Easter holiday. Or is it?
"I'm f*cking up Easter," says star John Legend at a roundtable interview. He's referring to how his own family traditions will be set aside as he takes on the titular role of the Savior in the musical concert — but the network's latest live musical/concert is breaking the mold in exciting ways. "There's some aspects that will remind you of musical theatre," he says, "but it is a bit of a hybrid. I don't think it has to be one or the other. We are embracing the concert feel."
"We've been doing these live musicals for five years now," says NBC Entertainment chairman Bob Greenblatt at the top of the press conference. "Each time we do one, we learn more about how to do them." The creative team also caters each production to the source material being performed. "Since this is the original rock musical/rock opera," he continues, "we're calling it 'in concert.'"
Executive producers Marc Platt and Neil Meron noted that for them growing up, Jesus Christ Superstar was one of the rare Broadway musicals that broke through the mainstream and was even played on the radio. The song "I Don't Know How To Love Him," sung by Yvonne Elliman as Mary Magdelene in the show, was released as a single and a cover by Helen Reddy climbed the Billboard charts as well. So framing the show as a concert, especially with concert artists like Legend, Sara Bareilles, and Alice Cooper at the center, just makes logical sense.
Musical theatre nerds may jump at the opportunity to explain what a concert version of a stage show is, but even they won't be 100 percent right when it comes to JCS Live. Those who grew up with the Les Miserables 10th Anniversary Concert (or the 25th Anniversary Concert that featured Nick Jonas as Marius, fun fact) or Chess Live In Concert starring Idina Menzel and Josh Groban will be surprised.
Access Hollywood contributor and Turner Classic Movie host Dave Karger, who moderated the press conference, put it in that context with this question:
If one end of the spectrum would be John Legend, Alice Cooper, and Sara Bareilles standing with music stands, performing the show and the other end of the spectrum is the insanity that was Hairspray [Live!] with all the cameras moving and the sets and all that, where does this one fall?
The answer? Something in the middle of that. For one thing, there will be an audience that will react to and interact with the performers. Those who cringed at home when songs ended to dead silence during the earlier NBC live musicals can breathe a sigh of relief there. There will also be 32 instrumentalists on stage, the first time live musicians have been used in an NBC live musical. The band includes seven rock musicians, seven players dedicated to the original score, and a string quartet within an orchestra of eighteen. Honestly, that's larger than the average Broadway pit these days. It's a massive undertaking.
"Our job is to send that entire voltage through a television screen," said director David Leveaux, who described the production as "organized reckless television" and has worked primarily as a stage director.
The fact that the musical is sung-through, meaning that there is no additional dialogue outside of the music (similar to contemporary musicals that followed including both Rent and Hamilton) makes the "concert" easier to sell to an audience that may not be familiar with the subject material.
There will, however, be dancing. Inspired by the idea that prayer can be "both very specific and universal," choreographer Camille A. Brown promises the incorporation of "social dances" ranging from a New Orleans style called second line (which is associated with funeral processions) to some choice '90s hip hop moves.
"I'm so excited that we have a live audience to work with and feel the energy in the room," said Bareilles, who without a drop of irony described this production as "brave." The role of Mary Magdelene was an immediate yes for her. Besides having to remember lyrics that are not her own, as is the case in her own concerts and as the lead in Waitress, which she wrote the music for, the JCS concert is not totally unfamiliar, but a bit of a departure for her as a performer.
"The emphasis is on the storytelling and I think so much of when I'm putting a concert together — it's not that there's not, but I'm more interested in putting the songs together in terms of their cadence and rhythm and how they sound next to each other, so I treat it a little more like the way I make a record. This is more about storytelling and the character and remembering who you are and why you're saying what you're saying and any given moment."
Bareilles has Waitress, and Legend has a bit of a showtunes background as well — just not one that you may be familiar with unless you knew him when, so to speak. "Musical theatre I haven't performed on stage since high school," he said in the round table. "It's a big step up from high school to this!" He said that there is pressure involved in making this material his own and taking on such an iconic role (to put it lightly) but that it's "good" pressure. Bareilles and the music directors also mentioned that the role has a much higher vocal range than you're used to hearing from John — so keep your ears perked for that as well.
They're joined by Broadway performers Norm Lewis as Caiaphas, Jason Tam as Peter, and Brandon Victor Dixon as Judas. "I've always loved the song 'Heaven On Their Minds' and I wanted to sing it for some people," said Dixon, giving a perfect musical theatre nerd answer to why he was drawn to the role. Dixon was recently seen on Broadway as Aaron Burr in Hamilton, a similar show and a similarish role.
"Humanizing what you've been deifying your whole life is a very captivating thing," Dixon said about Jesus Christ Superstar as a show — and Hamilton as well, he noted. "It means that you yourself have the power to change your environment [...] if you're able to deconstruct the deification of the people among us it gives us the power to change ourselves and each other."
Framing this larger than life story as a rock concert makes it that much more accessible. Don't like Andrew Lloyd Webber? Don't like musicals? Jesus Christ Superstar: Live In Concert might challenge that. NBC's latest toe-tapping event has clearly taken a lot into consideration and should make for a heck of a Sunday night.