The New Judith On 'The Walking Dead' Is Already A Rebel In Training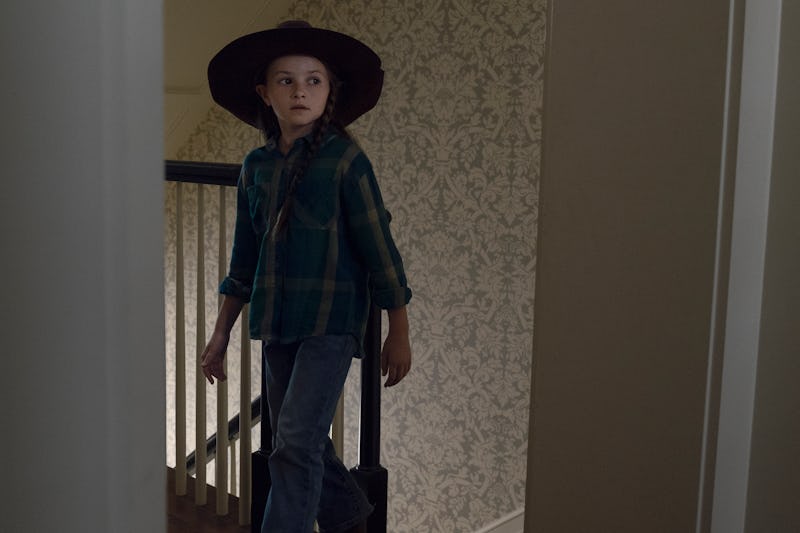 Gene Page/AMC
Rick may have left The Walking Dead against his will, but his spirit and sheriff's hat lives on in the latest incarnation of a fan favorite character — his daughter. And the girl who plays Judith Grimes on The Walking Dead seems ready to kick major walker butt. Over seven seasons, little Judith has literally grown up with the show. She's never known any world other than the collapsed society that she and her zombie-killing community have mastered. She has also been played previously by eighteen different actresses (that includes eight sets of twins and Carl's dream future Judith) between the character's first appearance in Season 3 and Rick's disappearance in Season 9. Now, Cailey Fleming plays Judith Grimes as a bossy, name-taking, whip smart kid more than willing to carry on her father's legacy.
Walking Dead fans will recognize this young face first and foremost from Star Wars: The Force Awakens. In a brief, heartbreaking scene, Fleming played young Rey in a flashback/dream sequence that showed the tiny heroine-to-be as her parents abandoned her with Unkar Plutt, also revealing that Rey's three bun hairstyle has been her signature look for over a decade, and likely so that her family will recognize her if and when they ever do return. So, Fleming knows how to bring the feels.
She also played a young Maisie Williams in The Book Of Love, and Fleming's first on screen credit was as a young Tig Notaro in Young Mississippi. Since Star Wars, she appeared in one episode of Preacher, had a small arc on Better Things, and played Jennifer Garner's daughter in the 2018 movie Peppermint.
"I've got Norman [Reedus] and [Jeffrey Dean Morgan] who keep emailing me," Andrew Lincoln began about the new Judith in an interview with Entertainment Weekly after exiting the series, "going, 'Oh, thank God you're gone. She's a far better actor than you'll ever be!' So I think they're doing fine."
Showrunner Angela Kang repeated that sentiment that the cast is impressed by Fleming acting circles around them. "We did a very wide-ranging search for Judith," said Kang in an interview with INSIDER. "We had so many amazing little girls audition, just so much talent regionally. Cailey just had the most amazing read. Me, and the other executive producers, we all just sparked to her. She just had this kind of liveliness and light and such intelligence in her eyes, and just made such great choices."
Plus, as the showrunner noted, she looks like both Carl and her mother Lori. Kang doesn't mention any resemblance to Shane, and it will be interesting to see whether or not a girl raised by Michonne and Rick will ever reflect any of her birth father's philosophy or impulsivity. Right now, she serves as a reminder of Rick and Carl, and seems to have learned how to use that to get her way — however decent her intentions may be. That said, she's definitely not falling for any of Negan's nonsense, and even Carl was susceptible to that. While this new Judith may not be leading the group any time soon, she's already off to an impressive start on The Walking Dead.