Here's Where You've Seen The Teen Breakout Star Of 'The Sinner' Before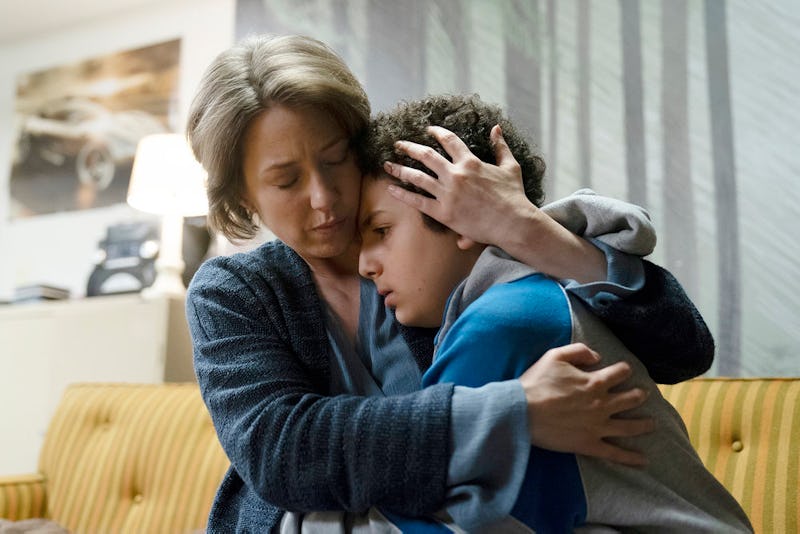 Peter Kramer/USA Network
Not every kid could pull off the trick of playing a boy who murders two adults in cold blood, while also making that character sympathetic. But the new star of USA's anthology mystery series is doing just that, making his character simultaneously terrifying and traumatized. Elisha Henig plays Julian on The Sinner Season 2, and the newcomer is definitely turning heads.
The young actor is surrounded by a bevy of established veterans, including returning Season 1 star Bill Pullman, accomplished character actor Tracy Letts (Lady Bird, The Post), and of course, the best actor on TV, Carrie Coon (The Leftovers, Fargo). And yet, the newcomer holds his own against those heavyweights — and then some.
When it comes to identifying child actors, the problem is often simply that they haven't been in much yet. Well, that's not an issue when it comes to Henig. Chances are good that you've seen this young man somewhere before. He may be only 13 years old, but he's already accumulated quite an impressive resumé, including roles on many popular TV shows. He made his first appearance on the small screen in 2015, and has racked up almost 20 credits since, including guest spots on Grey's Anatomy, Code Black, Transparent, Mr. Robot, and MacGyver, and a recurring role on Netflix's American Vandal. The Sinner isn't even his first series regular role; he was previously a main character on the ABC sitcom Alex, Inc., on which he played Zach Braff's son.
Perhaps it's no surprise that Henig would end up painting a complex portrait of an adolescent killer, considering his first acting role ever was as the titular character in a classroom production of Shakespeare's Richard III when he was only eight. Henig revealed this tidbit in a Just Jared profile during his stint on Alex, Inc., and spilled some other intriguing details as well, including the fact that he does "decent" impressions of both Bernie Sanders and Donald Trump, and that he plays in an indie rock band called Boys Without Toys alongside his three brothers.
His co-star Carrie Coon, who plays the (maybe?) mother of Henig's budding sociopath, has nothing but praise for her young scene partner. "Elisha's a true professional," she said on Vanity Fair's "Still Watching" podcast. "He's the real thing. I mean, I know people say that about young actors. But the thing about Elisha is, he's got a really good head on his shoulders. This isn't his only preoccupation, he's got a very full life. And as a young actor, I find that very rare."
Coon credits Henig with asking "astute" questions beyond his years. "For example" she told the podcast, "he said, 'This scene, we already shot this scene from my point of view, but now it's being told from another character's point of view. Should I act the scene differently because it's how they're seeing me, not how I see myself?' Those are next-level questions. Not every adult actor is asking those things. I often have a very intellectual way into a part or a scene, and it was really fun because Elisha is very much a partner in all those conversations, when we're talking about the structure of a scene and the emotional arc of a scene. He's very savvy."
You've got to be savvy to get inside the mind of a murderer, so it's good that The Sinner showrunner Derek Simonds found such a capable and promising young actor to go toe-to-toe with Coon and Pullman. Judging by his breakout performance on The Sinner, viewers can expect to be seeing Henig on their screens for many years to come.