'13 Reasons Why' Could Be Brandon Flynn's Big Break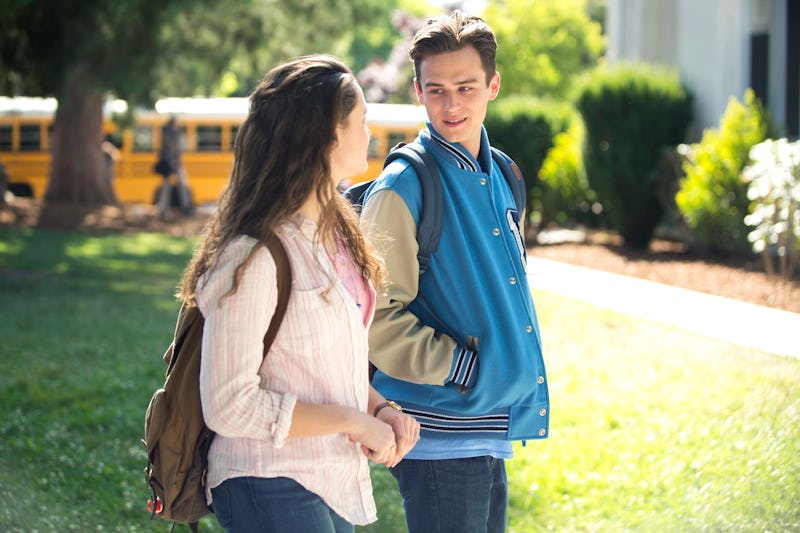 Beth Dubber/Netflix
Whenever I hit my local library (which I still do, because I can't spend all my money on books), I frequently head to the YA section. Young Adult books have had a resurgence of importance in recent years, and they're often just as intense, engaging, and well-written as books intended for adults. One of those books is 13 Reasons Why, which Netflix has adapted into a series of the same name premiering on March 31. I love being able to watch my favorite books come to life, and in this case, the casting seems very true to what I pictured. That's definitely true of Brandon Flynn, who plays Justin on 13 Reasons Why.
The book follows Clay Jensen, a shy high school student who gets home from school one day to find a package containing cassette tapes recorded by Hannah Baker, a fellow student who recently committed suicide. All of the tapes were sent to other people first, and then they landed at Clay's door. It's a mystery of sorts, trying to figure out why Hannah did what she did and how the people in her life affected her decision.
Justin Foley is one of those people, and in the book, he's not a good guy. I know that in high school, everyone makes mistakes, but Justin is a jerk. He is the one responsible for Hannah's unearned reputation at school (they kissed, but he told everyone they did more), and he facilitated the rape of Jessica Davis. He knew that it was going to happen and did nothing to stop it. So yeah, not a good guy.
Brandon Flynn is the actor who will bring the essence of 13 Reasons Why's cocky jerkhole Justin to Netflix. Flynn doesn't have much a resume yet — he got his start with an appearance on the CBS series BrainDead, which had one delightfully weird season of zombies eating the brains of the members of Congress (really). Flynn has also done some work on Broadway, making his Off-Broadway debut in the play Kid Victory. His other stage credits include Our Town, Henry V, Acting Is Believing, and An Oresteia.
I think casting a relative unknown in this role was a smart choice, because it allows viewers to look within themselves and examine their own experiences. Flynn's face could be the face of anyone you hated in high school, or anyone you wish you had spoken up about, or someone who you should've talked to. 13 Reasons Why effectively shows how, sometimes, one conversation can change the trajectory of a whole life and Justin's character should really help to get that message across.