Lifetime's 'Michael Jackson' Has A Connection To The Star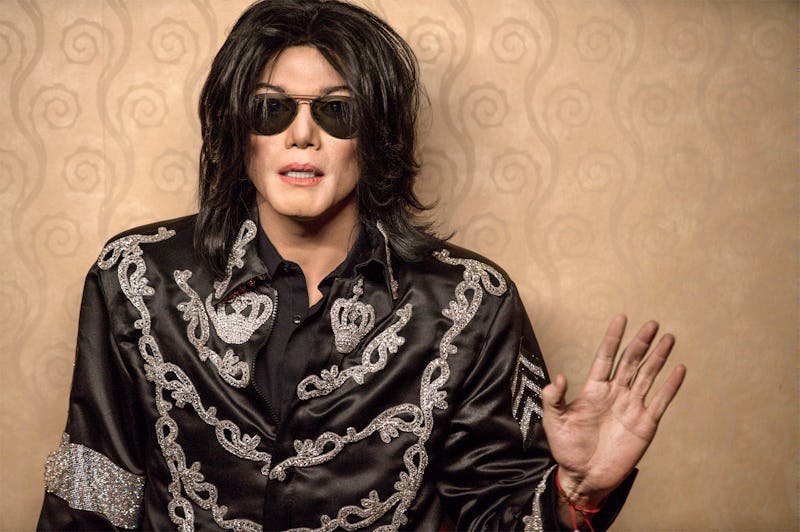 Deadra Bryant/Lifetime
He's one of the most distinctive and iconic performers of the 20th century, and there are plenty of people who can impersonate Michael Jackson. But who can embody the icon for a whole movie? For their new biopic about the singer, premiering May 29, Lifetime went to someone who's a newcomer to movies but not to playing the King Of Pop. Navi plays Michael Jackson in Searching for Neverland, and he has long had an affinity for the artist.
On Navi's website, his biography proclaims that he's "the world's number one Michael Jackson impersonator." And he's been performing as MJ for over twenty years. It's almost startling how much he has come to resemble the singer in his later years. That's paid off for him, apparently. According to an interview with Entertainment Tonight, Navi spent seventeen years working as a body double for Jackson, and — as his website explains in greater detail — performed at one of Jackson's own birthday parties and as an opening act for him.
"Navi is the ONLY Michael Jackson tribute that Michael has applauded on several occasions, given a standing ovation to, invited to his home Neverland, and personally chosen to work as a decoy over a period of many years," his website states.
While he claims to have worked closely with the Jackson family while the artist was alive, Navi did tell ET that he has not spoken to them about the Lifetime film or asked them for permission or their blessing for his portrayal. However, he's adamant that Jackson "would have loved" the movie.
Apparently, it's not easy to find an actor to play a figure that looms as large in pop culture as Michael Jackson. When Sky Arts cast Joseph Fiennes as Jackson in a 2016 episode of Urban Myths: A Brand New Collection of Comedies, there was criticism from many, including Jackson's daughter, Paris, for casting a white man as the King Of Pop. (Variety reported that the network decided not to broadcast the episode, "in light of the concerns expressed by Michael Jackson's immediate family.")
Who knows how Jackson himself would have responded to that specific instance, but before his death in 2009, Jackson did address the race of his hypothetical biographer. During an appearance on Oprah in 1993, Oprah Winfrey asked Jackson if he would want a white child to play him when he was young. Jackson responded, "That's the most ridiculous, horrifying story I've ever heard. It's crazy." He continued, "I'm a black American. I'm a black American. I'm proud to be a black American. I am proud of my race. I am proud of who I am."
While CNN reported that his autopsy concluded that Jackson had a skin condition, vitaligo, which caused his skin pigmentation to change. Because of his appearance later in life, it's been speculated that Jackson underwent significant plastic surgery, though Jackson only ever admitted to "two nose jobs," according to People.
Like Jackson, Navi is a man of color. He was born in Trinidad and raised in the UK. In an interview with Time Out, he admitted that he's altered his appearance with "numerous" procedures in order to more closely resemble the star.
Again, there's no way of knowing how Jackson himself would have felt about Navi and Michael Jackson: Searching for Neverland, it does seem that the performer chosen to bring Michael to life onscreen has reverence for and experiencing playing the King Of Pop.