'A Christmas Story' Is Getting A New Ralphie & He'll Remind You So Much Of The Original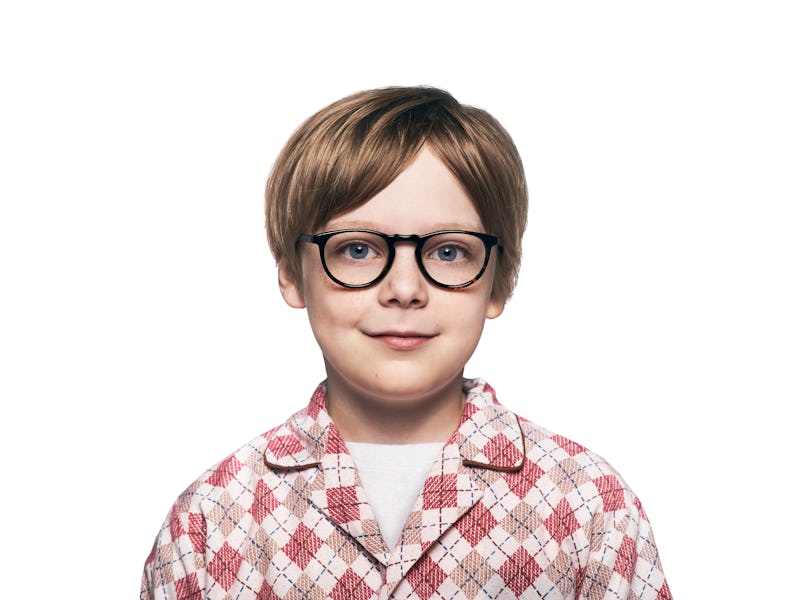 Tommy Garcia / FOX
When A Christmas Story Live! premieres on FOX, Dec. 17, obviously all of the iconic cast of the original 1983 movie will be replaced with fresh faces. But, out of all the characters, one may be more anticipated than the rest, and that's little Ralphie. Andy Walken is playing Ralphie on A Christmas Story Live. And while this the young actor's first time in a leading role, there's a chance that you've seen this boy before.
According to Cinemablend, he's an 11-year-old from Seattle, Washington. But, it was no easy feat to be chosen as the iconic boy whose life's dream is a Red Ryder BB Gun. Walken beat out 350 other boys for the role of Ralphie. There are no do-overs in a live musical, but the producers have determined that this kid has the acting and singing chops to anchor the special.
Apart from his skills, however, it doesn't hurt that Walken looks very similar to the original actor to portray the character, Peter Billingsley. From the blonde hair to the bright blue eyes, even down to their similar face shape, it seems like this actor will have no trouble fitting right into Billingsley's old role.
As The New York Post notes, this isn't Walken's first time in front of the camera's lens. He's been working as an actor for three years, and has already appeared in a cable TV movie titled Escaping Dad as well as two TV series, NCIS and Heartbeat. Despite being able to sing, Walken told the publication that this will be his first time in a professional singing role. When it comes down to how he felt when he found out he'd gotten the part, Walken was tremendously stoked. "I was so surprised and soooo excited!!" he told The New York Post. "Shocked! I could barely breathe and my heart was racing. I admit a few tears of joy were shed!"
Luckily, that moment was captured on video for fans to be able to relive with him. In the video below, Walken says that getting the role is "the greatest, most awesome, Christmas present I've ever gotten in my life." And after seeing him hear the news, it certainly felt like he meant it. Just like he told the New York Post, he was nearly speechless after learning he would play Ralphie. In that same promotional video, the music director for the movie, Ian Eisendrath, said that Ralphie's role was one of the most vital. "Finding the perfect Ralphie is a crucial aspect of this telecast," he said. "Ralphie is not only the leading character, but the entire reason for the show and the heart of the piece."
In a different promotional trailer, Walken confirmed that getting the role meant so much because he's such a fan of the original movie. "I've seen Christmas Story more times than I can count on my fingers," he said. "I love it." But of course, he won't be starring in a live musical on his own. The rest of the cast is filled with popular and familiar faces. The narrator will be played by Matthew Broderick, Ralphie's mother will be played by Maya Rudolph, his father will be played by Chris Diamantopoulos, and his teacher, Miss Shields, will be portrayed by Jane Krakowski.
No matter who fans will be watching for, this live movie is shaping up to be a pretty festive spectacle. And, although young Walken is relatively unproven, it seems like he's going to be a solid choice for the role of Ralphie. Whether his portrayal will be as iconic as Billingsley's remains to be seen. What is clear, though, is that fans will have a fun new movie to watch and a new young actor to keep an eye on going forward.