Here's Why Rebecca's Boyfriend On 'This Is Us' Might Look So Familiar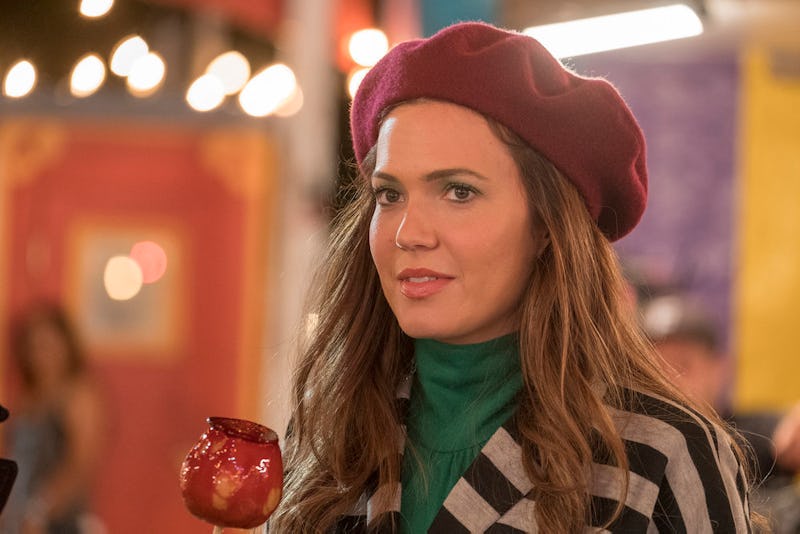 Ron Batzdorff/NBC
Jack and Rebecca may be the ultimate endgame on This Is Us, but that doesn't mean they didn't experience a few obstacles along the way. Like the fact that another suitor popped back up in Rebecca's life shortly after her first date with Jack. But while little is known about this mystery man, the man who plays Rebecca's boyfriend on This Is Us should definitely look familiar as he is certainly no stranger to the small screen. In fact, his characters have made some very prominent marks in the television world.
The actor's name is Hunter Parrish and one of his biggest standout roles has to be when he played Silas Botwin on Weeds. However, Parrish truly made his mark in small screen history when he played Jeffrey Grant on The Good Wife, the man who was ultimately responsible for (spoiler alert) Will Gardner's death. His character was only in a handful of episodes, but his actions made a lasting impact on the series. Other notable credits to Parrish's name includes playing Kyle in The Following, Josh Miller in the Amazon Prime series Hand of God, Douglas Rhodes in Good Girls Revolt, Clay in Quantico, and now, of course, Rebecca's boyfriend Alan on This Is Us, according to his IMBD page.
It's unclear exactly how prominent of a role Parrish will play over the course of the third season, but given that we as viewers know how this all plays out (with Jack and Rebecca getting married and having the Big Three), it's safe to say he'll be a minor blip on their love story radar. However, it will be interesting to learn more about him and what kind of history he has with Rebecca. She obviously wasn't expecting to see him when he showed up at her door with flowers, and unfortunately, Jack saw the kiss Alan laid on her since he too was about to pay her a visit. So how do Jack and Rebecca cross paths again after this? Fans will just have to wait and see, but during a recent interview with Entertainment Weekly, Mandy Moore made it clear that all questions will be answered in due time.
"Well, we obviously know where things end up so he can't be that big of an obstacle, can he?" Moore explained to the outlet. "There will be a resolution to who he is and his dip into Jack and Rebecca's romantic life. I think it will resolve itself in due time."
Episode 2 will dip into a different timeline in Jack and Rebecca's history, however, Episode 3 will return to the whole Jack-Rebecca-Alan love triangle that'll help paint a clearer picture of how this storyline plays out. Executive producer Isaac Aptaker added during the same EW interview:
"We're going to pick up right back with her on the doorstep with Hunter and the flowers and Jack in the car, and see what the hell that was about. It's obviously somebody that she knows and we'll learn more about how exactly she knows him and what their history is together."
Parrish may not have a long stint on This Is Us, but it's already looking to be an unforgettable role. Let's just hope Alan doesn't overstay his welcome and cause too much of a hiccup in Jack and Rebecca's budding romance.