This New 'Good Place' Character May Be A Threat To Eleanor & Chidi's Relationship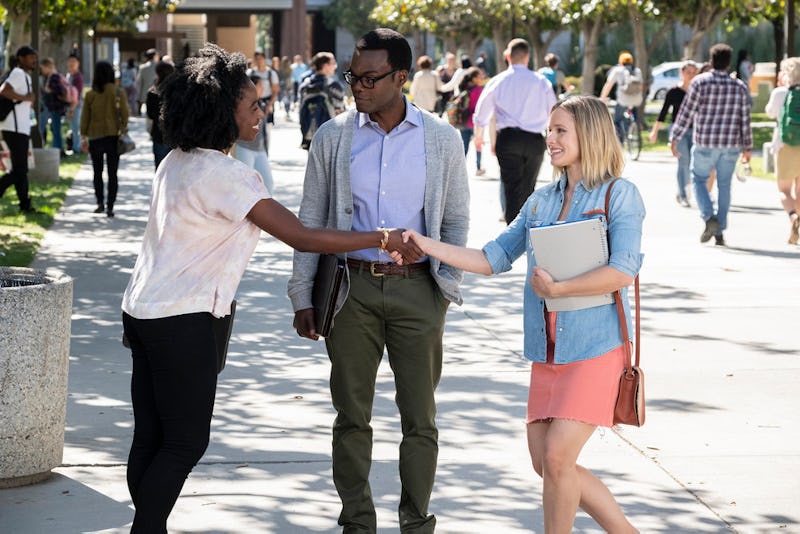 Justin Lubin/NBC
The first two seasons of The Good Place introduced a collection of new and interesting characters, including Demons and Dereks and all-knowing ethereal Judges (oh my!). But when the show returns, it will bring with it some new faces not so common for the series: humans. One of these such additions is Kirby Howell Baptiste, who plays Simone on The Good Place Season 3. With the storyline now centered back on Earth, she joins the cast as a neuroscientist at Chidi's University, but viewers may know Baptiste best as Eve's ambitious BFF on Killing Eve.
When she popped up as Elena on the spy-thriller, Baptiste wasn't quite a household name, but viewers have likely spent more than a few hours with her since the hit BBC show premiered earlier this year. The Good Place doesn't have much in common with Killing Eve, but Baptiste's character often serves as comic relief, and that knack for humor translates perfectly to NBC's goofy, sci-fi-esque comedy. The role also comes with an upgrade for Baptiste: While in Killing Eve her character is relegated to the position of sidekick, on The Good Place, she's a knowledgable figure whose assistance may be needed to help Eleanor and co. figure out their specific predicament.
Simone first appears when Chidi turns up in her office to request her hand in figuring out "if there's something wrong with his brain," Good Place creator Michael Schur told Entertainment Weekly. Viewers may recall that at the end of Season 2, Chidi and the gang were all unknowingly given another chance at life, but somehow, their journeys are still linked: In the finale episode, Eleanor showed up to Australia to meet Chidi, unaware they'd already spent several years in the afterlife together. So, with predestined, metaphysical connections worming their way into his life, it's no wonder that Chidi would turn to a neuroscientist to determine if there is, in fact, "something wrong with his brain." Schur also explained that Simone is "a very different kind of academic" than Chidi: In contrast to his eternal grappling with questions of morality and ethics, she's "a person who scans things with machines, determines results, and draws conclusions."
That should make for an entertaining storyline, but it seems like Baptiste's stint on The Good Place will be short-lived. In addition to her turn in Killing Eve, she also had a recurring role on one of 2018's biggest new comedy series, Barry, for which she could return for a second season. Plus, according to Deadline, she's working on a Freeform pilot called Girls' Code with Bridesmaid director Paul Feig.
Nonetheless, Baptiste will be a welcome presence on The Good Place for however long she's there. And considering the show's penchant for pulling off major twists, it's entirely possible that Baptiste's character could end up being much more than a mild-mannered neuroscientist and make an eventful return later in the series. On a show as unpredictable as The Good Place, there's really no telling what the future holds.