Here's Where You May Have Seen This 'A Million Little Things' Star Before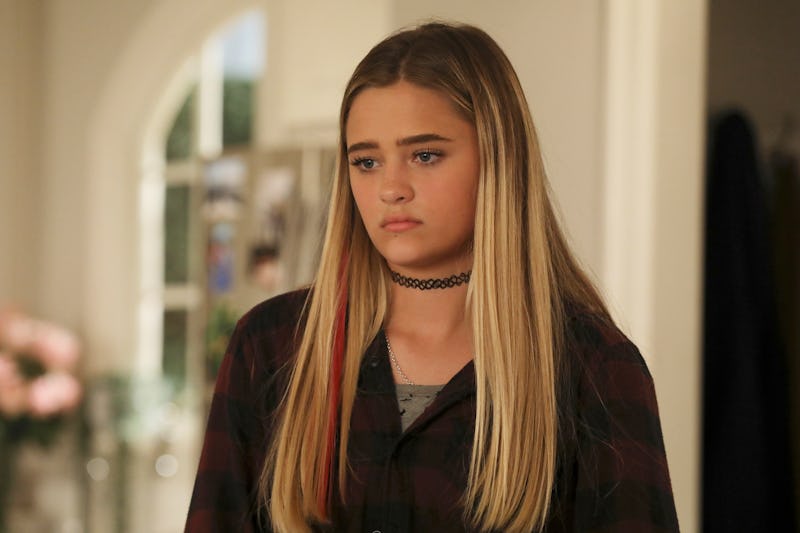 Jack Rowand/ABC
Move over, This Is Us! A new tear-jerker has come to TV, this time on ABC. A Million Little Things, which premiered Wednesday, Sept. 26, at 10 p.m. ET, is a friendship drama that centers around Jonathan Dixon (Ron Livingston), who took his own life in last week's pilot episode. The incredibly dark premise follows the ripple effect that Jon's death has on his family and friends. Speaking of his family, Jon is survived by his wife, Delilah (Stephanie Szostak), and two children. Lizzy Greene plays Sophie on A Million Little Things, who is Jon's daughter.
Alongside Livingston, who is perhaps best known for his role as Peter on Office Space, this show features a star-studded cast. Romany Malco, who's been in comedies like Weeds and The 40-Year-Old Virgin, plays Jon's friend, Rome Howard. Grace Park (Boomer from Battlestar Galactica) is Katherine Kim, and James Roday (of Psych fame) stars as Gary Mendez.
This core group of friends is made up of Jon, Rome, Gary, and Eddie (David Giuntoli), who originally met on a stuck elevator 10 years ago. These men are also struggling with their own battles: Gary beat breast cancer. and in the trailer, it appears as though it may have come back. Rome nearly took his own life before he heard the news about Jon, and Eddie both got sober and wants to leave his wife, Katherine.
As for Lizzy Greene, the 15-year-old is from Dallas, Texas, and already has a handful of acting roles under her belt. The young actor was on several Nickelodeon programs, like Nicky, Ricky, Dicky & Dawn, and the 2017 TV movie, Nickelodeon's Sizzling Summer Camp Special, among others.
What's more, Greene also has a YouTube channel, where she posts makeup tutorials and updates on her life. The Million Little Things actor's first post was in July 2015, and the seven-second clip was just the young actor excitedly announcing: "Guess what? I got a YouTube." Since then, she's vlogged about getting her ears pierced for the first time (at Claire's, of course!), her exercise routine, and the premiere of her 2017 Nickelodeon movie, Tiny Christmas.
However, Greene's turn as Sophie Dixon on is by far her biggest acting gig yet. On the show, her character is struggling to cope with her father's untimely death while navigating the choppy waters of being a teenager. In a teaser for Wednesday's episode, audiences learn that Sophie is supposed to go to a father-daughter dance recital, which was scheduled before her dad died. Her little brother, Danny (Chance Hurstfield) tells his mom, Delilah, that Sophie is too upset about the dance to come downstairs.
So Rome, Gary, and Eddie put their heads together and decide to be surrogates for Sophie, dubbing themselves the "Band of Dads." After this, Eddie volunteers to dance with his late friend's daughter, and they awkwardly practice their dance moves in the living room. This small yet sweet gesture shows that Sophie, Danny, and Delilah are in capable hands with Jon's friends. And while a dance in and of itself is nothing huge, it's one of those million little things that can help — even just a little bit.
If you or someone you know is experiencing suicidal thoughts, call the National Suicide Prevention Hotline at 1-800-273-8255 or text HOME to the Crisis Text Line at 741741. You can also reach out to the Trans Lifeline at 877-565-8860 or the Trevor Lifeline at 1-866-488-7386, or to your local suicide crisis center.