The Way Milo Ventimiglia Welcomed His TV Daughter To 'This Is Us' Will Make You Go "Awww"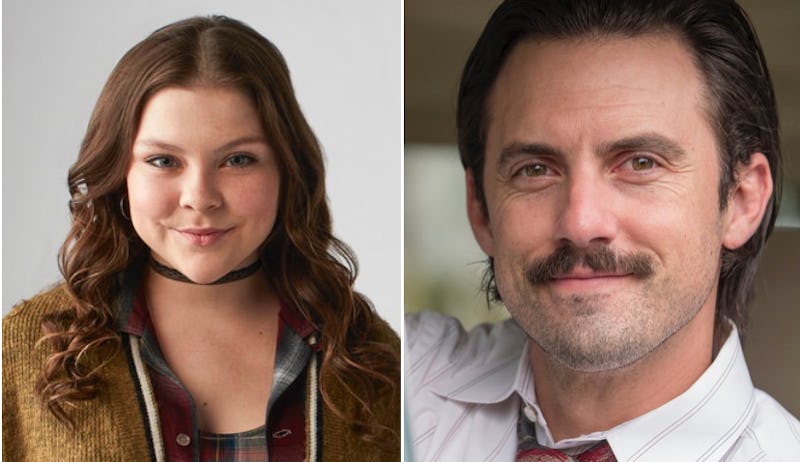 NBC
Kate Pearson is one of the main driving forces for much of the emotion on the hit show, This Is Us. She has dreams of making it big as a singer, struggles with self-image and confidence, and, for reasons so far unknown, she blames herself for the death of her father, Jack. But, while we do know these major parts of her character, there's still a lot left to learn. So much has yet to be revealed, and will likely be told by flashing back to when Kate was a teenager on This is Us. That's where actor Hannah Zeile comes in.
It can be a big responsibility to take on the origin story of sorts for one of the main characters on an insanely popular drama, but Zeile, who plays teenage Kate, says she doesn't get much pressure from her older counterpart.
"Chrissy [Metz] trusts me enough to let the character be my own, and I think that's really cool."
"It's funny, whenever I'm with Chrissy [Metz, adult Kate] or Mackenzie [Hancsicsak, 10-year-old Kate], we don't really even bring up a lot of the show. I feel like it's like that with a lot of the cast," Zeile says in a phone interview. "We enjoy each other as people. Chrissy is absolutely hilarious so I'm usually just laughing when I'm with her."
Though the actors are connected through the character as a whole, Zeile says she thinks it's a good thing that they don't micromanage each other — she thinks people are different at different stages of life, and the show should reflect that. "We kind of just trust each other to let each generation to be their own character," she says. "I don't feel like people are the same [as adults] as when they're teenagers. You know, you're always evolving and adapting. So, Chrissy trusts me enough to let the character be my own, and I think that's really cool."
"The first day I ever worked, Milo [Ventimiglia] came up to me and said, 'Welcome to the family.'"
Metz isn't the only actor Zeile says is great to be around on set — having Milo Ventimiglia and Mandy Moore as your onscreen parents has to be an out-of-body experience, and Zeile is taking advantage of it. "I feel like I'm taking a master's class every time I work," she says with a laugh. "Watching them, learning new things from them. They've been in this industry for a long time so they have a lot to offer."
Aside from the educational aspect, Zeile says Moore and Ventimiglia are also just friendly presences on a daunting set. "It can be intimidating walking on that set," she says. "But the first day I ever worked, Milo came up to me and said, 'Welcome to the family.'"
Of course Ventimiglia is even a calming father figure onset. Did anyone expect anything less? And on a set this full of secrets, it must be nice to have people you can turn to. Zeile says production of This Is Us is so quickly paced and so under wraps that she often doesn't get her finalized scripts until just a couple days before filming. Despite the fast turnaround, she says she always feels she's given enough time to prepare for her scenes, and given the emotional weight her character's shoulders, that's a good thing.
This season, Zeile is featured more prominently as audiences inch closer every week to finding out how Jack died when his kids were teens. Not only does Kate blame herself, but she revealed that she was also the one to tell her brother Kevin about his death — Zeile likely has some heavy scenes in front of her, and she knows it. She even hints that she knows why Kate blames herself for Jack's death.
"There's a lot of things that are kept super secret, but for things that affect the context of my character, like things that affect [Kate's] life and other scenes that I might be doing, I do have the background and the information on that," she says.
When I ask her if she knows how Jack dies, I don't really expect an answer — I can't imagine the lengths to which this cast must be sworn to secrecy, and Zeile proves herself a worthy secret-keeper. "My lips are so sealed," she says. She's excited to watch the public's reaction when all is said and done, and says she even has friends bugging her for the inside information — honestly, who among us wouldn't do the same? "That is for sure the first thing I get asked, always," Zeile says. "Even my friends text me like, 'How does Jack die?' ... So yeah, I'm definitely excited for the reveal."
This is only the second TV show Zeile's worked on — she appeared in two episodes of Charlie Sheen's Anger Management, but This Is Us has become a phenomenon beyond anything she could've imagined. "I still feel like I'm dreaming all the time," she says. "It's been crazy."
Zeile will likely be leading viewers through what could prove to be some of the most heart-wrenching and emotional scenes of the show, and if her performances thus far are any indication, teenage Kate's character is in capable hands.