The 'Chambers' Star You *Need* To Know Before Watching The New Netflix Thriller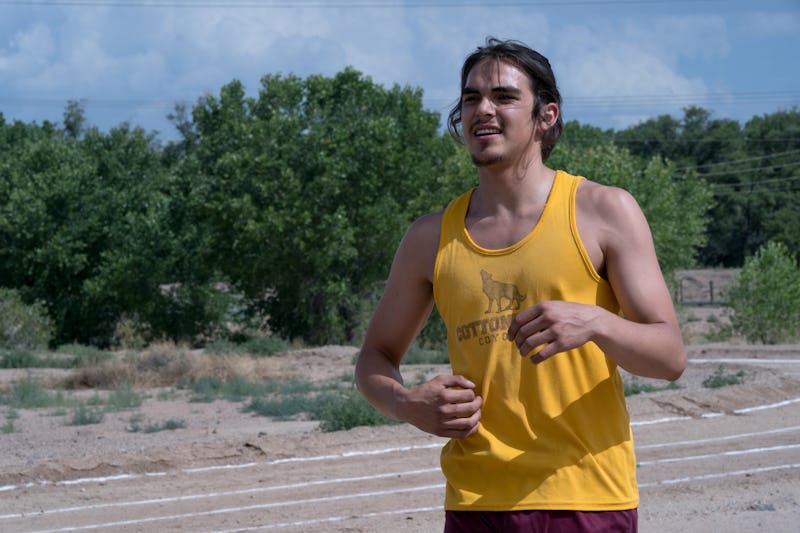 Ursula Coyote/Netflix
Two of Chambers' leading stars are established, household names — everyone knows Uma Thurman and Tony Goldwyn. But the younger cast members of the new Netflix thriller are just as important to the story, and could, thanks to the show, be on the cusp of their big breaks. Take, for example, Griffin Powell-Arcand, who plays TJ on Chambers. He's been acting from a very young age, and this could be exactly the momentum he needs to move up the Hollywood ranks.
While Chambers appears to be his first high-profile role, Powell-Arcand's first IMDb credit is listed as a 2003 TV movie called Dreamkeeper, which he appeared in as a child. From there, he moved onto another TV project called Moccasin Flats, and then a six-episode arc on a 2005 Little House On The Prairie reboot. Afterward, he acted in Mixed Blessings, a show about interracial relationships between Ukrainians and indigenous people in Canada, when he was just 10 years old.
"He's an old pro," Tina Lameman, Powell-Arcand's aunt and an actress herself, said of him in a 2007 Edmonton Journal article. "He's got more acting under his belt than most of us." Powell-Arcand already had the confidence of a more seasoned actor at a young age, telling the Journal that "it wasn't really that difficult [to act in Mixed Blessings] because [the character] was a kid and I'm a kid."
In Chambers, Powell-Arcand's character TJ is dating Sasha, a high schooler who becomes haunted by her organ donor's spirit. According to TV Guide, when TJ and Sasha get intimate in the first episode, she has an unexpected heart attack that leads to a transplant. TJ is forced to sprint through the streets with Sasha in his arms, clinging to life. If that's how his journey on the show starts, there's no telling what kind of mayhem he'll encounter as it goes on.
Unfortunately, Powell-Arcand doesn't seem to be on social media — or at least, he doesn't have easily searchable accounts — so you'll have to stave off your Insta-stalking for now. But he's not the only young talent to pay attention to in Chambers. The cast is largely made up of relative newcomers who have all landed their first big roles, and they'll be backing up Thurman and Goldwyn's star power.
Per Deadline, the other teenage characters are played by Sivan Alyra Rose, Lilliya Reid, Nicholas Galitzine, Kyanna Simone Simpson, Lilli Kay, and Sarah Mezzanotte. Plenty of them have acting credits — Simpson appeared in The Immortal Life of Henrietta Lacks as a young version of Oprah Winfrey's character, and Galitzine has appeared in a handful of recent indie thrillers. But for most of them, Chambers will mark their first big splash on television.
It's always exciting when a series acts as a vehicle for passionate new faces to reach big audiences. Thurman and Goldwyn may bring you in, but actors like Powell-Arcand could be the ones who get you to stick around — and leave you wanting more.