A 'Luke Cage' Star Wears Whitney Houston's Iconic Shoes For 'The Bobby Brown Story'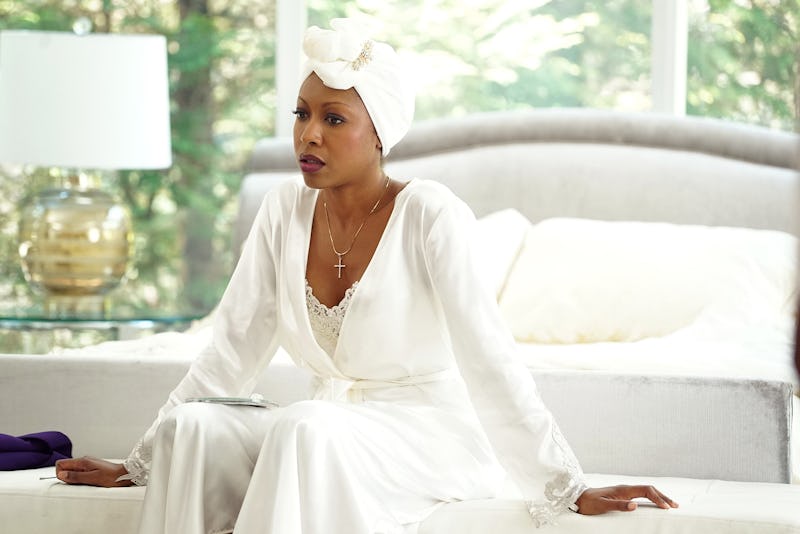 BET
The most controversial member of the '80s heartthrob group New Edition is undoubtedly Bobby Brown. His "bad boy" behavior led to him getting booted from the group, but he went on to make R&B magic as a solo artist with songs like "Every Little Step" and "Don't Be Cruel." The Bobby Brown Story, premieres on Sept. 4, and the trailers tease a dramatic narrative about drugs, sex, music, and emotional pain. And, it's pretty much impossible to have a Bobby biopic without exploring his marriage to Whitney Houston in 1992, which ended in a 2007 divorce according to New York Daily News. Gabrielle Dennis will portray Whitney in The Bobby Brown Story, and loyal watchers of BET will likely recognize her face.
According to her IMDB biography, Dennis was destined to have a career in the arts. She originally wanted to be a ballerina, but her mind changed when she became a regular on BET's former teen talk show "Teen Summit," which was located in DC. Her bio also reveals that she went to Howard University to study TV Production and Theater and sharpened her creative crafts which include acting, dancing, writing, producing, and performing sketch comedy. Dennis had a prominent role on the TV series Rosewood, which was unfortunately cancelled after two seasons, per Deadline.
Her most recent role was in Luke Cage Season 2 as Tilda Johnson, the daughter of antagonist Mariah Stokes Dillard (Alfre Woodard). The season finale hinted that Tilda might live up to her comic nemesis roots next season but, in the meantime, she's switching gears to become music royalty as the Whitney to Woody McClain's Bobby Brown. McClain is reprising his role as Bobby Brown per BET after portraying Bobby in 2017's The New Edition Story miniseries, which left Houston out of the narrative.
Dennis spoke to KTLA 5 about preparing to become Whitney Houston in the upcoming series. According to the actor, it took a lot of prayer, talking to people close to Houston, and watching countless hours of footage to prep for the role. She said:
"I got to talk to one of her background vocalists, I got to talk to [Kenneth] Babyface Edmonds who worked with her, I got to talk to, obviously, Bobby Brown, and just watching a lot of videos. That's one good thing. Her career is so huge and she's been around for so long. There's so much footage out there to watch by way of interviews and live performances."
She also called Houston a "beautiful spirit" and, like so many people, lamented about never getting a chance to meet the singer nor see her live in concert. The singer died on Feb. 11, 2012, per ABC News.
BET has released several sneak peeks into Dennis's portrayal of Houston, including the looks she will recreate in the movie. In one clip, Dennis is seen in the singer's infamous "How Will I Know" outfit from the video and the wedding dress from her marriage to Bobby.
Dennis bears some resemblance to the singer, but what really matters is her acting skills. In a snippet from the biopic, an intense moment shows her ability to handle the emotional lows of Houston's life. The scene is about an argument between Houston and Brown after he reveals that he got another woman pregnant shortly before their wedding. It's an intimate look at what the couple may have really gone through outside of the watchful eye of paparazzi.
But while Houston is present in the film, it seems as though their marriage will be presented from Brown's perspective. Her husband surely knew a different side of her than what the public saw, so the storyline will likely include incidents and moments that have not been seen in previous material about the singer.
However, Vulture reported that, in the Q&A of a TCA panel for the TV movie, Brown was asked about and denied ever physically abusing Houston. When an ABC News report that included Houston's call to 911 to claim Brown had assaulted her was read from by a journalist, Brown reportedly said, "The public record is wrong," and the panel ended.
Their initial encounter and some infamous moments have to be explored, but will viewers get additional peeks behind their incredibly messy 2005 reality show Being Bobby Brown? And, how will Houston's death be portrayed in a story told from Brown's perspective? All will be revealed when Gabrielle Dennis fills Whitney's famous shoes in The Bobby Brown Story.
If you or someone you know is experiencing domestic abuse, call 911 or the National Domestic Violence Hotline at 1(800) 799-SAFE (7233) or visit thehotline.org.