Meet The Teen Actor Who Shares A Role With Natalie Portman In 'Vox Lux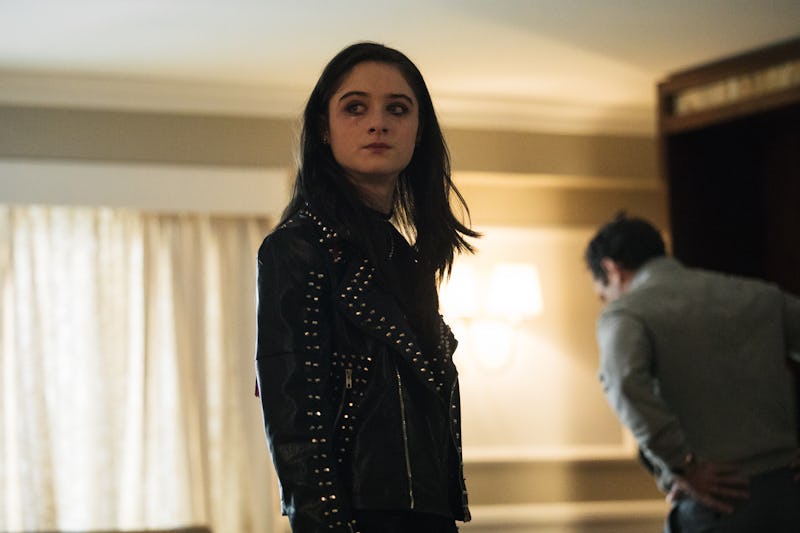 Neon/EPK
You may not have heard the name Raffey Cassidy before, but that's all about to change. It seems that critics and film buffs agree that the 16-year-old actor is destined for stardom. Cassidy plays young Celeste in Vox Lux — the teenage version of Natalie Portman's character in the movie that hits theaters Dec. 7. Throughout the first half of the thought-provoking movie about a struggling pop star, Cassidy is the lead. After a shooting at her school, Celeste is propelled into the spotlight in an unexpected way.
After the shooting, a 14 year-old Celeste performs a song to commemorate her classmates who died in the attack, and the combination of her grief and her talent grab the nation's attention. A star is born, but Vox Lux is nothing like director Bradley Cooper and Lady Gaga's meditation on fame and talent.
Not only does Cassidy play a young version of Celeste, who's negotiating her new life, but she also plays Portman's version's daughter in the second half of the movie, which takes place 14 years after Celeste gets catapulted into the spotlight with the help of her manager (Jude Law). As Vogue pointed out in an interview with Cassidy last May, Vox Lux is far from the young star's first time working with big names. The British teen previously starred alongside Nicole Kidman in The Killing of a Sacred Deer, as well as with George Clooney in Tomorrowland and Charlize Theron in Snow White and the Huntsman.
Cassidy already has an impressive IMDb page for someone who's so young, but Vox Lux proved to be an even greater challenge than some of the work she's done before. In a press conference during the 2018 Venice Film Festival in September, Cassidy told reporters, "I thought it was really cool to have to create these two different characters." As challenging as making Vox Lux may have been, especially for a young actor playing two key roles, it seems like Cassidy was more than up for taking it on.
Like the character she plays in the first half of the film, Cassidy has also been a public figure from a young age. She got a big start in Hollywood playing the young Snow White in 2012's Snow White and the Huntsman. Unlike Celeste, however, Cassidy manages to maintain a sense of normalcy in her life by continuing to attend school when she's not filming. Cassidy told Vogue that she's "getting the best of both worlds," so she hasn't totally missed out on a normal adolescence like the rising pop star unfortunately does. "On the day of the incident, that was the day that I kind of thought of her childhood was lost and everything changed for her," Cassidy told reporters in Venice.
Cassidy has so much going for her already, and she has her sights set on more, even beyond acting. In a 2017 interview with Interview, the then 15 year-old said she's decided to pursue a career in fashion design as well. She's not walking away from the industry just yet though, and acknowledges that work is particularly interesting to her now, as more and more young women characters are being centered in films.
"There are a lot of interesting and cool parts at the moment, especially about the teenage experience. It's a good time to be an actress," the actor told Vogue. It's likely that you'll be seeing a lot more of the Vox Lux star in the coming years.