The 'Riverdale' Season 2 Mystery Is Revealed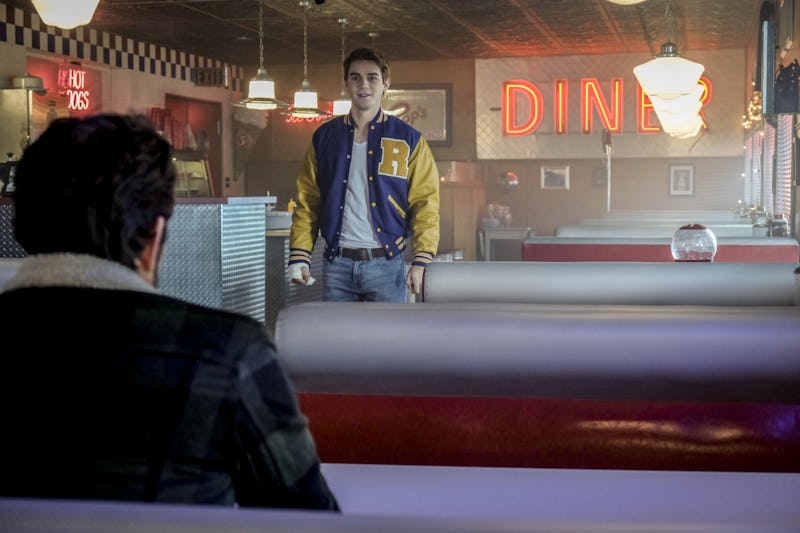 Bettina Strauss/The CW
Archie may be the hero Riverdale deserves, but his journey just got a lot darker. There are spoilers for the Riverdale May 11 finale ahead. Who shot Fred Andrews on Riverdale? The robbery at Pop's was no accident.
Is Archie's dad dead? I'd love to think that this mysterious robber was Hiram Lodge himself, but I'm not sure that's his style. Jughead's voiceover insists that this attack was planned and deliberate, even though the masked man stages it pretty well by first threatening Pop, and then waiting until Archie was almost in the line of fire.
Maybe it was Betty's secret brother. I can't wait to see how that gothic secret ties in to the other storylines. Maybe it was another one of the parents in this twisted town. A member of the Southside Serpents seems like an easy answer. However, we know they take orders from Hiram Lodge, and that would put tension on Archie's relationships with Veronica and Archie, the two people more important to him besides Betty. All of these friendships are about to be tested, it seems.
Plus, whether Fred lives or dies, Archie's mother isn't going to want him living in Riverdale anymore. She tried to take him to Chicago before, and she might insist after this. I'm surprised I didn't see this coming, actually. It's going to cause nothing but conflict on Riverdale.
The wait for Season 2 is officially on. Jughead's dad is still in jail, meaning that Jason Blossom's murder case is not over. The mysteries are piling up, though I have a hunch that the two are connected somehow. Riverdale is too small, town-wise. Whoever shot Archie's dad is definitely significant, still on the loose, and should make for some fun theories before Riverdale returns.