Who To Call About DACA If You Want To Give Dreamers A Fighting Chance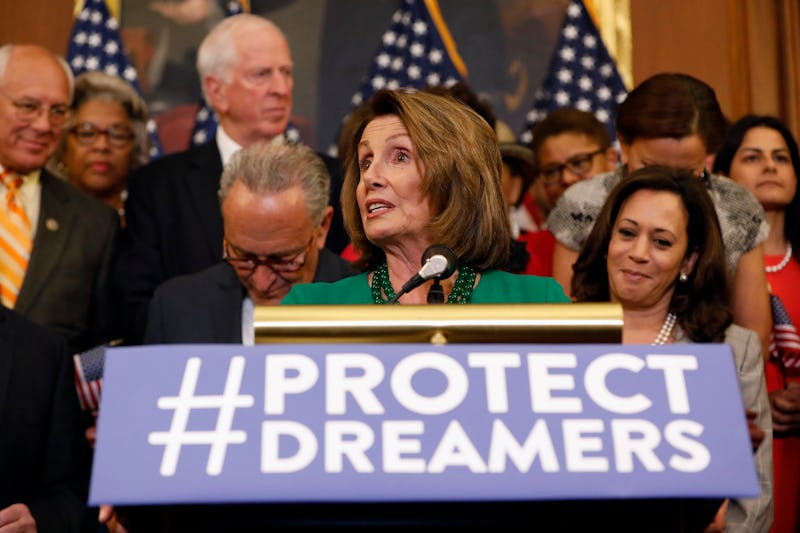 Aaron P. Bernstein/Getty Images News/Getty Images
Trump's decision to end the Obama-era Deferred Action for Childhood Arrivals program, otherwise known as DACA, has been met with backlash from across the political spectrum from the more compassionate sides of the country. The lives of 800,000 DACA recipients — also known as "Dreamers" —are on the line, and if you're following Trump's immigration policy you're probably wondering how you can help, and who you should call about DACA. Enter the DREAM Act Toolkit website, aimed at helping DACA recipients by providing contact information for lawmakers who could potentially be swayed on voting for a bill that would legalize Dreamers.
On Tuesday, Trump announced that his plan to end DACA came with a six-month window for Congress to act to fix it. For the 800,000 young people who are DACA recipients, then, the only thing standing between them and potential deportation after that six months is for Congress to pass the DREAM Act. While this is far from a comfortable position to be in, there is still some hope — and that's exactly what DREAM Act Toolkit pinpoints.
It's a very simple website, and it makes things extremely easy for users. It's literally just a list of lawmakers who could swing Congress to a bill that would save DACA, with phone numbers and pre-made images to tweet at the lawmakers in question. "The key lawmakers below are the swing votes we need to secure passage of the DREAM Act (with no compromises!) and provide Dreamers with a pathway to permanent legal status and citizenship," reads the description on the Dream Act Toolkit website. "Call and tweet at them now to let them know Dreamers are not bargaining chips!"
The website doesn't include scripts to use when calling your congressperson about DACA, so if you're a bit telephone shy then you can look up another one online. If you want to tweet the image you provide, it literally just takes two clicks — once to take you to your Twitter page, and another to send the tweet. Considering what's on the line and the detrimental effects that Trump's callous decision could have on the Dreamers' lives and on the American economy, a phone call and two clicks is entirely worth it.
You may not find your senator or representative on the list, which means that he or she is decided one way or another. If they've already decided not to support DACA, then they deserve all the shame that they're getting right now. If they have already spoken out against Trump's decision, then by all means, express your support. But if you're from any of the constituencies represented here, it's absolutely imperative that you let your representatives know that your vote depends on this.
There's agreement on both sides of the aisle that ending DACA is a heartless, cruel act, there is absolutely no evidence that it would help the country at all. On the contrary, the American economy would take a serious hit — as would its status as a compassionate world leader with an interest in human rights. Using the DREAM Act Toolkit, let the right lawmakers know that they absolutely cannot let that happen.