Who's Behind Beyoncé's Pregnancy Photos?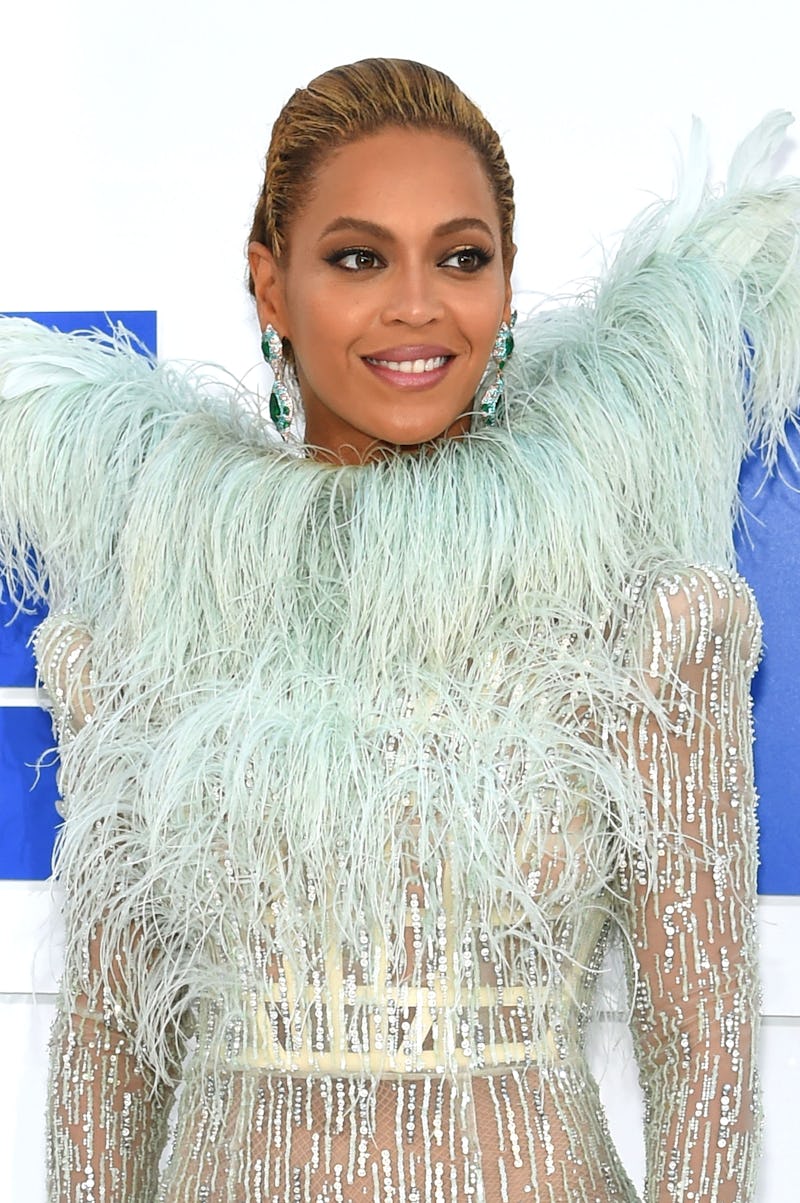 Jamie McCarthy/Getty Images Entertainment/Getty Images
For the second day in a row, Beyoncé is taking over the internet with her pregnancy news. After announcing she is expecting twins on Wednesday, she took to her official website to post an album of pregnancy photos, titled "I Have Three Hearts." Seeing as the pictures are so glorious, I'm sure you're dying to know who took Beyoncé's pregnancy photos. The supposed photographer behind the now famous maternity images appears to be a fan of Queen Bey.
According to Art News, artist Awol Erizku took Beyoncé's pregnancy photos. Per the outlet, "A source close to Miami's Nina Johnson gallery, where Erizku had a show late last year, said that the artist confirmed via text that he took the picture." BBC is also reporting that the 28-year-old is responsible for Bey's trending portraits. Bustle has reached out to Erizku for comment, but did not receive an immediate response.
Whether or not he did take the photos, Erizku has been inspired by Beyoncé before. In October 2014, Vogue shared an Instagram of Bey and Jay Z at the Louvre in Paris, France. The caption accompanying the photo read, "#regram @awolerizku's outtake from #Beyoncé and #JayZ's trip to the #Louvre." As stated in the caption, this particular photo isn't the original photo, which featured the Carters standing in front of the Mona Lisa. In Vogue's Instagram, and as reported by the BBC, Erizku replaced the Mona Lisa with one of his own portraits.
He didn't directly work with Bey here, but Erizku seemed to find inspiration in her trip with Jay Z and their daughter, Blue Ivy Carter, to the Louvre.
According to the BBC, Erizku was born in Ethiopia, but grew up in the South Bronx. In 2014, he graduated from Yale University with a masters in fine art. So, yeah, he knows what he's doing.
In a May 2015 interview with Vulture, Erizku opened up about his work and how he wants it to speak to everyone, no matter the color of their skin. "Honestly, I don't see it as just being about black culture; it's about my culture, and I'm documenting my culture," he said. "If we label everything as black or white or yellow or whatever, then it becomes this thing of, this belongs here, this belong there. There's an aspect in my work that I want to be universal."
That said, showcasing people of color is important to Erizku. Per his bio on Arsty, he once said, "There are not that many colored people in the galleries that I went to [growing up] or the museums that I went to. I was just like, when I become an artist I have to put my two cents in this world."
That sounds like something Beyoncé would be on board with, so choosing Erizku to take her pregnancy photos makes sense. Maybe they both realized they had a connection when it comes to uniting the world through their respective types of art and that's why Beyoncé chose the artist to be part of this amazing chapter of her life.