Who Was Andrea Lee Anna Castilla? The Las Vegas Victim Was Celebrating Her Birthday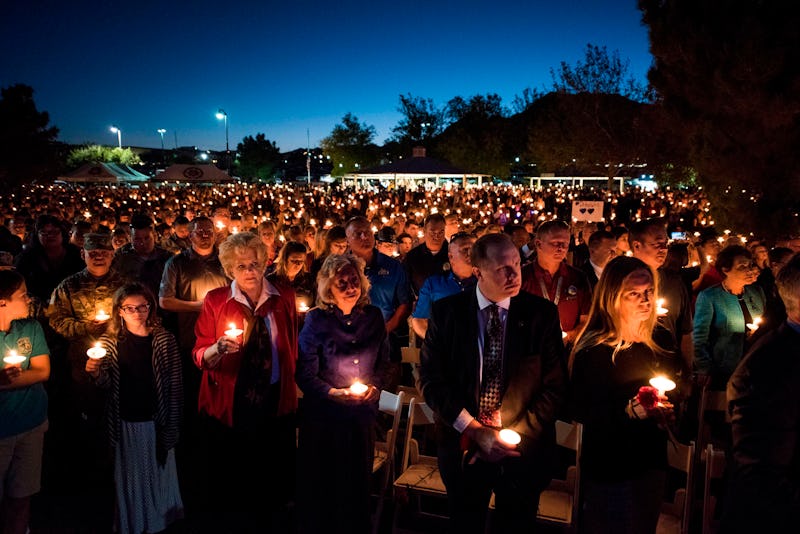 ROBYN BECK/AFP/Getty Images
The nation is still reeling from the tragedy that unfolded in Las Vegas on Sunday, when a gunman shot and killed 58 people at a country music concert before turning the gun on himself. One of the Las Vegas victims was Andrea Lee Anna Castilla, who was celebrating her 28th birthday with her loved ones when the shooter fired on the crowd, killing her and dozens of others.
A resident of Huntington Beach, California, Castilla was a fan of hiking and healthy living, and initially pursued a career in dentistry before becoming a makeup artist, her siblings said. In interviews with People, Castilla's family said that her career change was inspired by witnessing her mother's battle with cancer.
"When she told me what she wanted to [pursue a career in cosmetics], it was like a light lit up," Castilla's brother Adam told People. "She wanted to make everybody look beautiful and feel beautiful."
As a high school swimmer, Castilla "loved competition," Adam said.
"She beat all the girls, so she would race all the boys, and she would beat them too," Adam told People.
Castilla was a country music fan as well, and had gone to Vegas that weekend with friends and family to celebrate her birthday at the Route 91 Harvest festival.
"When she realized [the festival] fell on her birthday weekend, she was like, 'Oh no, I'm coming!' " her sister Athena told People. "She told me, 'I love country…We're going to have a great time, so excited to see you!'"
The group initially mistook the gunfire at the concert for stage theatrics, her friends told the Register, but realized this wasn't the case after Castilla was struck by the bullets.
"I believe it was the second barrage that hit her," Castilla's friend Shane Armstrong told the Register. "That's when everyone started ducking. We realized that she was hit."
The group then made a dramatic escape from the chaos — a task made difficult by the continuing barrage of gunfire — in an attempt to get Castilla to safety. This involved maneuvering through the crowd and having Castilla's boyfriend, Derek Miller, climb over a fence so the rest of her friends could lift her over it. However, Miller was then escorted away from that fence, so Armstrong and Andrea stayed with her until they felt it was safe to move her.
"Athena and I laid there with Andrea," Armstrong said. "We weren't going to leave her."
The group was eventually able to find an exit, at which point they made their way to a highway and flagged down a truck driver, who gave them all a ride to the hospital. Castilla was taken in, and according to a GoFundMe page established to pay for her memorial costs, her friends waited seven hours in the emergency room. However, they were notified at 6:00 am the next day that Castilla had died.
According to Castilla's family, Miller had said earlier that he was planning on proposing to Castilla later in the weekend.
"They were planning on staying on until Thursday in our guest room," Athena said in an interview with People. "He told me, 'I was planning on asking her this weekend with you guys...We talked about spending the rest of our lives together.'" Castilla's brother Adam said that the couple "had promise rings, and they always talked about [marriage]."
In addition to the GoFundMe page established for Castilla in particular, a general fund has also been launched to disperse money to family members of all of the victims.
"She was a true dreamer," Adam said of his sister. "Anytime she would look at anything, it was always positive. Anything and everything, she would always turn it into a positive."