Coretta Scott King Would Say "No" On Jeff Sessions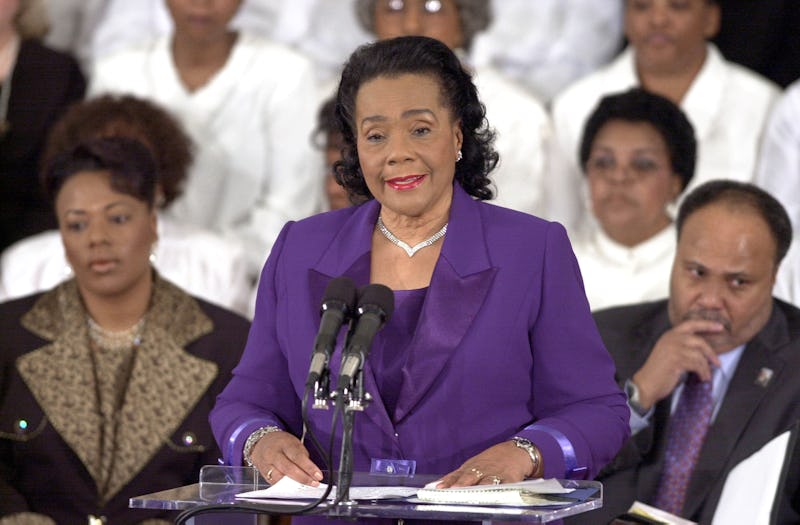 Erik S. Lesser/Getty Images News/Getty Images
At one point, accusations of racism were taken seriously and proof of opposing civil rights was seen by politicians in Washington, D.C., as disqualifying. No longer. Coretta Scott King was in the news because of a letter she wrote in the 1980s about Sen. Jeff Sessions, President Donald Trump's nominee for attorney general. She said Sessions "used the awesome power of his office to chill the free exercise of the vote by black citizens." Sen. Elizabeth Warren then quoted her and was silenced for doing so. But who was Coretta Scott King? She was a civil rights activist and the wife of Martin Luther King, Jr.
King worked with her husband, participating in the Montgomery bus boycott and the efforts to pass the Civil Rights Act of 1964. When her husband was assassinated in 1968, she pressed on in her activism, founding the Martin Luther King Jr. Center for Nonviolent Social Change in Atlanta and lobbying congress to make MLK Day a national holiday. The bill was finally signed by Ronald Reagan in 1983. In addition to her activism, she was a commentator on CNN and a frequent author of columns in papers across the nation. She died in 2006.
It's no mystery what King would have thought of the controversy surrounding Sessions' confirmation were she alive today. That's because she wrote her thoughts down on the matter in 1986 when Sessions was up for a federal judgeship. She wrote the chairman of the Judiciary Committee at the time, Strom Thurmond, and explained her "sincere opposition":
Anyone who has used the power of his office as United States Attorney to intimidate and chill the free exercise of the ballot by citizens should not be elevated to our courts. Mr. Sessions has used the awesome powers of his office in a shabby attempt to intimidate and frighten elderly black voters. For this reprehensible conduct, he should not be rewarded with a federal judgeship.
It's safe to say she would have felt the same way about his confirmation as attorney general, given that it was the way he carried out his role as a United States Attorney that she took issue with. The attorney general is the boss of all the federal prosecutors nationwide.
And it's precisely these words that Warren tried to read to the Senate when she was silenced by the Senate Majority Leader Mitch McConnell using Rule XIX, basically a technicality that you can't speak ill of other senators. Considering that the senator is the topic of discussion, that is just unacceptable.
Luckily, McConnell's move has drawn more attention to this issue. Warren's Facebook reading of the letter has drawn more than 3 million views and Sen. Jeff Merkley read it into the Senate record later in the evening.
King would not approve of Sessions' confirmation. Call your senators and let them know.