Manchester Attack Victim Georgina Callander Is Being Remembered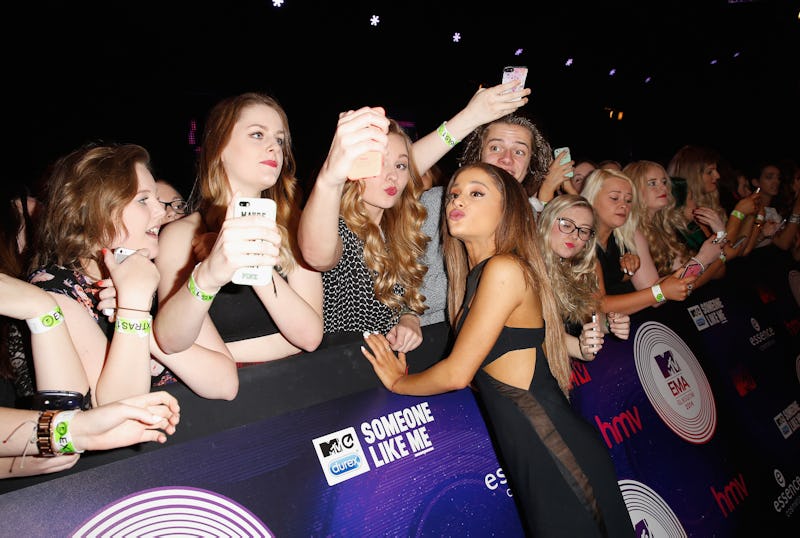 Tristan Fewings/Getty Images Entertainment/Getty Images
On Tuesday, the day following the deadly explosions outside of the Ariana Grande concert in Manchester, Georgina Callander was tragically named the first victim of the attack. Callander had just tweeted how excited she was to see Grande the day before the concert and had also met the pop star in the past. She reportedly died at the hospital with her mother near her, according to The Evening Standard. At the moment, the other 21 victims have not yet been publicly identified.
The Sun reported that one of Callander's friends had described her as being able to light up the room. Her enthusiasm and liveliness is apparent just by glancing at her tweets about Monday night's concert. For example, the day before the concert, she had tweeted in all caps, "So excited to see u tomorrow" to Grande. And in April 2016, she was featured in Celeb Mix after meeting the members of Fifth Harmony, making it clear that she was likely a frequent concertgoer. In the article, she described her experience being able to talk with the pop singers. Her excitement and cheerfulness is contagious. She called one member of the group "literally the sunshine that lighted up the whole room," and called it "honestly the best day ever."
On Tuesday, tributes began pouring in on social media to remember her, sending thoughts and prayers toward her family.
Based on her Twitter account, it seemed as though Callander shared her good spirit with those around her as well. In fact, she had over 6,000 Twitter followers whose days were surely brightened by her fun, positive messages about other pop artists, TV shows, and films such as Mamma Mia and the new Beauty and the Beast.
According to the Daily Telegraph, one of Callander's friends wrote, "I'm so lucky to have met you and known you". Actress Karen David also shared her own tribute for Callander, who she met at an event just weeks earlier, the Telegraph also reported. "It's not fair, it's not right," she wrote. "It makes me so angry and it breaks my heart that such a young and promising life has been stolen away!"
The Greater Manchester Police Department, Prime Minister Theresa May, and Ariana Grande herself have expressed their condolences for the lives lost. Following her concert, Grande simply tweeted, "broken. from the bottom of my heart, i am so so sorry. i don't have words." And based on her fans' loyalty, it's easy to understand the loss of the words.
Here are some ways you can help victims of the attack.