Melissa Ramirez, One Of The Las Vegas Victims, Came From A "Close-Knit Family"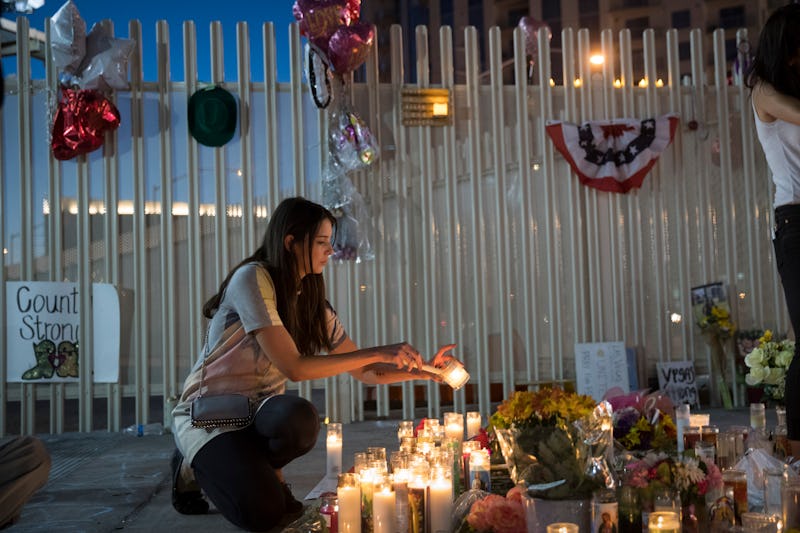 Drew Angerer/Getty Images News/Getty Images
Friends and family were devastated to learn of 26-year-old Melissa Ramirez's death in the Las Vegas mass shooting on Sunday. Ramirez graduated from California State University, Bakersfield, in 2014 with a bachelor's degree in business administration. Her alma mater confirmed the death of its former student on Tuesday with a statement issued by university president Horace Mitchell:
We are terribly saddened to learn that we lost a member of our CSUB family in this senseless act of violence. Our entire CSUB campus community is heartbroken, and we send our deepest sympathies to Melissa Ramirez's family and friends.
The university, located roughly 100 miles north of Los Angeles, lowered flags on campus to half staff this week to honor Ramirez and the other shooting victims. The North Hollywood resident had been at the the Route 91 Harvest Festival, a country music event, on the Las Vegas Strip. During the performance of Nashville singer Jason Aldean, a gunman opened fire on the crowd of 22,000 from his 32nd-floor window at the Mandalay Bay Resort and Casino. Authorities confirmed he killed 59 people, including himself, and injured at least 527 people. Ramirez's Facebook page has turned into something of a memorial.
Ramirez, a Southern California native, was a football fan who cheered for the Philadelphia Eagles in the NFL and the USC Trojans in the NCAA. She also supported the Mexican national soccer team, the Los Angeles Dodgers, and the Los Angeles Lakers, according to her Facebook page. Ramirez's last Instagram post was from her trip to Las Vegas.
Her brother Roberto Ramirez will be in charge of his sister's funeral arrangements and the family has started a Gofundme to assist in this. The fundraiser's page calls on people to "celebrate the life of a young woman who has gone to be with the Lord." Her former employer, the AAA Automobile Club of Southern California, also left a comment on the fundraiser's page to say "Melissa was a highly-regarded employee who will be deeply missed by everyone who worked with her." The campaign has raised more $34,000 from 550 contributors in one day.
Fabiola Farnetti, Ramirez's cousin, told The New York Times that Ramirez was the daughter of Mexican immigrants who became United States citizens. Her cousin, a country music lover, came from "a big and close-knit extended family" and while attending college, would often visit her family on the weekends. Ramirez had just received a promotion at her job in the car insurance company, Farnetti said. In high school, the two of them spent summers working alongside Ramirez's parents selling fruit and vegetables at local farmer's markets.
Police have identified 64-year-old Stephen Paddock, a Mesquite, Nevada, resident, as the gunman in the Las Vegas mass shooting. Police say Paddock committed suicide not long after a hotel security guard signaled the shooter's location to the police. A SWAT team broke into the room to find his body and 23 weapons. Investigators later found 19 firearms, thousands of rounds of ammunition, and explosives in his Mesquite home, around 80 miles northeast of Las Vegas. Paddock acquired all his guns legally.
Terrorist group ISIS has claimed responsibility for the attack, but the FBI said it found no link between the Las Vegas shooting and any terrorist organization, international or local. The gunman's motives are unclear; his brother told news outlets that Paddock expressed no political or religious affiliation. The Las Vegas mass shooting is considered one of the deadliest shootings in recent U.S. history. There have been more than 200 mass shootings in 2017 so far, defined as incidents where four or more people excluding the shooter have been shot.