Princess Eugenie Will Be The First Female British Royal To Get Married In Almost A Decade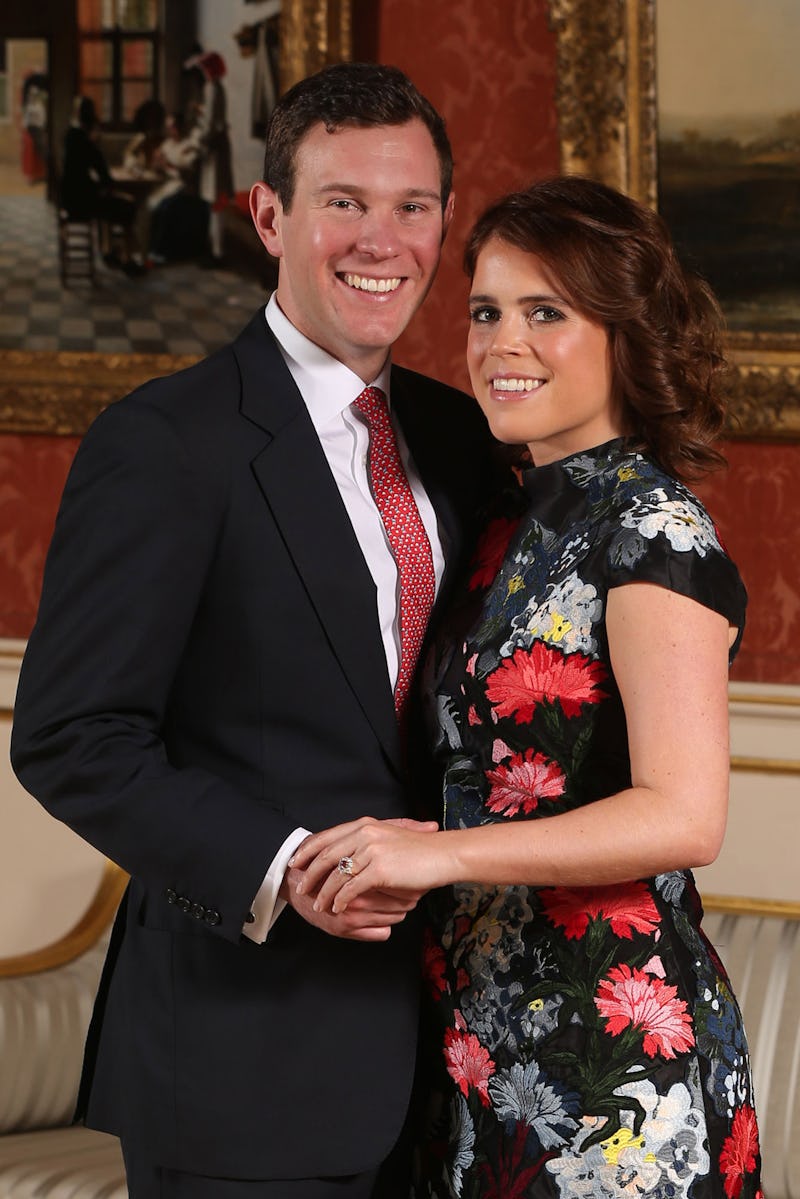 WPA Pool/Getty Images Entertainment/Getty Images
Princess Eugenie's wedding is coming right up, and while it's an exciting event for royal watchers, there's something different about these royal nuptials that doesn't stand out right away. While the last two major British royal family weddings have featured royal men getting married to "commoner" women (Prince William and Prince Harry to Duchess Catherine and Duchess Meghan, respectively), Eugenie is the royal of the couple this time. Who was the last woman from the British royal family to get married? You don't have to look back very far to find her.
In July 2011, Zara Phillips, Queen Elizabeth's granddaughter and the daughter of Princess Anne, married rugby player Mike Tindall. This wedding took place only three months after the Duke and Duchess of Cambridge's wedding, and it was far different. When Prince William married Kate Middleton, it was televised and watched by millions of people. But when Phillips got married, it was more like a regular wedding — just one with a lot of members of the royal family in attendance.
The couple got married in Scotland at the Canongate Kirk (a church that is part of the Church of Scotland). According to Vogue Australia, there were 400 guests in attendance, including the Queen and Prince Philip, William and Middleton, Prince Harry, Princess Eugenie, Princess Beatrice, and, of course, Phillips' mother, Princess Anne, and her father, Mark Phillips. Phillips wore a Stewart Parvin dress and the Greek Key diamond tiara (aka the meander tiara), which had belonged to her great-grandmother Princess Alice, as reportedly by Royal Central.
Now, you might be wondering why Zara is called Zara Phillips (or Zara Tindall) rather than Princess Zara, and there's a clear reason for that: Her mother, Princess Anne, and her father, Mark Phillips, decided not to give their children titles. According to People, Anne's children would not have gotten titles automatically "since titles can only be given to a monarch's grandchildren through sons, not daughters," but Queen Elizabeth offered to make Phillips and her brother, Peter Phillips, a princess and prince. However, Anne and Mark declined — and Phillips is glad she didn't get a title, because of the freedom it afforded her. She told The Times (via People), "I'm very lucky that both my parents decided to not use the title and we grew up and did all the things that gave us the opportunity to do." For Phillips, this included her equestrian career. She won a silver medal in the team eventing competition in the 2012 games.
Before Phillips, the last time a woman member of the royal family who is a direct descendent of Queen Elizabeth got married was when Phillips' own mother married Timothy Laurence. Princess Anne wed her second husband in a small ceremony in 1992 and, like her daughter, she got married in Scotland. According to the Associated Press, they chose to get married in the Church of Scotland because at the Church of England did not allow church ceremonies for a divorced person if their ex-spouse was still alive at that time.
Other than Anne's wedding, there was the 1994 marriage of Lady Sarah Chatto (née Armstrong-Jones), Princess Margaret's daughter and niece of Queen Elizabeth, to Daniel Chatto. Lady Sarah is currently 23rd in line to the throne.
But, if we're looking just at the most recent immediate family member, Phillips, who is 17th in line for the throne and a direct descendent of Queen Elizabeth, is the most recent British royal woman to marry. At least until Oct. 12, when Princess Eugenie, ninth in line to the throne, takes over.