Figuring Out Who Will Be In The 'GoT' Spinoffs Is The Ultimate Guessing Game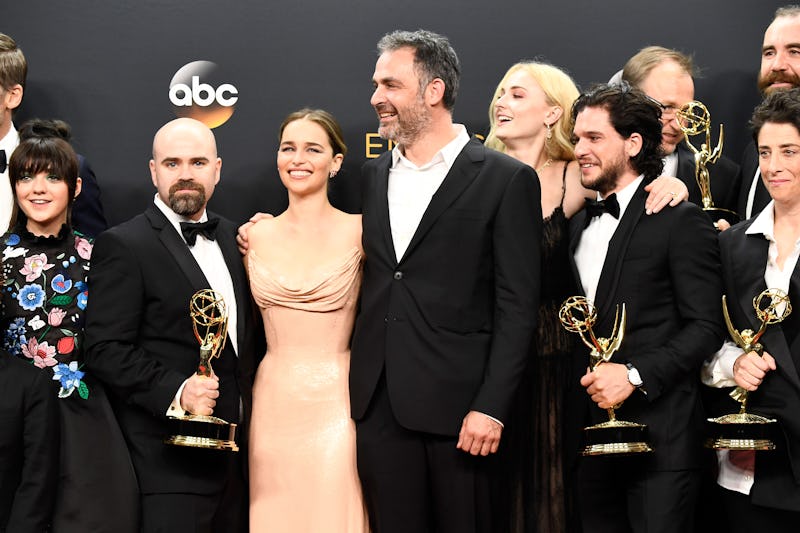 Frazer Harrison/Getty Images Entertainment/Getty Images
After Season 8 of Game of Thrones wraps in early 2019, HBO has plans for multiple spinoffs set in the same universe. But who will be in the Game of Thrones spinoffs exactly? With at least a year until all-new GoT episodes, fans need something to keeping them going. Guessing at which timelines HBO's reported four or five series will tackle is a fairly good start. Despite the plethora of source material, the show has both moved ahead of and diverged from many of the books' plotlines. This means figuring out the cast is quite a guessing game.
Since 2011, so many characters have been unceremoniously offed; the showrunners' willingness to kill the series' stars has become something of a punch line. This renders speculation nearly impossible. Viewers also need a solid time frame properly hypothesize which characters will receive Game of Thrones spinoffs. Knowing whether HBO wants to develop a prequel, sequel, alternate timeline, or more will help establish who can and can't be part of the show.
The one thing Thrones fans know better than to rely on is the actors themselves. They're always one step ahead of the fanbase, which can be tricky. Remember when Kit Harington insisted Jon Snow wasn't going to come back? Hard to believe he had anyone fooled with that. Even with his haircut.
The series is known for surprise deaths, plot twists, and in the most recent season, a hefty dose of keeping things from the audience. It's tough to say what direction the spinoffs will take, particularly when the trajectory of Season 8 remains entirely unknown. Emilia Clarke made it clear that she's retiring Daenerys after the next season. So, without a Khaleesi or a Jon Snow, the Red Woman's prediction that she and Varys will die before the series ends, and seeing as HBO confirmed they are not developing a series about Robert's Rebellion, what's left to follow? Seven hells, they couldn't possibly follow the child of Cersei and Jaime Lannister, right?
Well, HBO doesn't have to. Arya Stark has long been a fan favorite, and it would be exciting to watch Maisie Williams take the character in a new direction. Centering a spinoff on Arya would also open the proverbial door for cameos. She's the best-traveled highborn person-slash-magic assassin in Westeros. It would be incredible to watch her conquer the Seven Kingdoms and beyond, and have her encounter Syrio Forel, Jaqen H'ghar, and others along the way. She's dynamic, unpredictable, and still alive. So that's all in her favor.
Another potential subject? The Greenseer formerly known as Bran Stark. Yes, that little lord was kind of a bummer upon his return to Winterfell. To be fair, though, he possesses the ability to see, feel, and perceive all things. If you, a human person, had the ability to see the past, present, future, read minds, and project your consciousness into any living thing, your personality might diminish a bit as well. A Bran Stark-centric spinoff would let the series travel across the entire universe of the series, and that would be rad. If Game of Thrones could develop an entire series out of flashbacks and self-contained prequels — all prompted by Bran — it could keep itself around for years to come.
On the other hand, Digital Spy posits that at least one of the adaptations would focus solely on a period of Westerosi history, which would mean not a single character from GoT could carry over. That's way less fun than the other rumors, including Young Varys or Ser Bronn The Free To YOLO. Also, Gendry's fate remains uncertain, but who wouldn't want to watch him roaming the countryside with his axe? It would be way more enthralling than eight years of Sam at the Citadel. (No offense, Maesters.)
It's difficult to flesh out a fantasy series' winding, well-rounded universe when adapting it for television, but showrunners David Benioff and D.B. Weiss have, by and large, done an excellent job. Digital Spy reports that "two or three" series are expected to make it into "the pilot stage" by 2019 or 2020, there's plenty of time to plan. Keep the conspiracy theories coming — it's what Littlefinger would want.