Mumford & Sons' Support Act Is Guaranteed To Be On ALL Of Your Playlists In 2019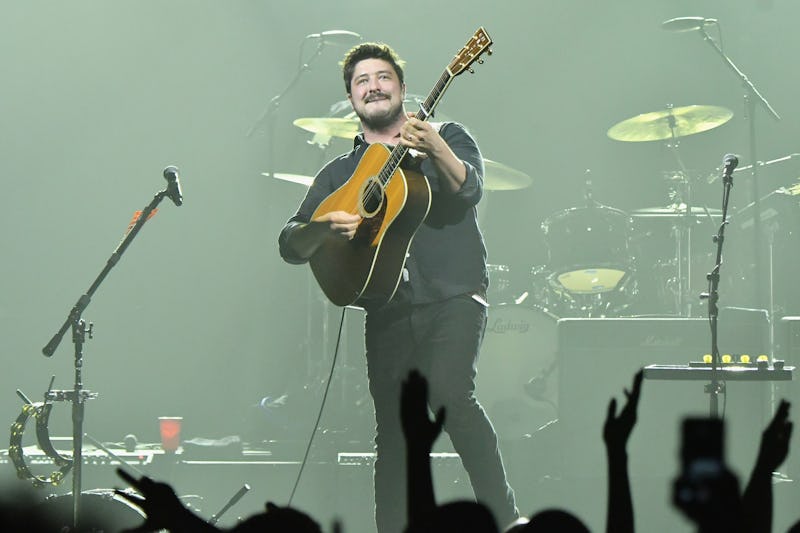 Mike Coppola/Getty Images Entertainment/Getty Images
Mumford & Sons will soon be bringing their waistcoasts and banjos to a stadium near you. Actually, nowadays they've mostly replaced the banjos for electric guitars and a more arena friendly sound, but they pack as much oomph as ever. Their UK tour in support of their forthcoming album Delta, which is due out on Nov. 16, kicks off two days after the release. They'll be taking their jangly classics and showcasing new tunes everywhere from Belfast to Birmingham, and if you're off to a show, you might be wondering, who will be supporting Mumford & Sons on tour?
If you haven't heard her music already, then I predict that by this time next year, you'll have her songs stuck in your head. Make sure you arrive in time for the support act, because it's none other than Maggie Rogers, the musician who was in on this SNL joke that made Ariana Grande rage, as well as your new favourite pop star.
She's performed with Mumford & Sons before, as she lent her vocals to the boys' headline performance at Latitude Festival in 2017, so don't be surprised if she does the same again on tour. Just make sure that you arrive in time for her set beforehand. According to her Wikipedia page, the singer is only 23 years old, but she's been making music for quite some time. She originally broke out with her infectious songs "Alaska," which she wrote in 15 minutes for a songwriting masterclass with Pharrell Williams, as she told The Current back in April, 2017.
A video of the moment that Rogers first played the song to a visibly awestruck Williams went viral in 2016, but she's yet to have her big break. That, however, is imminent. Even though she's been around for a little while, Rogers doesn't yet have a full length album to her name, but her debut — and what will surely be her global breakout — comes out on Jan. 18, 2019, Stereogum reports. It's titled Heard It In A Past Life, and it'll feature "Alaska", as well as some hits you may have heard on the radio, like the extra boppy "On + Off".
She's also done some gorgeous takes on some classics, including the Spice Girls' "Wannabe," which she covered with fellow indie youngster Declan McKenna at Glastonbury Festival in 2017, NME reports. You can also hear her super silky voice taking on The xx's "Say Something Loving" on Australia radio station Triple J's uber popular "Like A Version" series. It's just as dreamy as you'd expect it to be.
Mumford & Sons are a lucky bunch, having this upcoming mega star as their support act. And if you've got yourself a ticket, count yourself lucky too. Not only will you be treated to some absolute bangers right before the Sons' set, you'll get to catch someone who's surely set to be one of 2019's biggest stars before the rest of the world latches onto her.