Meghan Markle's Wedding Dress Could Be Designed By One Of These Three British Fashion Designers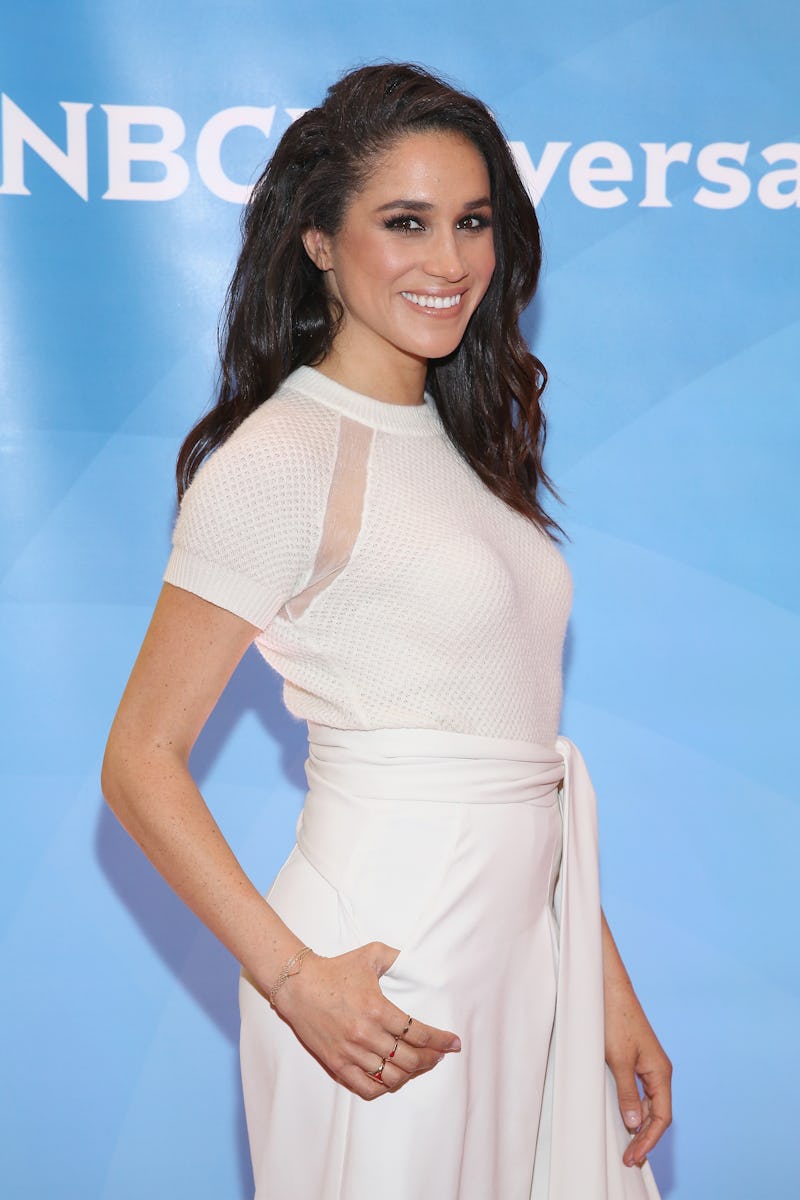 Robin Marchant/Getty Images Entertainment/Getty Images
With a royal wedding on our horizons, there are plenty of things to wonder about. First, what does one serve at a wedding viewing party? Are we all going to wear fancy hats and sweatpants, eating finger sandwiches and drinking tea as the last royal son ties the knot? What will the commemorative plates look like? And lastly, and most importantly, what will Meghan Markle's wedding dress look like?
Prince Harry and Meghan Markle recently got engaged, and the fashion world is already buzzing with questions of who is going to design Markle's wedding dress.
If we look at the evolution of Kate Middleton when she married into the family, one can only deduce Markle is going to become just as big of a fashion icon. After all, it's hard for us normals not to look up to our stylish royal counterparts. And while Markle's off-duty style and royal function aesthetic has been flawless thus far (just check out what she wore to a Polo match with Prince Harry,) a wedding dress ups the sartorial ante.
While the big day doesn't happen until spring in 2018, there is already speculation on what designer will get the honor of turning Markle's wedding vision into a reality. For Middleton, that honor went to Alexander McQueen, who created a beautiful lace gown for her 2011 nuptials.
Duchess Middleton and Prince William got married in Westminster Abbey, the the traditional place of coronation and burial for British monarchs, and so the couture design label had to find a way to make the dress worthy of the venue and the historical moment — which is not easy. McQueen's creative director Sarah Burton told Harpers Bazaar, "It had to be a dress of historical importance and one which had enough presence for Westminster Abbey, and yet it needed to be modest."
There's no news of where Markle plans to walk down the aisle, but chances are her dress will veer close in aesthetic as the Duchess'. After all, the royal family has to stick to a strict code of traditional rules when it comes to their appearance — modesty is key. Middleton and the Queen aren't allowed to even wear colored nail polish during royal functions, so one can't really imagine Markle getting to choose a dress with sheer cutouts and an open back. It would be very unlikely she would get to try something risque and aggressively fashion-forward. Tradition, after all, reigns supreme in Buckingham Palace.
But lucky for Markle, her wedding vision doesn't seem to veer too far away from that aesthetic. When asked about what her dream gown would look like, she shared it would be "classic and simple."
"I personally prefer dresses that are whimsical or subtly romantic," she told Hello!
As for which designers are possibly being considered, Markle would most likely have to choose a British label to stick with tradition. Check out the contenders below.