Jaime Camil Is Heading To 'Charmed' For An Episode 'Jane The Virgin' Fans Can't Miss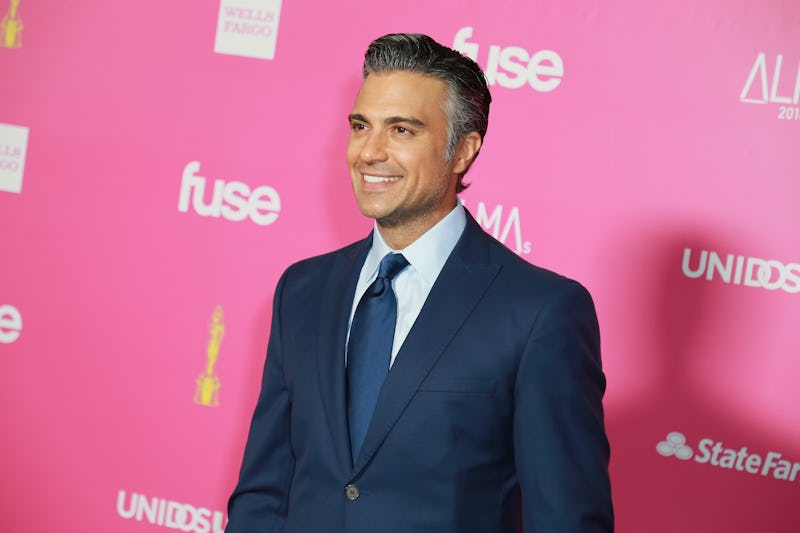 Leon Bennett/Getty Images Entertainment/Getty Images
Most of the CW crossovers typically happen with the superhero-centric shows such as The Flash and Arrow, however, it won't be long now until a different set of CW worlds collide — at least, in a sense. According to Entertainment Weekly, Jane the Virgin star Jaime Camil will appear on an upcoming episode of the Charmed reboot for what's sure to be an exciting guest star stint. But who will Jaime Camil play on Charmed exactly, and will he prove to be a friend or foe for the Charmed ones? Let's just say his role is one that his Jane the Virgin counterpart, Rogelio De La Vega, would have loved to portray.
EW reported that Camil is set to take on the part of Mr. Morales, who is described as being "the brash and eccentric new Music Director of Hilltowne University's a cappella group, The Hilltones." Morales is also said to be in possession of a pitch pipe, which proves to be very near and dear to his heart. However, considering that Charmed is a show centered mainly around magical hijinks, it's probably safe to say that this will prove to be no ordinary pitch pipe, which may explain how he ends up crossing paths with the sisters in the first place. And given that he's teaching a music class, it stands to reason that fans could be treated to a vocal performance by Camil at some point throughout the hour. (Hey, a girl can dream, right?)
However, a possible Camil musical performance isn't the only reason viewers should tune in for this particular episode since it will also serve as a major Jane the Virgin reunion. Not only was the Charmed reboot co-created by Jennie Snyder Urman, who also created Jane the Virgin, but Gina Rodriguez will also be directing the episode. It had been previously announced that the Jane the Virgin star would be offering up her directing talents to the series, so the fact that it just so happens to be the same one Camil is in is pretty great.
As of now, it's unclear just exactly when Camil will pop up during the season since an "upcoming episode" could refer to pretty much anything. Will it be before the show goes on winter hiatus or after the holiday season is over? For now, it's anyone's guess, but given Camil's talent of making Rogelio's self-centeredness seem downright charming, there's no doubt that his newest role will prove to be just as unforgettable, even if Mr. Morales turns out to be of a demonic nature. Because, hey, if anyone can make a demon seem charming, it would be this guy.
For those unfamiliar with the show, Charmed centers around the lives of three sisters: Macy, Mel, and Maggie, who learn shortly after their mother's death that they are actually the three most powerful witches in the universe, known as "The Charmed Ones," and it's their destiny to protect the world from supernatural harm. Let's just hope Camil's character doesn't fall into that category. If so, then his special guest stint may come to an abrupt end.