Gina Rodriguez Is Getting Involved With The 'Charmed' Reboot In The Coolest Way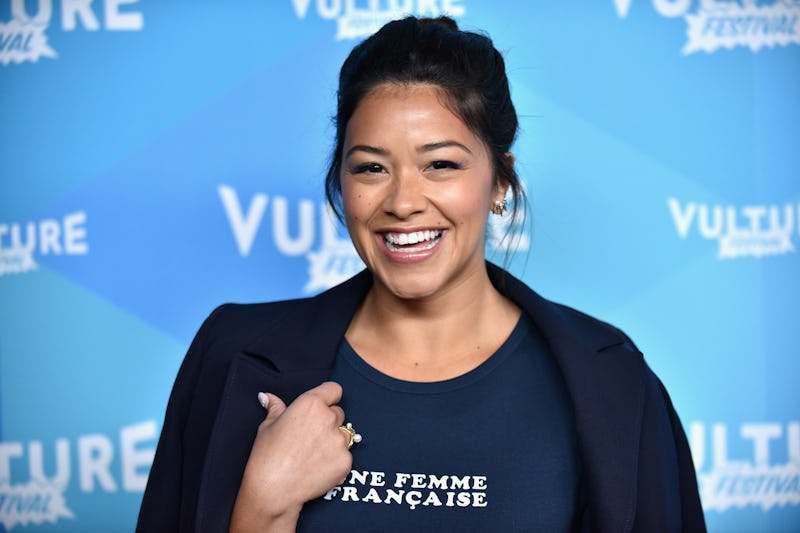 Bryan Bedder/Getty Images Entertainment/Getty Images
Need another reason to be excited about the Charmed reboot? The new Charmed ones will be receiving some direction from none other than Jane Villanueva in their debut season. As reported by Variety, Jane the Virgin star Gina Rodriguez will direct an episode of Charmed, and the actor couldn't be happier about her cool gig, or who she'll be directing.
Rodriguez told Variety,
"I'm very excited about that opportunity and obviously very excited that I get to do it with three Latinas. It's really f—ing awesome. It's going to be really exciting to see what that journey is."
Jane the Virgin and Charmed share the same creator, Jennie Snyder Urman, and the reboot is also being executive produced by Jane the Virgin writers Jessica O'Toole and Amy Rardin. While the original series focused on the Halliwell sisters, the reboot is centered on Macy, Mel, and Maggie, who will be played by Madeleine Mantock, Melonie Diaz, and Sarah Jeffery. In this more inclusive series, the sisters are of Hispanic descent, and middle sister Mel is a lesbian.
Variety reports that Rodriguez will be stepping behind the camera for episode 11, so it will be a few episodes before fans get to see the Jane the Virgin star's influence on the sisters' journey. But given how talented the actor is, her episode is sure to be a standout.
Rodriguez made her directorial debut in Season 4 of Jane the Virgin. That means her episode of Charmed will be her first time directing an episode of a series that she doesn't also star in. With Jane the Virgin set to end with Season 5, it's possible there could be more directing gigs in the actor's future — that is if she has time. According to her IMDb page, her schedule is packed with upcoming projects.
First up, Rodriguez will star in Miss Bala, an untitled Miranda July project, and two other films. She has also signed on to provide the voice for Carmen Sandiego in Netflix's reboot, as well as play the iconic character in a live-action movie. In addition to all of that, she also has her own production company — I Can and I Will. Basically, there's nothing this mutli-hyphenate talent can't do, and that includes directing the new Charmed ones.
The Charmed reboot is off to a bit of a rocky start with the fans of the original series. The actors who portrayed the Halliwells have voiced their opinion on the reboot sans any involvement from them, with Alyssa Milano telling Entertainment Tonight earlier this month,
"I wish that they would have come to us and we would have been involved since the beginning. But having said that, I do hope that it reaches the newer generation and impacts that generation the way ours was able to do for its generation."
It seems like the show has an excellent chance of doing just that, and if the Power of Three can impact a new generation of fans then the reboot will have done its job. Since it's being guided by the talented people who brought the world Jane the Virgin, there's an excellent chance the reboot will be well worth a watch. And with Rodriguez set to direct at least one episode, Jane the Virgin fans have all the more reason to check the new Charmed out.