Could One Of These Actors Be The Next 'Doctor Who'?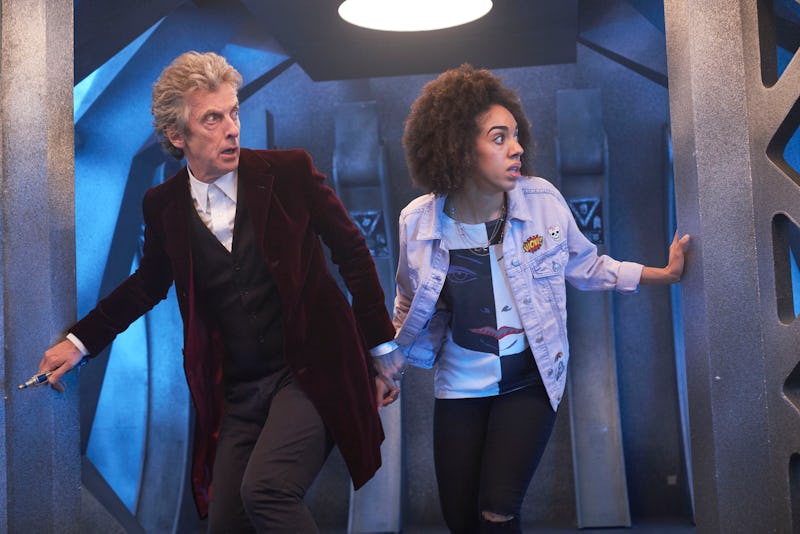 Simon Ridgway /BBCA
Doctor Who is back on the air, and regeneration is humming in that very same breathing space. Who will replace Peter Capaldi in Doctor Who? The actor's departure was announced earlier this year, so let the speculation about the Thirteenth Doctor begin! I'm kidding, of course. Doctor Who casting speculation is basically an ongoing event.
My list of suggestions is not going to include many white men after twelve in a row, I'll tell you that up front. It's beyond time for a change in Doctor Who, and time is something this series has in spades. There's no excuse not to consider actors outside of what's been the status quo, and now is the time to cast an actor of color and/or a woman in the iconic role. Even Community's parody series Inspector Spacetime had Minerva.
However, some of the actors widely speculated for the role do include, according to odds from The Sun, Kris Marshall (Colin from Love Actually), Anthony Head (Giles from Buffy), and James Norton, the love interest from Belle. Digital Spy, on the other hand, has thrown around names like Rory Kinnear, Ben Daniels, and even Rupert Grint. Fans should be prepared for anything.
Here are some other considerations, from fan campaigns, the above "bookie" picks, and this writer's own personal think tank. As someone who loves to speculate about casting, and finds James Bond picks to be a bit too boring at times, the Doctor is a particularly fun role to think about. The doc has to be dashing, but eccentric as well — my favorite kind of person. Hopefully, one of these actors will get to be the next Time Lord.
Richard Ayoade
My personal favorite pick, the I.T. Crowd star has exactly the right look.
Hayley Atwell
Look, if we can't have more Agent Carter, at least give me this.
Tilda Swinton
She mastered the supernatural in Doctor Strange. Maybe its time to switch practices?
Nathan Stewart-Jarrett
The former Misfits star is currently playing Belize in the National Theatre production of Angels in America.
Indira Varma
The Game of Thrones actor would make an impressive Doctor.
David Harewood
Can Supergirl spare a Martian for a good cause?
Sacha Dhawan
The former History Boy and current Iron Fist standout is a dark horse pick, and I'm into it.
Katie Leung
This is my idea, just to throw some love to the Harry Potter fandom. Cho Chang can be a thankless role, and it'd be cool to see Leung step into something meatier.
Richard Madden
As much as I think Doctor Who should be played by anyone other than a white male actor, I can't deny that Madden would look good doing it. What can I say? I miss Robb Stark every day.
Parminder Nagra
It's crazy to me that the star of Bend It Like Beckham isn't leading her own show (or starring in a bunch of films) by now. Let's fix that.
Ben Whishaw
I'll also love Whishaw until the day I die, and he is both a favorite and just an excellent pick. He'd also be the first openly gay actor to play Doctor Who.
Phoebe Waller-Bridge
Another favored lady is this Fleabag star who recently joined the Han Solo movie.
Olivia Colman
The Broadchurch star is on of The Sun's picks. Since Tenth Doctor David Tennant was her costar on that series, and Broadchurch creator Chris Chibnall is set to take over Doctor Who, it's a fair bet.
Naveen Andrews
I just think it would be nice for this Lost actor to get to play a born and bred Brit for a change, you know?
Hopefully one of these actors will step into the role of the Thirteenth Doctor — or at least, let's hope that the choice is fitting even if comes from out of left field. (Can I use baseball metaphors for this show?) The only reason that Doctor Who has lived on and on and on for so many seasons is because it is a revolving door for incredible actors. Whoever takes on the lead next is sure to be exciting.