After Bannon, Trump Could Become His Own Chief Strategist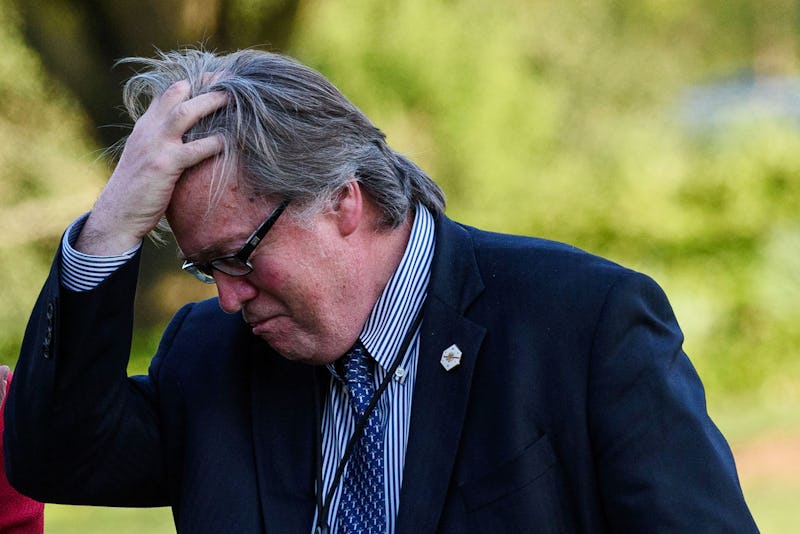 MANDEL NGAN/AFP/Getty Images
One of President Donald Trump's most controversial advisers has reportedly left his post at the White House. The New York Times was among the first to report Friday that Trump has decided to push out his chief strategist, leaving many asking, who will replace Steve Bannon in the White House?
"White House Chief of Staff John Kelly and Steve Bannon have mutually agreed today would be Steve's last day," the White House said in a statement Friday, per the Guardian's Ben Jacobs. "We are grateful for his service and wish him the best."
The exact details of Bannon's departure — did he resign or was he fired? — remain unclear and it's difficult to say who, if anyone, might replace him as chief strategist. In April, President Trump appeared to downplay the role Bannon played in the White House, telling Michale Goodwin of the New York Post, "I'm my own strategist," when asked if he still had confidence in Bannon. But does Trump's self-confidence mean he won't appoint a new chief strategist to advise him now that Bannon is on his way out?
The role of a chief strategist is not a White House position as traditional or structured as say, the chief of staff. In fact, it can be hard to pinpoint exactly what a chief strategist does beyond offering the president advice on how best to turn his campaign promises into policy. It's worth noting, however, that when Trump first announced Bannon as his chief strategist he said Bannon would work with his chief of staff "as equal partners," putting Bannon in a position of significant power and influence.
Meanwhile, the internet has some thoughts on who would replace Bannon, though it seems that they are split on whether the big remaining names in Trump's team are about to get the boot or be ushered in as the next chief strategist. Given that Bannon and Jared Kushner butted heads on many issues, this could be a moment for Kushner to ascend into an even more central role. Some suspect fellow nationalist Stephen Miller is on his way in, while others see this as a moment for Trump to purge racism from his campaign and have Miller and Seb Gorka follow Bannon out the door.
There are scary (but unrealistic) suggestions floating around.
And some people who are just enjoying this moment with a little humor.
Trump had reportedly been under increased pressure to fire Bannon, the man largely credited with developing and shaping the strategy that got Trump to the White House, following a white nationalist rally that turned violent in Charlottesville, Virginia, last week. In a letter sent to the president earlier this week, the leaders of black, Hispanic, Asian, and progressive House caucus groups argued Bannon's presence was emboldening white supremacists. "Americans deserve to know that white nationalists, white supremacists, and neo-Nazis are not in a position to influence U.S. policy," they wrote. If that is indeed the reason for his firing, Trump would be wise to fill the slot with someone who does not have ties to white nationalism and supremacy.
According to reports, Bannon had also recently found himself increasingly at odds with other senior White House officials, including Trump's son-in-law and senior adviser, Jared Kushner, and National Security Adviser H.R. McMaster, among others. Bannon's recent decision to take some of those internal conflicts public in an interview with the American Prospect is rumored to have hastened his removal from the White House.
Although it's difficult to say who might replace Bannon as Trump's chief strategist, the president is free to appoint anyone he wishes to the post as it is not a position that requires Senate approval.