Girl Power Is Alive & Well For Spice Girls And Their Record Breaking Tour Support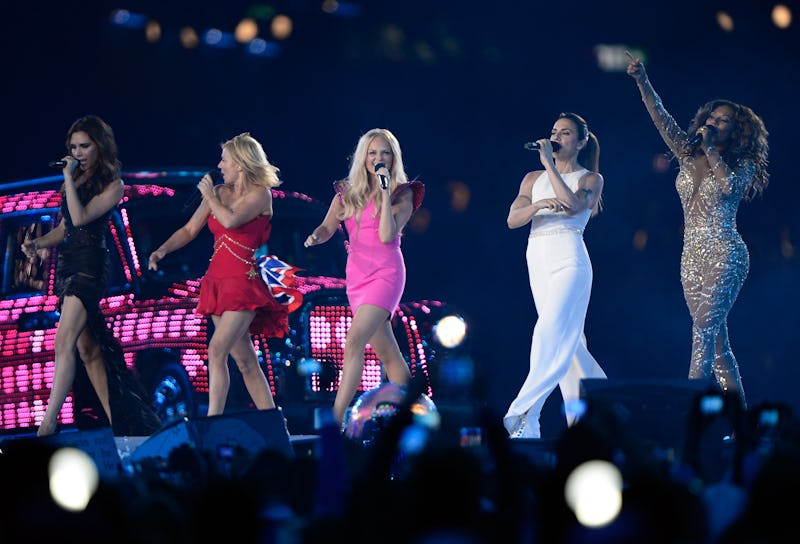 Pascal Le Segretain/Getty Images Sport/Getty Images
It's hardly surprising that when the biggest girl band of the '90s (don't @ me) goes on tour for the first time in a decade, they aren't going to do things by halves. And that's certainly true when it comes to the Spice Girls. They're touring some of the UK's biggest cities and playing some seriously massive venues (that will no doubt sell out). It's been confirmed that Victoria Beckham sadly won't be there, but what about any artists that might be joining them? Who will support the Spice Girls on tour? Well, it's not me, my singing career ended with a choir back in Year 8.
No instead, in keeping with the message of girl power the band was famous for spreading, and you know, actual talent, they've selected a well-known female musician to open for them. Fellow Brit Jess Glynne is the singer who's been given that immense honour. I mean can you imagine? Performing to a stadium full of fans is a pretty big rush for any artist, but performing to a stadium full of fans to introduce the girl band to end all girl bands? Career-defined, life made, goals met. Glynne said as much when she shared the news with her Twitter followers, commenting: "ARE YOU MAD! I'm Joining @spicegirls ON TOUR! Y'all best come through cause this stadium tour is gonna kick OFF!"
It makes sense that the now foursome would select Glynne as their support act — she's known for uplifting other women in her work, whether that's her fans or fellow artists like Little Mix to whom she gifted recent song "Women Like Me" which she wrote with Ed Sheeran back in 2016. She told the Daily Star,"They are an important group because they're such strong girls and have come a long way since X Factor. It is really empowering to see them doing so well and it was exciting to give them a song that meant a lot to me at a time in my life but now will mean a lot to them." Awh.
She's also one of the UK's most successful pop acts (just like the Spice Girls were in their heyday) earning the most No. 1s of any female artists in the UK, according to the Official Charts website, with "These Days" becoming her sixth chart topper. Not too shabby.
Glynne will be joining the Spice Girls at all six of their UK dates (any plans for international shows have yet to be confirmed). The full list of dates is as follows.
Saturday 1st June: Manchester Etihad Stadium
Monday 3rd June: Coventry Ricoh Stadium
Thursday 6th June: Sunderland Stadium Of Light
Saturday 8th June: Edinburgh BT Murrayfield Stadium
Monday 10th June: Bristol Ashton Gate Stadium
Saturday 15th June: London Wembley Stadium
If you fancy getting your hands on some tickets, you might want to cancel your Friday night plans as they go on sale Saturday Nov. 10 at 10.30 a.m. at Ticketmaster and Gigs and Tours. Don't let a hangover stand in the way of you seeing the Spice Girls and Jess Glynne. You'll never forgive yourself.