Rachel's Friend Just Totally Spoiled 'The Bachelorette' Ending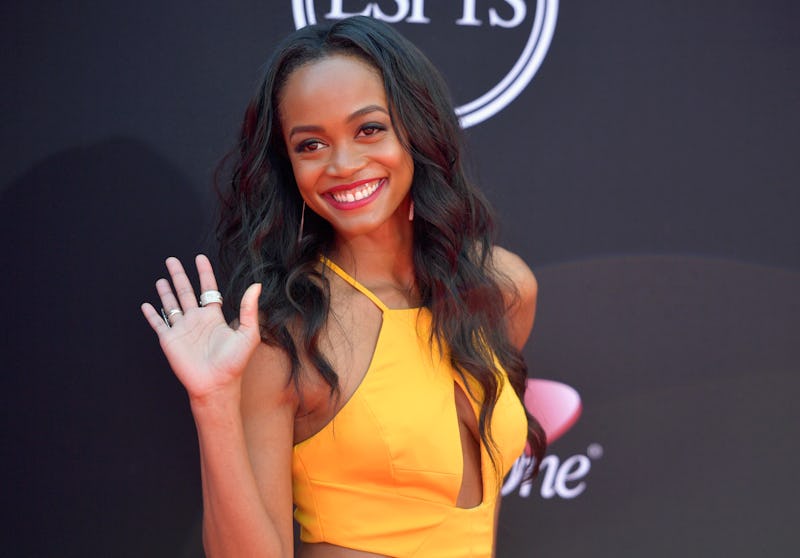 Matt Winkelmeyer/Getty Images Entertainment/Getty Images
Even though the winner of The Bachelorette is supposed to be kept a secret until the finale airs, it's just inevitable that some people already know how it ends. Come on, was Rachel Lindsay just going to get engaged and not tell any of her friends and family? No way. But one of her friends from Nick Viall's season of The Bachelor, Astrid Loch, may have just spoiled the end of Rachel's Bachelorette season when she discussed the happy couple in a Facebook Live interview with Entertainment Tonight. Major potential spoilers ahead, so read at your own risk!
ET host Lauren Zima asked Astrid, "On Instagram yesterday, [Rachel] posted that she's planning things for her engagement party. Can you tell us anything about that?" Innocent enough question. Easy enough to dodge, too, if you want to keep things secret for your friend. I mean, Rachel herself has been doing post-filming press, and is still staying tight-lipped about the actual winner.
Astrid confirmed that Rachel is "planning a party," and continued with, "They are going to Dallas to have a party there. He gets to meet all of her friends and non-Bachelor people too." Makes sense, but here's the potential giveaway: "And then they're going to Miami after that to have an engagement party there too." You know who lives in Miami? The smooth-talking chiropractor himself, Bryan Abasolo.
It definitely seems like Rachel's pal just gave away the identity of her man. If Rachel is having a party so the people in her life could meet her boyfriend, then why wouldn't he want to have a comparable party? Of course, Miami is arguably more of a vacation destination than Baltimore or Madison (Eric Bigger and Peter Kraus' home cities), so it is possible that Rachel was simply picking a vacation-style place for a fun party.
Nevertheless, it just doesn't make a ton of sense for the party to be for anyone else but Bryan, especially since Peter was hating on Miami so hard during that last episode. As fun as it would be to have a party in Miami, wouldn't it make more sense if the winner lived in Miami since it would be both a good time and a great opportunity for Rachel to meet her fiancee's loved ones? Yes, it would.
Astrid didn't explicitly share the identity of Rachel's boyfriend, so it technically is up for interpretation. But if you want to add this to the list of evidence that Bryan won Rachel's heart, it's a pretty MAJOR clue.