Rachel's Post-'Bachelorette' Interviews Might Tell Us Who Her Fiancé Is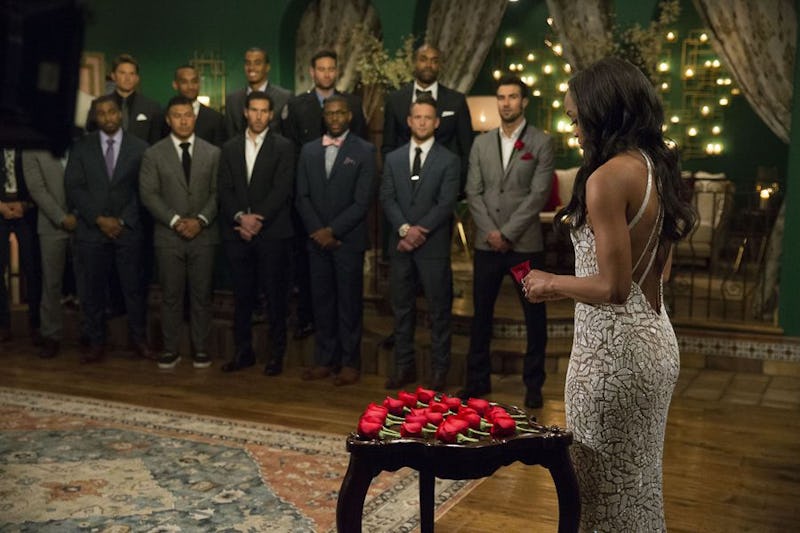 ABC
One of the best parts about watching this season of The Bachelorette is trying to guess who Rachel Lindsay will hand her final rose to. Depending on the season, it can be harder or easier to make a correct prediction, and Rachel's has been a fairly tough one. Add in some misleading editing, and it's even harder. The show isn't the only source of information, though. It's possible to make a guess as to who Rachel picks at the end of The Bachelorette based on her post-production interviews.
Rachel doesn't actually say who she chose in any of the interviews she has given recently, but she has confirmed that she is engaged. And if you ask me, the lucky guy is Bryan. At least, that's what I think her interview quotes add up to.
Of course, Rachel isn't supposed to spoil the end of her own season, but she is asked so many questions while doing press for the show that it has to be tough to be super secretive all the time. Based on what I've seen, there have been some moments that make it obvious that she went for Bryan. Sorry to everyone who is on #TeamPeter or #TeamEric, but check out the evidence from the Bachelorette's own mouth.
1. "If I had a list, he would check everything off."
Rachel has said a million times on the show that Bryan is "too good to be true" and that she can't believe he's as perfect as he seems from always saying and doing the right things. This quote from Rachel's USA Today interview seems to be about someone she thinks really is perfect now.
2. "Honestly I realized to get out of my head."
Rachel was so into Bryan from the jump, but she questioned pretty much every single thing that came out of his mouth. It would make so much sense for this quote from Rachel's Fox News interview to be about Bryan because her logic and her emotions did not line up from the beginning.
3. "I let go of the reins and let someone else take control."
The lawyer told Fox News, "Sometimes you can't think of everything in such a logical way... You have to let go and let your heart lead and that's what I did. I let go of the reins and let someone else take control." Bryan is definitely the suitor who has been the most assertive. From pulling her in for the kiss on night one to being the first to say he is in love with her, Bryan has not held back at all.
4. "If I'm going to accept the positive, I have to accept the negative."
As compared to the other finalists, Bryan has received more negative feedback from fans. Just like Rachel, viewers can't help wondering about the smooth talker's intentions. So, it would make sense for Rachel to be referencing Bryan's haters when she said the above quote to People. Not only that, but it another interview with AOL, Rachel spoke about the negative fan response to Bryan specifically by saying, "I'm not surprised, because that was my reaction when I first met him. I had my guard up. I questioned it. I haven't really been paying attention too much to what fans are saying, but I'm not surprised they think that."
5. "He's more of a hopeless romantic than I am!"
Peter seems super hesitant about this "journey," and Rachel has admitted many times that she can be a "skeptic" and has wondered about her feelings for Bryan to his face and during her on-camera interviews. In contrast, Bryan is all about the romance and is not shy about that. So when Rachel described her man to People, it had to be Bryan.
6. "He wants to wait a year too, but probably sooner. I think he's just following my lead."
Bryan was the first to say he was "falling in love," the first to say that he is "in love," and he went for that first kiss on night one. If anyone on this show is going at an accelerated pace, it is Bryan. Rachel's comments to People make it clear that she's into him, but it also comes off like he's the one in a hurry to walk down the aisle, which just screams Bryan.
Of course, fans will have to wait until the finale to see if Rachel's quotes really add up to Bryan being her fiancé. Until then, it's time to keep overanalyzing her interviews.