Whole Foods Just Majorly Expanded Amazon Prime Member Benefits — Here's What You Can Get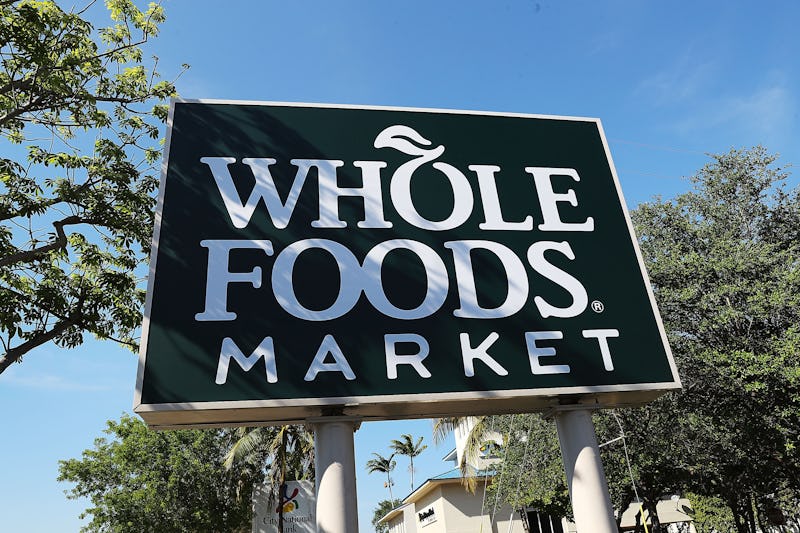 Joe Raedle/Getty Images News/Getty Images
Now matter how you feel about Amazon's recent acquisition of Whole Foods, there's no denying that the merging of these two big players has some major upsides. First, there was the advent of Amazon Prime Now, which will deliver groceries and other goods to you in two hours. And now, Amazon Prime members will be able to use their benefits at Whole Foods locations in 12 states — which, considering Prime already lets you marathon the six-hour Pride & Prejudice miniseries while simultaneously ordering steel reusable straws for next-day delivery, is a pretty good deal.
As reported by Today.com, those with Amazon Prime memberships can score perks and discounts at Whole Foods stores in Arkansas, Colorado, Florida, Idaho, Kansas, Missouri, Louisiana, New Mexico, Oklahoma and Texas, as well as in northern California and northern Nevada. These discounts are also available at Whole Foods Market 365 shops nationwide. To access benefits, you'll have to download the Whole Foods app, which'll then offer you "special deals plus an extra 10 percent off hundreds of sale items each day," according to a tweet from Whole Foods. Considering Whole Foods 365 brand is already a cheaper version of Whole Foods' products, that's a pretty good deal.
It's especially good news for folks who were amassing discounts from Whole Foods' own loyalty program, which ceased to exist after Amazon acquired the company in 2017. Plus, a lot of people are going to be able to use these benefits, provided they get around to downloading the app: according to Amazon CEO Jeff Bezos, there are over 100 million Amazon Prime members. That's a lot of people streaming Catastrophe.
Note that if you do not live in one of the states offering Whole Foods perks (COME TO NEW YORK!!) it looks like eventually, the storewide discounts will apply to Whole Foods locations all over the country, so we'll all just have to be patient. Meanwhile, Amazon released their first batch of Prime Savings offerings (you can check out the weekly lists online). Here are a few things on tap:
Organic raspberries, which run $2.50 per 6 oz. container
Two pound bags of Responsibly Farmed tail-on white shrimp, for $12.99 — a $5 savings!
Antibiotic-free rotisserie chicken, $6 each (this sale only applies on May 30)
Back to Nature crackers and cookies, two cartons for $5
40 percent off all probiotic supplements (this is only a one-weekend sale, from June 1 – June 3)
Items marked with yellow tags (i.e., items already on sale) are an additional 10 percent off, and Amazon says the deep-sale items will change per week. Apparently, Amazon's found that discounting items gets more people in the door (duh). "From delicious dinner options like shrimp or rotisserie chicken to fresh organic raspberries, we're offering savings on products customers love and can enjoy with their families," A.C. Gallo, President and Chief Operating Officer at Whole Foods Market, said in a statement. "Exclusive deals like the sustainably-caught halibut were a huge hit in Florida, and we're excited to partner with our suppliers to bring Prime members even more discounts on seasonal favorites and everyday staples."
Amazon Prime has a lot of benefits, not the least of which is all the aforementioned streaming options (Fleabag! Transparent! Mozart in the Jungle! If you have the STARZ addition, Outlander!). Amazon Prime also offers a bunch of items that have essentially earned cult status among shoppers, including snail slime face cream, a bag of air-purifying charcoal, and this crazy KIPOZI flat iron that you can use on damp hair. Adding Whole Foods discounts makes the $110/year membership all the more worth it.