Here's How Amazon Prime Members Can Get FREE Two-Hour Whole Foods Delivery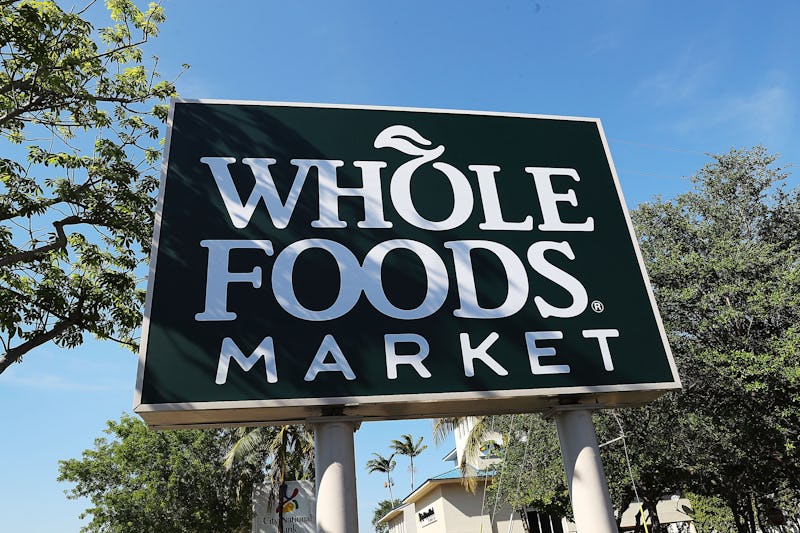 Joe Raedle/Getty Images News/Getty Images
Holy affordable avocados, Batman — in a press release on their website, Whole Foods announced that Amazon Prime members will enjoy free two-hour delivery of their groceries through Prime Now. The program will roll out nationwide over the course of 2018, but begins today in specific locations, including neighborhoods in Austin, Cincinnati, Dallas, and Virginia Beach. The groceries can be ordered on the Prime Now website or through an app available on both Android and iOS, the only stipulation being that the total price of the groceries must be $35 or more.
"We're happy to bring our customers the convenience of free two-hour delivery through Prime Now and access to thousands of natural and organic groceries and locally sourced favorites," John Mackey, Whole Foods Market co-founder and CEO, said in their press release. "Together, we have already lowered prices on many items, and this offering makes Prime customers' lives even easier."
The delivery includes a variety of grocery options, from produce, dairy, frozen options, beverages, snacks, cereal, bakery, and prepackaged and canned goods. Some states, notes the press release, will also offer alcohol delivery. And if you're especially impatient? Whole Foods and Amazon will offer rush delivery in under one hour for $7.99, according to the press release. It seems some lucky Amazon Prime members will never have to deign to leave their apartments again, essentially rendering the once beloved, "Going to Whole Foods, want me to pick you up anything?" meme moot.
Granted, this service is no Seamless — it will be offered from 8 a.m. to 10 p.m., so all the night owls out there will have to stick to their usual late night bodega haunts. In the meantime, can check if your area is included in the rollout on the Prime Now website or the app.
This announcement from Amazon comes hot on the heels of yet another stride Amazon is making in the grocery world — specifically, their Amazon Go store. Announced in December 2016, the Amazon Go store — a cashier-less store that lets customers pop items right off the shelf, and scans and charges them as they leave — opened its first location in Seattle this January. According to Amazon Go's website, all customers have to do to shop is download the Amazon Go app, log into your Amazon account, and stroll in and out. Their "Just Walk Out Shopping" technology will automatically take care of the charges (although, according to one accidental shoplifter, the tech isn't entirely foolproof — although Amazon Go has a sense of humor about it).
Amazon has shared eventual plans to extend its pilot location to other areas as well, although they have not yet shared where the next projected locations are.
But the real root of this awesome Whole Foods delivery option comes from Amazon's purchase of Whole Foods in June 2017. In August, Amazon set intentions to lower Whole Foods prices, and offer even more of a discount to Amazon Prime members. This delivery option seems to be one of the ways that is coming to fruition — although customers should note that an Amazon Prime subscription does cost $99 per year (or $12.99 on a monthly basis).
Amazon hasn't yet shared when the Whole Foods delivery will start rolling out to the rest of the U.S., but personally, nothing can quite replace that feeling of racing stressed out soccer dads and their charging strollers through my local Whole Foods in the wee hours of Saturday morning. But for those of us who are less inclined to wordlessly race the Steves and Joes of the world to the bagel display, this may just be the best part of the Amazon and Whole Foods partnership yet.