We Finally Know How Much Amazon Really Affected Whole Foods' Prices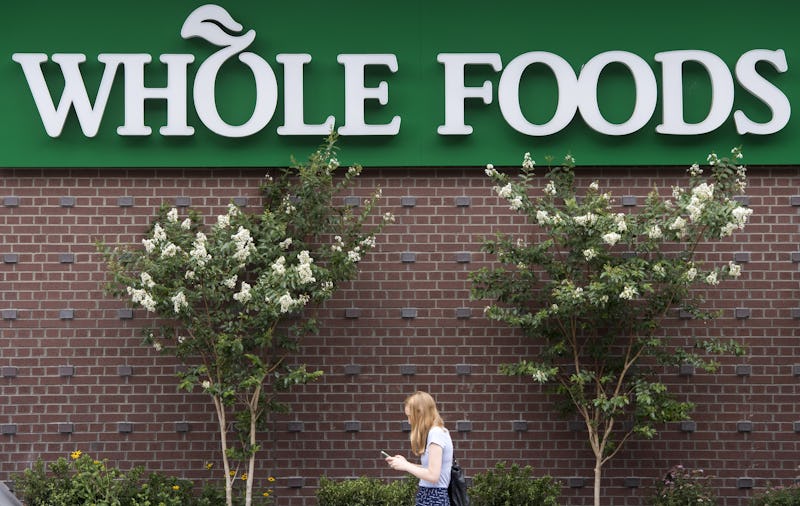 SAUL LOEB/AFP/Getty Images
Amazon and Whole Foods got together earlier this year and had a baby they named "lower prices" as a way to overcome Whole Foods' "whole paycheck" image. But, it turns out that Whole Foods' lower prices might not have stayed as low as people thought. The marriage of Amazon and Whole Foods, and the subsequent announcement of the arrival of lower prices, had many shoppers excited enough to give the natural foods chain another chance after being burned in the past by forking over a lot of cash for a basket of groceries.
In order to shed its image as a market for the rich, Whole Foods CEO John Mackey told Food Business News that he had to perform a little magic trick. "Amazon has a different narrative," Mackey explained. "Now we've embraced its narrative and so 'whole paycheck' disappeared. We escaped the trap. I feel a little bit like Houdini."
So, just how much are people saving as a result of this rabbit-in-the-hat gesture? Research firm Gordon Haskett reported that, after tracking 110 items at Whole Foods since the merger, overall prices are down 1.2 percent, according to the Washington Post. This hardly seems like big savings, and Gordon Haskett noted that since the initial price cuts in August, the cost of some items have been slowly ticking back up.
"The price of frozen foods, for example, was 7 percent higher on Sept. 26 than on Aug. 28, when Amazon officially took over," Abha Bhattarai reported for the Post, which is owned by Amazon. "Snack items had risen 5.3 percent in that period, while dairy and yogurt were up 2 percent. (Among categories where prices are lower: Beverages, down about 2.8 percent; bread and bakery, down 6.8 percent; and produce, down 0.5 percent.)"
Whole Lotta Love For Lower Prices
The initial announcement that Whole Foods would be slashing prices did get people into stores, and prompted Amazon shoppers to add Whole Foods items to their online carts with abandon. According to Business Insider, "E-commerce data firm One Click Retail says in the first week of Amazon's ownership, customers stampeded in and bought $500,000 worth of goods from Whole Foods, with only 7 percent of the top 100 items left in stock at the time."
Additionally, Bloomberg reported that after Amazon acquired Whole Foods, and announced the arrival of lower prices, the stores saw a 25 percent increase in store traffic. I will admit that I visited Whole Foods recently for the first time since the merger and I bought things I never normally buy there because they were, indeed, cheaper. Not quite as cheap as the local Mexican grocery store in my neighborhood, where I can get two avocados for a dollar, but since I was near a Whole Foods, paying $1.50 for one avocado and $3 for a large container of organic raspberries seemed like an improvement over the previous prices.
For shoppers like me who buy mostly fresh fruits and vegetables, it did feel like I was saving money. However, one industry insider said there is a strategy behind how prices are cut. "The whole game is that you want the 100 most recognizable things — milk, apples, bananas — to be cheaper," Jan Rogers Kniffen, an industry consultant and former department store executive, told the Post. "If you can do that, you can build a perception that the whole store is competitively priced."
And, since I am already there buying my lower priced avocados, I might as well pay a little more for paper towels and dish soap because I saved so much money on produce. At least, that's how I justified it at the time because I didn't want to have to stop at another store. But, the Post reported that due to the slim profit margins of grocers, slashing prices on some items means raising prices on others.
"Like all grocery stores, if prices are lowered someplace, prices are raised someplace else, David J. Livingston, a supermarket analyst for DJL Research, told the Post. "The over change is nil. Just like when a grocer claims to have lowered 5,000 prices. What they don't tell you is they raised prices on 45,000 items to pay for it."
So, while it's true that you are saving money on some items, the perception that Whole Foods is cheaper overall might just be a perfect illusion. And, while I am likely to keep stopping by for my lower priced produce if I happen by a Whole Foods, all of the new customers who flooded stores during the initial lower price party might not come back — especially if they're looking for a one-stop shopping experience where all of the prices are lower. And, even though Amazon reported that it has big long-term plans for Whole Foods, results might not come soon enough for some.
Jennifer Bartashus, an analyst at Bloomberg Intelligence, noted, that just because people came out in droves to see the debut of lower prices, it doesn't mean they'll keep coming back, especially if they're not convinced of the long-term value. "A lot of people went to see what they could see," she said in Bloomberg Technology. "The question is if they think the prices are low enough to change their shopping behavior — it takes a very long time to change a consumer's perception of prices and value."
So, while lower prices will most certainly attract some new customers for the long haul, others driving to a less expensive market down the street are likely singing softly to themselves, "I'm over the show, yeah, at least now I know, it wasn't love, it wasn't love, it was a perfect illusion." Who knew Lady Gaga was singing about Whole Foods and not Taylor Kinney after all?