'Jersey Shore' Star Deena & Her Husband Have The Sweetest Love Story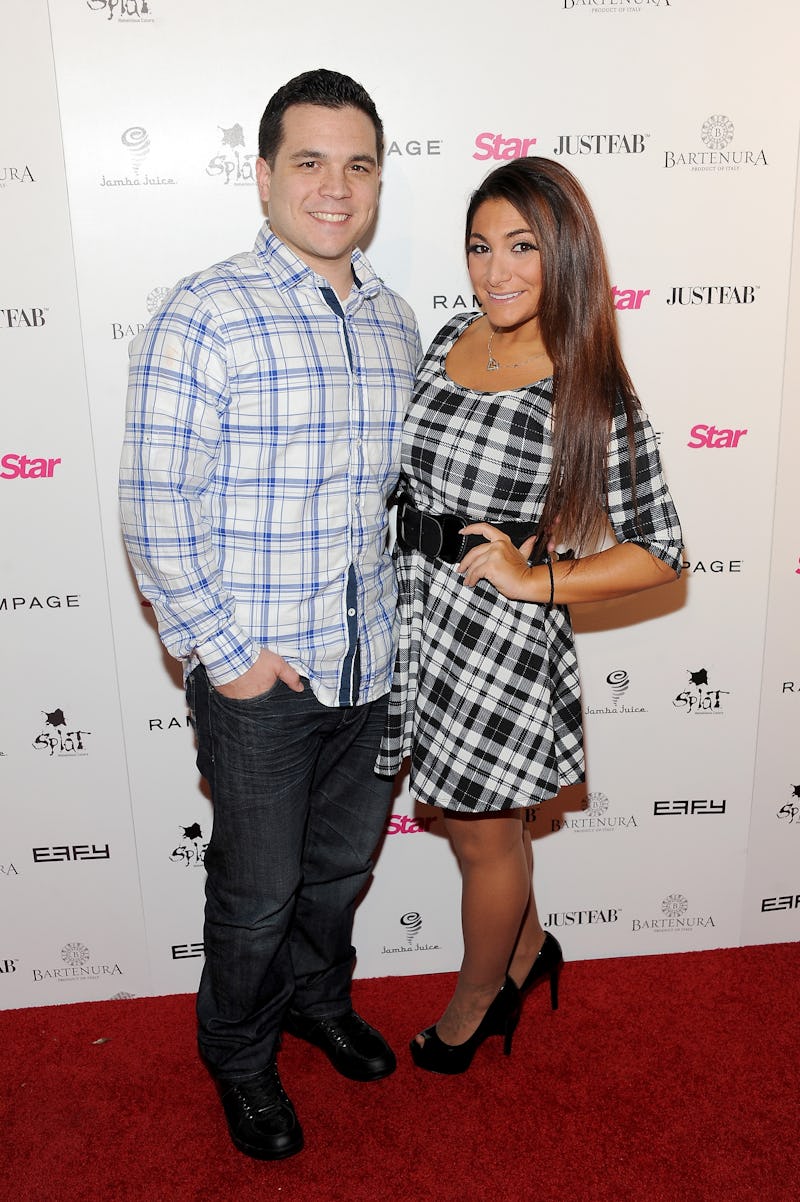 Angela Weiss/Getty Images Entertainment/Getty Images
It's safe to say that all Jersey Shore fans shed a tear when it was time for the shore fam to grow up. And although they still know how to have a good time, many of them are married and have kids, or are somewhere in between. Jersey Shore star Deena Cortese will soon have both of those boxes checked, as she recently announced that she and her husband are expecting the arrival of a baby boy in December. Most OG fans will recognize her then-boyfriend from later seasons in the shore house, but if you missed him then, you may be wondering about what Deena's husband Christopher Bucker does and how they met.
According to their wedding website, Chris and Deena met between seasons of Jersey Shore at a local bar in 2011. They noticed each other from across the room, added each other on Facebook, and the rest is history. He later appeared on a few episodes of Jersey Shore, and fans came to love him as Deena's sweet boyfriend.
In November 2016. Chris surprised Deena with a trip to Mexico. Deena assumed they were just there to celebrate their five year dating anniversary — she had no idea that she would be leaving those beautiful beaches engaged. She shared the update with her followers on Instagram in an elated caption with lots of exclamation marks.
"I always knew I would spend the rest of my life with Christopher," she wrote. "But last night while we were walking on the Beach in Mexico he made it official!! We're engaged!!!!"
The couple was married at a New Jersey winery in October 2017, per their wedding website. According to his Facebook, Chris works for a company called Professional Sports Publications. a publisher of souvenir magazines. And after the debut of Jersey Shore: Family Vacation, Deena is back to running wild with the shore gang on TV. She's slotted to appear on Season 2, which premieres on Aug. 23, however, she may be taming her wildness after all, because she recently announced that she and Christopher are expecting their first child.
To those who keep up with the show, that shouldn't come as a surprise. Deena has been pretty vocal about wanting a baby meatball in the oven for a while. After making it "safely" into her second trimester, per her Instagram announcement, Deena and Chris found out that they will be welcoming a baby boy, who will share his father's namesake. Christopher John is expected to arrive in December of 2018. By the looks of it, Christopher Sr. is excited to be a father.
"Thank you everyone for all the love!" he wrote on Instagram. "We are finally starting the family we've always wanted and youre the only one I want to share this blessing with. Love you babe."
And he's already referring to his wife as a MILF, which honestly, isn't that surprising.
The trailer for Season 2 of Family Vacation shows Deena revealing her pregnancy to the rest of the crew, so it's not likely that much tequila was consumed by her in Vegas. But it is likely that Chris is going to make an appearance too, so even though drunk Deena probably won't be available to entertain, there will surely be some cute couple content worth watching.