How The Real Homeland Security Helped Make This 'Punisher' Character Feel Authentic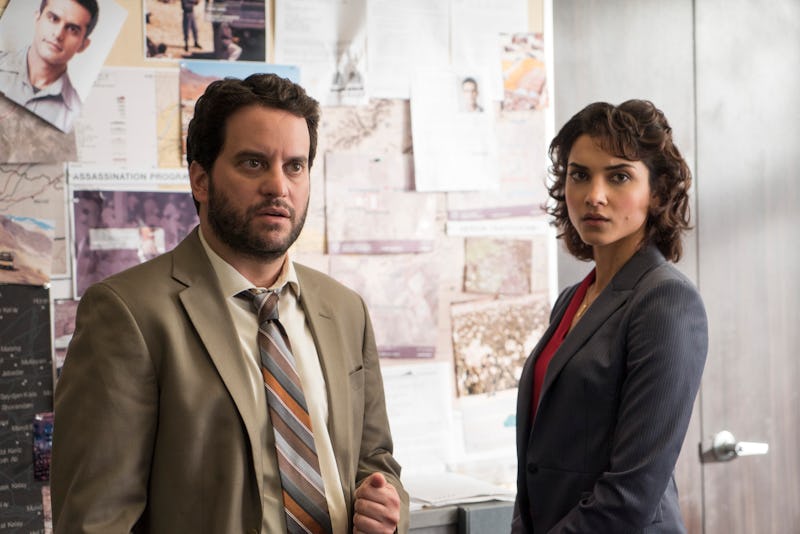 Nicole Rivelli/Netflix
For the past two-plus years, Netflix has brought Marvel superheroes to life who either had never gotten their own live-action treatment before — or who had been poorly serviced by the adaptations they did receive. But who is Dinah Madani in The Punisher Season 1? The character isn't a well-known superhero; she's not an iconic villain; she's not even a passingly sidekick or other supporting player. In fact, Dinah will be a total wild card to both diehard Marvel fans and the relatively uninitiated: she's not from the comics at all!
According to the Marvel Database, the only characters named "Dinah" in the history of the comic book company are Dinah Barton (aka minor Avengers member Canary) and Dinah Soar (the flute-playing, dinosaur-like founder of the Great Lakes Avengers). The character played by British actor Amber Rose Revah (Emerald City) doesn't appear to have anything in common with either of these obscure heroes. It's clear from the Punisher Season 1 trailer that Dinah Madani is an agent of the Department of Homeland Security… and that's pretty much all that's clear about her so far.
Agent Madani is only glimpsed briefly twice in the trailer, once getting off an elevator in her Homeland Security office and once at the end, when she informs a disbelieving colleague that "Frank Castle's back." It's clear that a large part of Dinah's role throughout Season 1 will be tracking the Punisher in an attempt to bring him to justice. But whether she's the coolly evil type of government agent who unwaveringly tracks down the misunderstood hero (à la X-Men's William Stryker), or whether she's the strict-but-fair type of government agent who eventually comes around to helping the righteous vigilante (à la Person Of Interest's Joss Carter) remains to be seen.
One detail we know about Dinah comes from Marvel TV head Jeph Loeb, who shared some intel on the mysterious agent in an official Netflix press release: namely, that Agent Madani is both an Iranian immigrant and an American war vet. The original character played by Revah allowed the writers to "comment on a lot of things that are going on, not the least of which is the plight of America's servicemen," Loeb said, as reported by Movie Pilot. "We have great respect for them and we see how challenging it is for some of them when they come home and what their lives are like. We show different ways that their lives are affected, but always have an eye towards being able to say, 'Thank you for your service.'"
According to Movie Pilot, The Punisher creator Steve Lightfoot (Hannibal) was inspired by The Fugitive's Deputy U.S. Marshal Samuel Gerard — the character played by Tommy Lee Jones in an Oscar-winning performance — while crafting Agent Madani… which should give fans some hint on whether or not they'll be expected to sympathize with her, if they've seen that 1993 classic. Given all her layers, Loeb tells Movie Pilot that he hopes Dinah will represent "a different way" of crafting the "typical cop who's chasing [the hero]" archetype.
There's one other thing that's already known about Dinah: she has a mom. One played by Oscar-nominated Iranian actor Shohreh Aghdashloo (House Of Sand And Fog), no less. Named Farah Madani, Dina's mother is a psychiatrist who established a successful practice for herself after immigrating to America, according to Entertainment Weekly.
This isn't Aghdashloo's first time playing a supporting role in a Marvel property; she previously appeared as Dr. Rao in X-Men: The Last Stand. Funnily enough, this isn't her first time portraying the mother of a character played by Revah, either; the two previously worked together on the HBO miniseries House Of Saddam, in which Aghdashloo played Saddam Hussein's first wife and Revah played her youngest daughter. (Aghdashloo's performance earned her an Emmy Award for Best Supporting Actress.)
According to Revah herself, her character will be reeling from tragedy when she's first introduced. "We see her when she's first brought back from Afghanistan," the actor tells Bustle about Dinah. "She's dedicated her life to America, and working hard to be in Homeland Security, and being stationed out there. Her partner's been killed, she senses something fishy's going on, she's immediately brought back to America, and then she starts looking into what's happening." Something tells me her investigation will somehow result in Agent Madani crossing paths with Frank Castle.
Revah was determined to be accurate in her portrayal, so she got some first-hand experience while preparing for the role. "I was lucky enough to connect with actual Homeland agents. When I was in New York, I went into the office, which is downtown, and I had three wonderful men who were at my beck and call if I needed them," she says. "I was able to question them about absolutely everything, about their psychological well-being... they have this really intense experience with work, now how do you let that go when you go home and see your kids and are with your wife? How does that turn off?"
It's clear from Revah's commitment to the part that Marvel fans are about to witness the introduction of another complex, dynamic character. Hopefully Netflix won't keep us waiting too long before letting viewers see her team up with the likes of Jessica Jones and Claire Temple and Colleen Wing.
Additional reporting by Sage Young