'RHOC' Newcomer Emily Thinks Her Husband Is Pretty Damn Great At His Job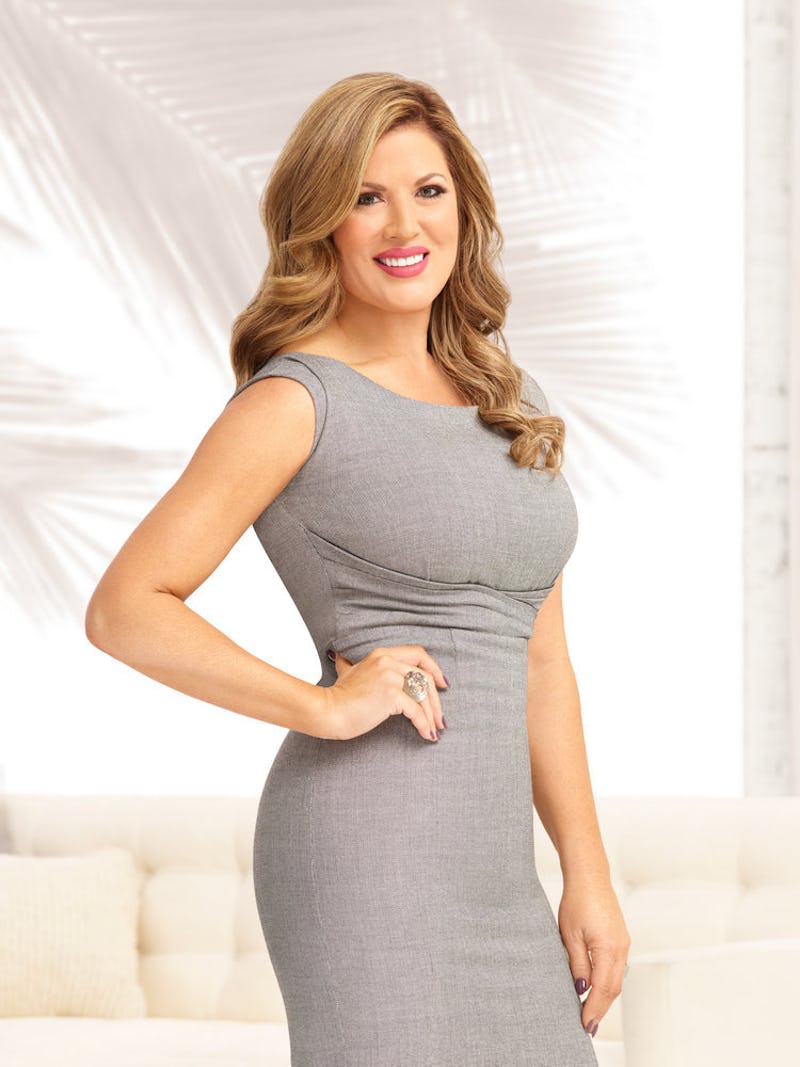 John Tsiavis/Bravo
It wouldn't officially be summer without the return of Bravo's reality staple The Real Housewives of Orange County. But while many of your favorite OG cast members are gearing up to deliver more drama, the July 16 Season 13 premiere will also welcome a fresh batch of new faces into the fold, including newRHOC cast member Emily Simpson, who — along with being an attorney and part-time party planner — is also a dedicated mother and wife. And that means that Emily's husband, Shane Simpson may be popping up a lot on the show.
As always, the amount of screentime a significant other varies. (The series is supposed to be about the women, not the men, after all.) However, Shane is bound to show his face on occasion and help give a little bit of insight into Emily's marriage and home life. Though, based on Instagram alone, the happy couple seem to be a great example of relationship goals. Unfortunately, Shane's account is set to private, which may indicate that he'll prefer to stay out of the spotlight for most of the season, but Emily makes a point of frequently posting photos of fun memories the two of them share, both as a couple and as doting parents to their five children (two of which are from Shane's previous marriage).
As of now, not much information has been revealed about Shane himself or how he ended up meeting Emily in the first place, but since the season is only just kicking off, those details are bound to come out eventually. Though despite Shane's apparent preference for staying under the radar, a bit of sleuthing reveals a little more about what he does for a living.
There is a LinkedIn profile of a Shane Simpson who is listed as living in Orange County and works as a claims investigator for the company APEX Investigation. The company's official online bio states:
"Today's professionals rely on investigative firms to help manage risk by detecting and preempting problem situations. As a nationwide leader in Insurance, Workers' Compensation, Liability and Human Resources Investigations, managing risk is an area where APEX Investigation® excels. Not only do we have experience investigating tens of thousands of cases, we also adapt to the ever-changing laws across the country—from state to federal—that impact our clients."
No photo is provided, so it's difficult to confirm that this is actually the spouse of RHOC newcomer Emily Simpson, however, the profile also states that he went to Whittier Law School, which matches what appears to be Shane's Facebook profile. Same goes for his Bachelor's degree in Criminal Justice, which he received at Chapman University. So this LinkedIn profile seems pretty legit. It indicates that Shane's been working for APEX since July 2015, and that, prior to that, he worked as an associate attorney for Pranno Law in Salt Lake City, Utah.
Considering that Emily is an attorney as well, that may offer up some insight into how they met. At the very least, they seem to share the same passions and interests. (She even endorsed him for having good management skills on LinkedIn.) But apart from their careers, they also can't seem to get enough of their children. Shane even has an entire YouTube channel dedicated to videos of his children doing various adorable things that kids are prone to do.
Don't kid yourself, though — Emily's home life may be wonderful, but her arrival into the RHOC cast is going to come with a fair share of drama, particularly since Emily has a rocky past with Tamra, according to her Bravo bio. Hopefully the two of them will be able to smooth things over, but if not, at least she has a partner in Shane to lean on at the end of the day.