The New 'RHOC' Trailer Introduces 2 More Housewives & Here's Everything You Need To Know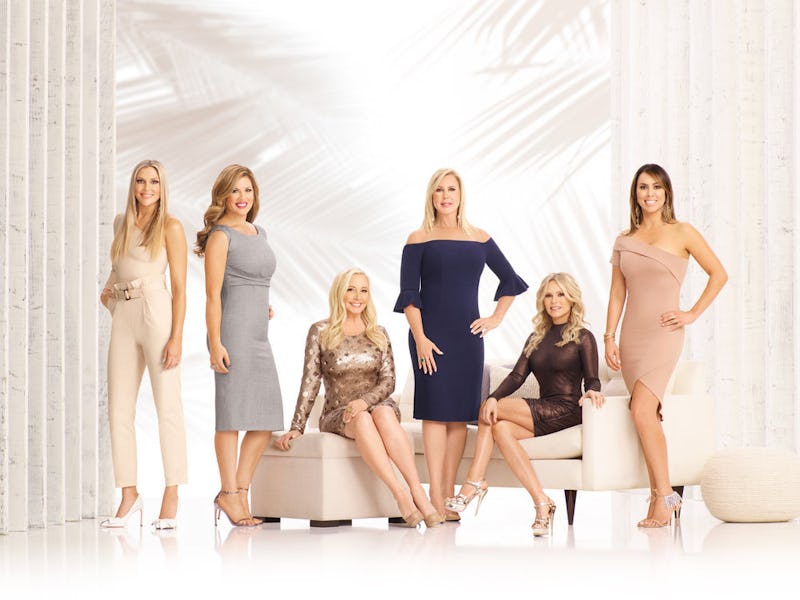 John Tsiavis/Bravo
The OG of the OC is back, along with some old and new faces. The Real Housewives of Orange County Season 13 trailer dropped Monday, and not only is there a lot of drama ahead, but when the season premieres on July 16, fans will have to acquaint themselves with two new RHOC Housewives. In addition to Vicki Gunvalson, Shannon Beador, Tamra Judge, and Kelly Dodd, Emily Simpson and Gina Kirschenheiter have joined the four women who certainly aren't strangers to the Bravo world.
In the trailer (which you can check out here), Emily and Gina dive right into the madness. Early on in the trailer, they are both seen dancing around Dodd, who is on the floor at a party having the time of her life. Then, later on in the sneak peek, they are shown splashing around a swimming pool — in cocktail dresses. And, yes, they both fall face first into the water.
They both seem to be very vocal, which the other women might not take well to. Plus, fans know how Vicki treats new Housewives. Even Vicki has admitted she likes "hazing" those who join the show. Whatever the case, based on the trailer, Emily and Gina can hold their own.
"I say whoever has the most botox has the best poker face," Emily declares while the women are playing poker in ridiculous poker-themed attire. She later adds, "A lot of women don't have to work, but when I throw the attorney thing in there, like, 'No, girl, I'm not your typical Housewife.'"
According to her official Bravo bio, Emily originally hails from Ohio and is currently an attorney (with two bar licenses, per her Instagram bio). She is also a party planner. Emily actually planned the baby shower for Tamra's granddaughter, Ava, which was featured in the Season 10 premiere. Emily can actually be seen in the background of the episode. Apparently, Emily and Tamra also had a "falling out" and Emily even became friends with some of Tamra's "former besties." Uh-oh, that sounds like drama waiting to happen.
Emily is also married to Shane Simpson and they have five children, total. Per her bio, after struggling to get pregnant and dealing with fertility issues, Emily's sister acted as her surrogate and carried her three biological children, daughter Annabelle and twin boys Luke and Keller. Emily and Shane also have two older daughters, who are from Shane's previous marriage.
As for newbie Gina, she comes out swinging in the trailer. While chatting with Kelly about being from Long Island, New York, she says, "I'm like everybody's circus act." She also says during her talking head, "I am Orange County until I open my mouth and then it's like, 'Here I am world!'" Then, Gina really shows how much she fits in with these ladies when she declares to an unknown person at a group dinner, "You sound stupid. I don't do stupid."
Gina is a mother of three kids all under the age of 5. She's only lived in Orange County for three years, and according to her Bravo bio, her husband works and lives in Los Angeles during the week, which makes her a "single mom of sorts." It seems their relationship will be a big focus in Season 13 and will cause Gina to reflect on her marriage. If anyone knows what it's like to reevaluate a marriage and to figure out what you want in life, it's the women of RHOC. Hopefully the women can help her along the way.
As much as Emily and Gina stand out as the two new faces of RHOC, there's still plenty to expect from Tamra, Vicki, Shannon, and Kelly. At one point in the trailer, the four women seem to be getting along, which is quite the turn after the past few seasons with Vicki and Kelly being at odds with Shannon and Tamra.
But, it seems like Shannon might be in the middle of most of the drama (save for Vicki going on a double date with Kelly's ex-husband). Not only does Tamra scream at Shannon twice, but a psychic (yes, another psychic) who reads coffee grounds professes, "Somebody's mad at you. Who has a 'SH' in her name? She needs help." She later adds, "Just be careful. A bad thing is coming." Whatever that means.
Let's just keep those fingers crossed Season 13 has more oomph than last season — and maybe Gina and Emily can help with that.