This New 'Housewives' Star Is Bringing Long Island Realness To The OC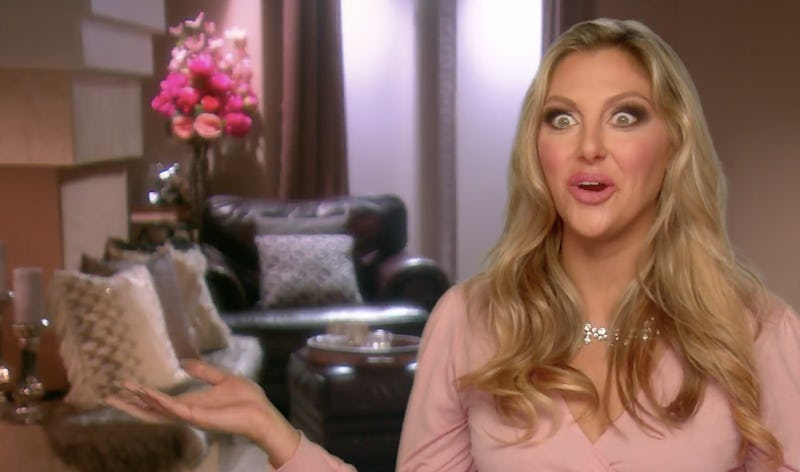 Bravo
Her official bio on Bravo's website calls her an "expressive outsider from Long Island," but there's more to this new Housewife than New York nativity. Gina Kirschenheiter is joining The Real Housewives of Orange County. She's shaking things up on Season 13, and she's not worried about doing it with political correctness, either.
According to her bio, Gina moved to Orange County three years ago with her then-husband, Matthew Kirschenheiter, and two children, Nicholas and Sienna, for Matthew's job. He is a financial planner, per Newsday. The two have since had another child, Luca, who is now two years old. Us Weekly reported that in April of this year, Gina filed for divorce from Matthew and cited irreconcilable differences as the reason.
Even though Gina and her husband were technically together during the production of Season 13, he won't appear on the show, and her bio even calls her "a single mom of sorts." She told Newsday, however, that his lack of presence on camera during this upcoming season has nothing to do with their impending divorce. "His employer did not want him to [be on the show]," she said. "It wasn't a decision having anything to do with our relationship. Pure timing."
According to the same piece, the two are both alumni of Hofstra University alumni, which is a private college in Long Island, New York. She majored in Psychology, because that's what she was interested in, but nothing really ever came of it as a career. "I was a very typical kid of my generation," she told Newsday. "I went to college, since that's what you do, and I liked psychology. But not enough to pull the trigger on it" for work. Instead, she worked as a flight attendant for North American Airlines because she wanted to travel after college, and she also worked as an executive assistant on the Upper East Side. She planned to return to school at the Hofstra School of Medicine for a master's degree in health administration when she became pregnant with her first born, Nicholas, who is now six years old. From that point on, she decided to focus on motherhood.
And motherhood will continue to be a significant part of her identity as she appears on RHOC. Matthew spends a lot of the time living and working in Los Angeles, so she is often left to parent the children alone, per Gina's bio. However, despite the distance and now, the divorce, Gina remains dedicated to keeping her family together. She recently posted an Instagram photo of the five of them, including Matthew, playing in the sand on the beach. "Party of five!!!" she wrote, with the hashtag #familytradition.
"We will never end our friendship and will forever remain family," they told Us Weekly in a joint statement. "We are dedicated to raising our children together in a happy, healthy loving environment. We will be navigating this difficult process with respect and grace for one another. We kindly ask for others to treat us with this same respect and grace at we move through this family adjustment."
Gina admits that their relationship has been on a downward slope since hitting a rough patch in Long Island due to Matthew's tireless commute into the city for work. She told the magazine they've had some "amazing" time together since moving to the West Coast, but ultimately, RHOC and the continued distance were the final straws.
"I think that it probably did have more of a negative effect on our relationship and made things harder," she told Us Weekly. "Now I'm basically going on this venture, and he's not included and involved in it, and it creates even more distance than is already there."
Gina's not the first housewife to undergo divorce while on the show, so at least she'll have people to confide in who understand her pains. Some people may say that she's fallen victim to a "Real Housewives curse," but she doesn't think so.
And she told the Orange County Register that she she doesn't regret her decision to be on the show. "It's an incredible experience," she said. "It's like winning the lottery, really, you know what I mean?"