'RHOC' Newbie Gina Opened Up About Her Divorce & Fans Will See It Play Out On Screen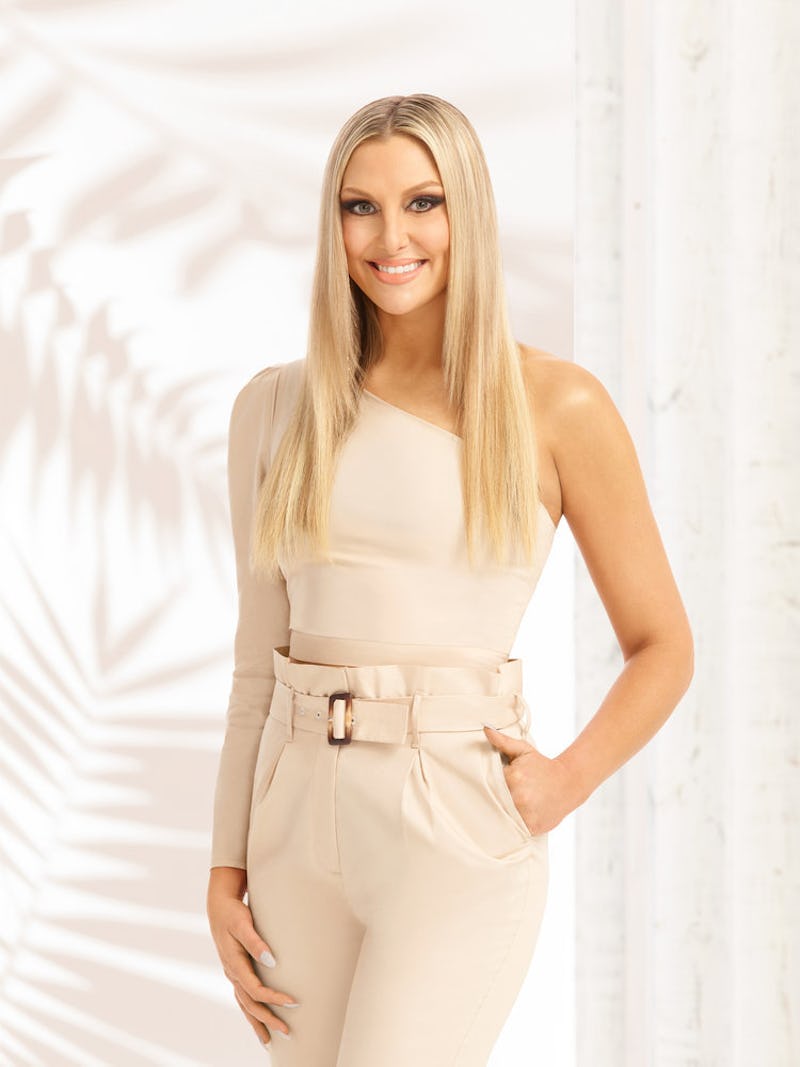 John Tsiavis/Bravo
Real Housewives of Orange County Season 13 hasn't even premiered yet, and one couple has already called it quits. RHOC's Gina Kirschenheiter is getting divorced from Matthew Kirschenheiter after seven years of marriage, she confirmed in a statement released to Us Weekly on July 8. Gina is new to Real Housewives and she told Us Weekly the couple split during filming, which means fans will get to see to her unfortunate marriage struggles this season.
"After careful consideration and deep thought, we have decided to end our legal marriage," she said. Her statement continues:
"With that said, we will never end our friendship and will forever remain family. We are dedicated to raising our children together in a happy, healthy loving environment. We will be navigating this difficult process with respect and grace for one another. We kindly ask for others to treat us with this same respect and grace at we move through this family adjustment."
On April 2, Gina filed for divorce and cited irreconcilable differences, according to the publication. She's also seeking sole physical custody and joint legal custody of their three young children, Nicholas, Sienna, and Luca. As Gina informed Us Weekly, Matthew's busy work schedule and filming for RHOC both affected their marriage negatively.
"I think I did see it as an opportunity that would be good for us, 'cause we're buddies, we're friends, we're just going to navigate this together," she told Us Weekly on July 3 about doing Housewives. However, between his work schedule and Matthew not filming that much their marriage was affected. She explained, "Now I'm basically going on this venture, and he's not included and involved in it, and it creates even more distance than is already there." She later added about Matthew hardly being around, "It's not easy. It affected our relationship. And we're trying to navigate through it, but I'm not going to say it's been peaches and cream all the time."
And now, they're getting divorced, which seems to be the best choice for them as parents and as individuals. If you take a look at Gina's Instagram, she and Matthew are still very much a part of each other's lives. On July 8, she posted a family beach picture and captioned it: "Beach Sundays!!!! Party of five!!! #familytradition."
On June 25, they celebrated their eldest son's birthday together. Gina also praised Matthew around Father's Day by sharing photos of him with the their three kids. "It was a great day celebrating the dad that made me a mom 3x's over. we love you!" she wrote.
Like she teased to Us Weekly, Gina's official Housewife biography also revealed her marriage issues will be a big part of her storyline. She's even described as a "single mom of sorts" with Gina staying in Orange County and Matthew working and living in Los Angeles during the week. That kind of schedule would probably affect a lot of marriages.
Hopefully, being around a group of women who are familiar with divorces and finding themselves will help Gina during such a hard time. Shannon Beador and Kelly Dodd both recently split from their spouses, so maybe Gina will bond with them. But it doesn't look like Gina's entire storyline will focus completely on her unsuccessful marriage. It seems like she'll find herself experiencing drama. Based on the Season 13 trailer, she isn't afraid to speak her mind. One portion of the teaser shows Gina declaring to an unknown individual, "You sound stupid. I don't do stupid."
Gina also opens up to Kelly about originally being from Long Island, New York (she's only been living in Orange County for three years) and says, "I'm like everybody's circus act." She later says during her talking head, "I am Orange County until I open my mouth and then it's like, 'Here I am world!'"
Let's hope Gina doesn't have too rough of a season, especially since it's her first one. Maybe she and Vicki Gunvalson will "whoop it up" together, which just might distract her from the heartache it sounds like she endures.