This New Character Might Be The Help The 'Agents Of S.H.I.E.L.D' Need To Return To Earth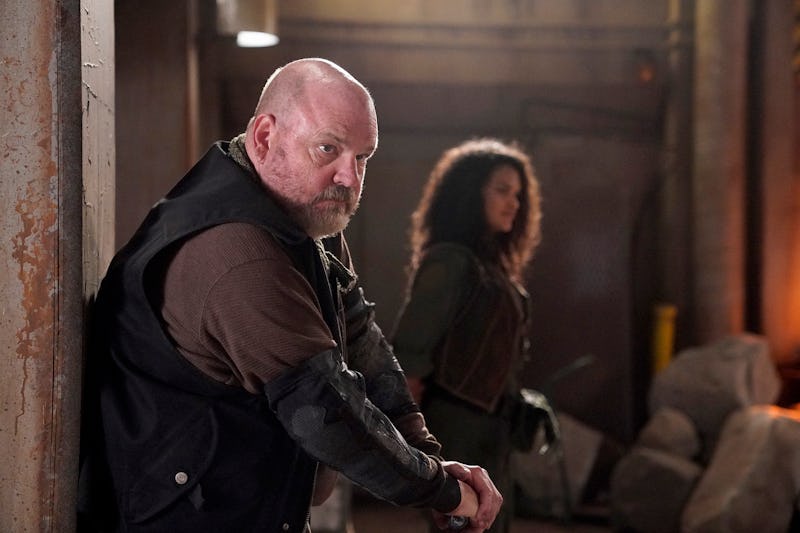 Jennifer Clasen/ABC
With a new season of Marvel's Agents of S.H.I.E.L.D. premiering Dec. 1 come new characters to the series. Season 5 will introduce some new names, among them, Deke, Tess, Flint, and Grill. The team fans know and love are taking their act to space this season, and it appears that Grill on Marvel's Agents of S.H.I.E.L.D. could be someone who could help Coulson and the other agents get home.
At the end of last season, Coulson and the rest were abducted and brought up into outer space, in a finale shocker. Spoiler alert: they were taken by an alien. Not revealed in the finale, that little detail is actually from the 17-minute sneak preview of the two-hour season premiere, which ABC dropped on Nov. 26. So, what does that all have to do with the new series' new characters? That remains to be seen. While the team does meet another human on the space station they've inexplicably found themselves on, he dies shortly after telling them that the reason they are all there was to save humanity.
According to Entertainment Weekly, Grill will be a, "gruff taskmaster, lording over those under his command with an unforgiving temperament. He has no illusions about the world he lives in and this makes him a man not easily fooled, or crossed." The only other information fans know officially is that Grill will be played by Pruitt Taylor Vince, who also has appeared in Stranger Things and The Mentalist, among other projects.
Flint is based on a character from the Inhumans comics, but it appears Grill is a completely new character created just for the series. There is another character with a similar name in the Marvel universe, but it seems unlikely that S.H.I.E.L.D. will be featuring Gilbert "Grills" Barton, known for being Hawkeye's neighbor. (He was dispatched by an assassin in the comics anyway.)
This Grill's debut looks to be episode 3, of this season, titled "A Life Spent." While official photos of the first three episodes are available on the ABC website, Grill doesn't appear in any stills from the first two. He's seen talking with Al MacKenzie in one of those photos, and in front of a locker of supplies in another. Even if he does appear earlier than that, the promotional photos suggests he'll have a prominent role to play in that episode.
And who knows? It may be the case that we'll see an entire episode or two focusing on Grill's character. Executive producer Jeff Bell said in an interview with IGN that there'll be a focus on smaller stories in this season versus a season-long arc because it's easier for fans to digest. "Twenty-two [episodes], that's a long single arc to tell," he said. "I do think people responded well to the different types of stories, and I suspect we'll look at that again as we go forward."
With the new season now taking the Agents of S.H.I.E.L.D. into space and presumably to alien planets, things have certainly changed for the show. That change is just what Bell and the rest of the crew are aiming for with this new season. In an interview with TV Line, he explained, "Each year we've tried to reinvent the series in some way, in concept. And [with season 5] we will try to do that again."
So, with a focus on smaller story arcs, the promise to reinvent the series, and an entirely new setting, who knows what's in store for the Agents or for the new allies and enemies they'll meet? Grill could be friend, foe, or both, and perhaps not even human. All will be revealed (slowly) when Agents Of S.H.I.E.L.D. comes back.