The 2019 Grammys Will Be Different In A Few Key Ways, Even If James Corden Hosts AGAIN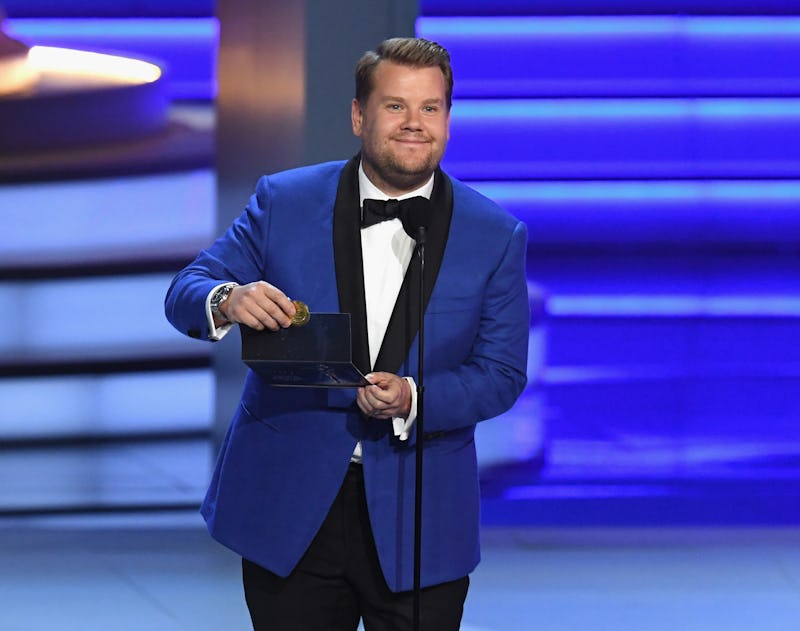 Kevin Winter/Getty Images Entertainment/Getty Images
The 61st annual Grammy Awards might still be a couple months away, but as nominations roll out this week, it's never too early to start thinking about music's biggest night. The host of the 2019 Grammys will have a big job ahead of them, but right now, there's not a ton of information on who will be stepping into that role.
Country music website TheBoot.com seems to think James Corden will be hosting the Grammys in 2019 for the third year in a row, but they appear to be the only outlet reporting that information so far. The official Grammys press release announcing the date of the ceremony — Feb. 10, 2019 — does not mention a host, nor does any information the Recording Academy provided about this year's eligibility changes.
Corden hosted both the 2018 and 2017 ceremonies, so thinking he'll take the reins once again isn't too unrealistic, though a widespread announcement doesn't appear to have been made yet. He's a lifelong entertainer who helms the Late Late Show multiple times a week, and has musical accomplishments of his own under his belt. He's a Tony winner for Best Actor in a Play, and he's known for being all-in while onstage.
That being said, reviews of Corden's past hosting gigs have been mixed Variety's Maureen Ryan wrote after the 2018 Emmys that though Corden "was an affable host whose energy never flagged, it wasn't his best outing at an awards show. His jokes and introductions were acceptable, but not much more than that." Of Corden's 2018 turn at the Grammys, the Los Angeles' Times Robert Lloyd wrote that "Corden, who has a pitched-to-the-back-of-the-hall energy that sits well in a basketball arena, was a natural choice" to host the ceremony.
Even though Corden has a couple years' experience under his belt and would likely make for a smooth and enjoyable ceremony, it would make sense, too, if the Recording Academy decided to spice things up a bit. Giving someone else the microphone for a night and seeing what another choice could deliver is something that would be worth attempting.
The position of host seems like a huge deal, and it is in some ways, but during a show filled with performers, presenters, winners and pre-produced clips, a host's biggest job sometimes is just to keep things rolling. Stage presence is key, but it's something the Grammys could afford to take a gamble on in order to add a little variety. It'd be great to see a female host, a person of color, or someone with a niche following who could bring an interesting or underrepresented point of view.
For now, though, the Academy seems to be focusing on the changes they're implementing for the upcoming event. According to People, songwriters and other creators who assisted on at least one-third of an album are eligible to be included in Album of the Year nominations for the first time ever. And per Billboard, the Academy has also upped the number of nominations in the categories of Record, Song, and Album of the Year as well as Best New Artist from five to eight, opening the door to even more potential winners.
The hosting situation might still be a little murky, but there's plenty of other Grammy announcements that deserve your attention in the meantime — including the nominees.