These 'Bachelorette' Contestants Are Still In The Game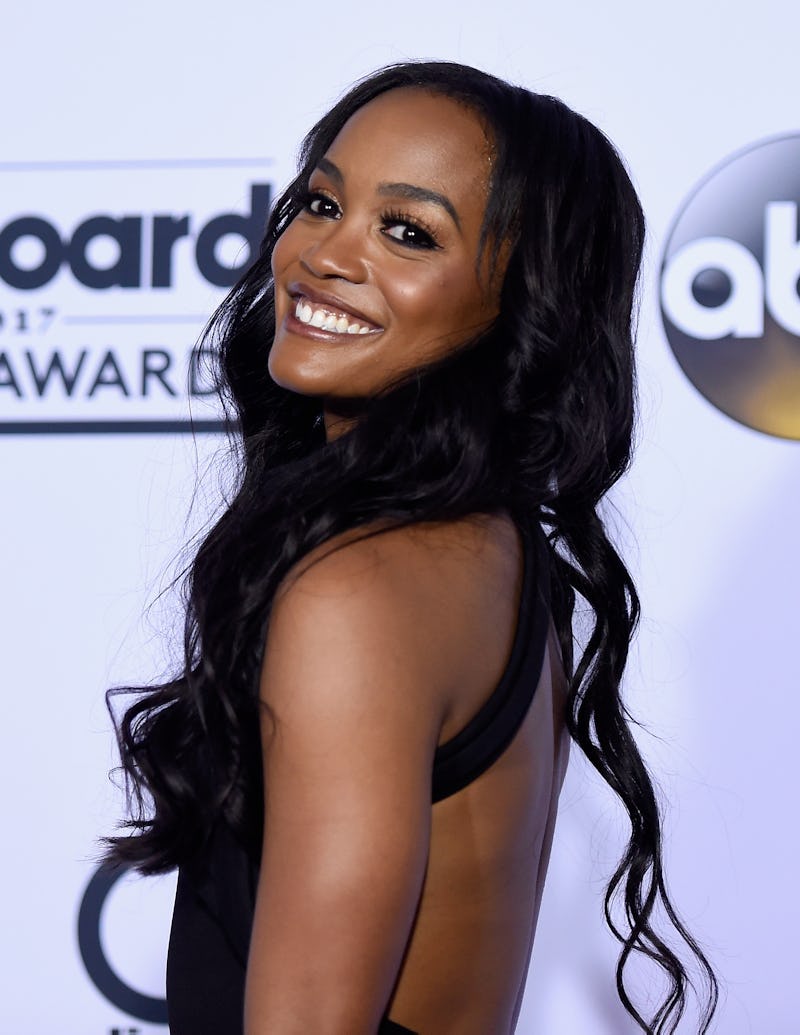 David Becker/Getty Images Entertainment/Getty Images
With a record-setting 31 contestants competing for her love, Rachel Lindsay set off on a journey like no other. But, with the progression of a new season comes the elimination of people from week to week. Who's still left on The Bachelorette during Rachel's season? Sometimes it can be hard to keep track of anyone this early in the game, especially since so many people leave during each rose ceremony (and the occasional group date). That's where I come in. Each week I'll update this list of Rachel's 2017 Bachelorette contestants with who she's booted (ahem, DeMario) and who is still going the distance with her to maybe make it to the end.
After sending home a whopping eight men during the premiere, Rachel showed she's also not afraid to send men home randomly either. You're not guaranteed a rose ceremony in her Bachelorette world, and I love that. She ditched DeMario during a group date, and I'm sure she won't hesitate to do so again if the situation calls for it. After all, Rachel said she's not here to play games — she's here for love. And, I believe it. Here's who can still win her heart and who's down for the count.
~Still In The Game~
Bryan
Eric
Peter
~Sent Home Without A Rose~
Dean
Deanie baby didn't make it to the final rose.
Adam
Adam was sent home right before hometowns.
Matthew
Rachel ditched him in an emotional sendoff.
Alex
Rachel didn't connect with Alex, which is a damn shame.
Will
Rachel dumped Will during his one-on-one.
Kenny
In the end, Rachel just didn't feel it with this wrestler.
Anthony
Rachel sent him packing during their first trip abroad.
Josiah
He was so confident he was going all the way, but Rachel just wasn't feeling it.
Lee
After a disastrous two-on-one, Rachel sent Lee away for good.
Iggy
Talking too much about the drama in the house overshadowed his own chance to get to know Rachel, and she sent him packing.
Jonathan
He couldn't tickle his way to the end.
Jack
Rachel sent Jack home during his one-on-one.
Bryce
Rachel sent him packing.
Brady
He didn't manage to win Rachel's heart.
Diggy
America loved Diggy, but Rachel wasn't feeling it.
Jamey
He left during the second rose ceremony.
Fred
Fred had a huge crush on Rachel, but she did not return the feelings.
Mohit
Mohit unfortunately didn't make it past night one.
DeMario
After his ex-girlfriend showed up to confront Rachel, she sent DeMario packing. He tried to come back, but she wasn't having it.
Blake K.
Poor Blake K., he never even had a chance.
Kyle
He was sent home night one.
Grant
Oh Grant, we hardly knew ye. Because we actually didn't.
Robert
Rob couldn't make a connection during premiere night.
Milton
Milton didn't make the cut.
Michael
This basketball star was sent home on the first night.
Jedidiah
Rachel wasn't feeling it with this guy.
Lucas
And this little Bachelorette contestant went whaboom, whaboom, whaboom all the way home.
Blake E.
Blake blamed Whaboom for his exit, but I think Rachel sent him packing because he doesn't eat carbs. Carbs are life, OK? Just ask Oprah.
Who will win Rachel's love in the end? We'll just have to tune in to find out.