Ronnie's Girlfriend Is Still Super Supportive Of Him Returning To 'Jersey Shore'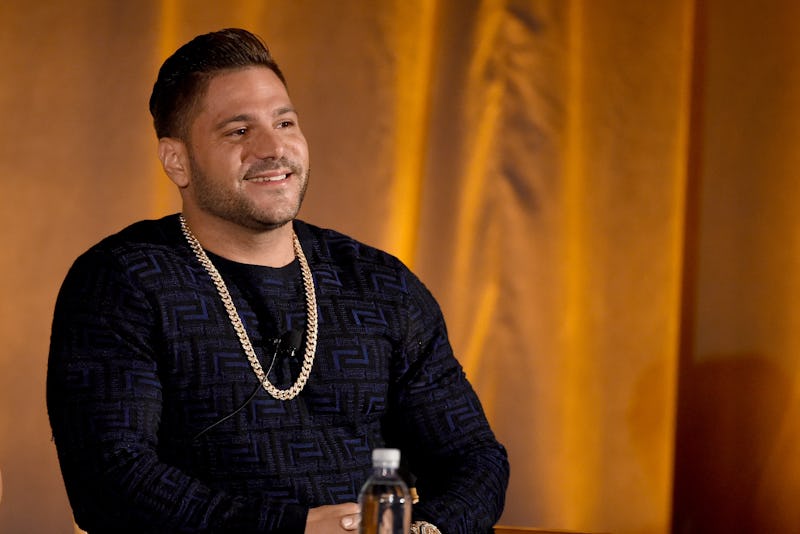 Kevin Winter/Getty Images Entertainment/Getty Images
Jersey Shore's Ronnie Ortiz-Magro has long left behind his tumultuous relationship with Sammi "Sweetheart," which was a huge focus of the show's original run. In the Jersey Shore: Family Reunion premiere, he talked about the new flame in his life and even showed off some of their maternity photos. So, who is Ronnie's girlfriend, Jen Harley?
According to Cosmopolitan, Ronnie first announced Harley's pregnancy back in December, and People magazine reported that she gave birth to their baby — a daughter — earlier this month. "The baby looks just like Ronnie," his co-star Nicole Polizzi, aka Snooki, said in the same People article. "She's tanner than me! I'm annoyed." Per Us Weekly, Harley has another child from a previous relationship. So their brand new daughter, whose name the couple has yet to reveal, has an 11-year-old brother.
While there's not a ton of information available online about Harley, she did appear briefly on the Jersey Shore reboot's premiere, enjoying the rest of her pregnancy while warning Ronnie to be good as he partied in Miami, and joking that be better not "make her go down there." Cosmo also reported that Harley was spotted in Miami for at least a portion of the time the cast was there filming the reboot, and therefore could very well show up again on the show before the season is over. In the meantime, Jersey Shore fans can take a look at her Instagram, @tater_tot_kitty, for photos from her adorable baby shower and snaps featuring her super cute dog.
Aside from the chaos that surely ensued by having Ronnie zip off to Miami for filming while Harley was in the middle of her pregnancy, apparently the birth itself was also wild — Ronnie was on an airplane with his costars when he got the news that Harley was in labor. "I can't get over the fact that we were sleeping on the plane on the way to London and Ronnie woke us up saying, 'Jen's in labor. I have to turn around,'" Jenni "JWoww" Farley told People in the same article linked above. "So we booked his flight before we landed, and when we landed he just got on another flight and went home."
Jenni also confirmed that Ronnie made it back to Harley in time for the actual birth, luckily, despite that bump in the road. She also added that she thinks he's going to be a good dad to the little girl. "You'll watch this season and you'll see how much Ron cares for everybody," she told People. "He looks out for all the girls — he has that instinct in him, he has little sisters. The moment I saw the pictures of him and his little baby, I was just like … you know. You know what I mean? You just know." And that's a good sign, considering all the shenanigans Ronnie got into during his first stint on Jersey Shore. (Not that he was the only one.)
Ronnie said right off the bat in the premiere of the reboot that he was allowed to "look but not touch," regarding other women. And he and Pauly had a conversation about how even if Ronnie not a good husband or boyfriend, he can be a good dad. So there was already a worry amongst fans that he might revert back to his old ways. He and Harley still seem to be together and happy though, soon after their daughters' birth. So perhaps Ronnie really does keep it together and stay faithful throughout the entirety of the show. Family Vacation is all about how much the stars have grown up, after all.