Blue Ivy Has An Adorable Friend At The Grammys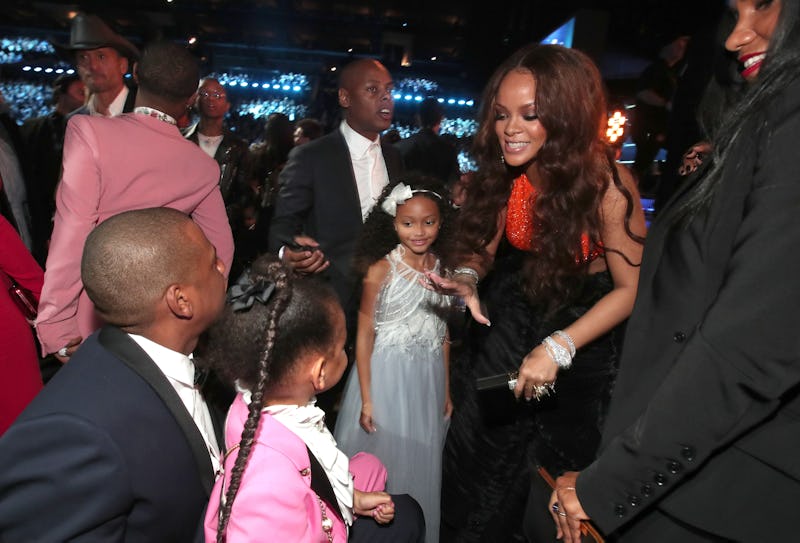 Christopher Polk/Getty Images Entertainment/Getty Images
After dominating 2016 with her landmark album Lemonade, Beyoncé was absolutely going to be a big part of the 2017 Grammys. But, of course, with her daughter along for the ride, she's going to take away at least a little of the spotlight from the Queen Bee. While Beyoncé was accepting the award for Best Urban Contemporary Album, the camera kept checking in with Blue Ivy and a friend of hers who accompanied Beyoncé's daughter to the ceremony. So, who is Blue Ivy's friend?
Despite being the question on everyone's mind, there's no concrete answer to who Blue Ivy's friend is yet, aside from apparently being the coolest girl on the planet. Blue Ivy and her friend provided some of the funniest moments on the Grammys so far, including jumping in on James Corden's Carpool Karaoke bit and being far more interested in spending time with each other than any of massive events happening during the ceremony. The greatest part about Blue Ivy's yet-to-be identified friend being present was her ability to play to the camera, despite not being one of the many superstars — Blue Ivy included — present at the ceremony.
Blue Ivy's friend may have entered the Grammys as an anonymous little girl, but she's leaving as one of the most entertaining personalities in Grammy history.
Maybe it's better that she keep her identity a secret. Much more mysterious that way!