Alex Jones Showed The Lengths You Have To Go Before Getting Kicked Off Facebook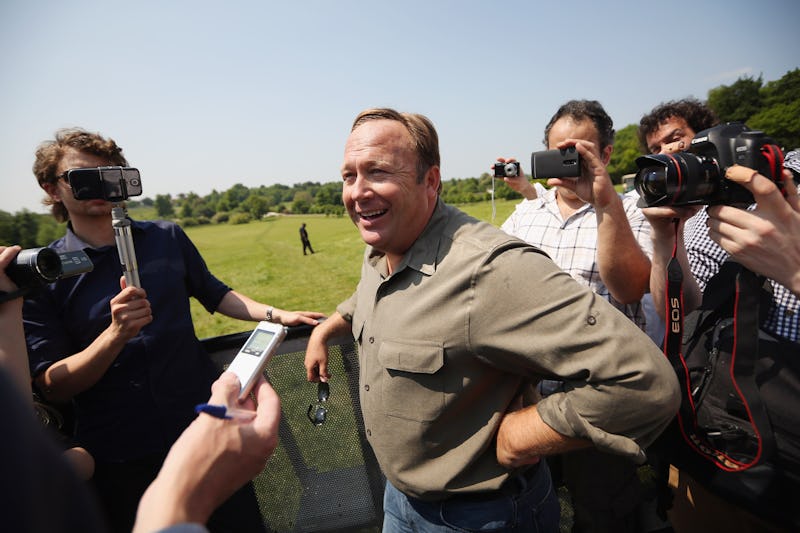 Oli Scarff/Getty Images News/Getty Images
Various social media networks and content distribution platforms have begun dropping political commentator and conspiracy theorist Alex Jones and his content following months of complaints from users. Shortly after Apple announced it had removed almost all of Jones' InfoWars podcasts on Monday, Aug. 6, Facebook, Spotify, and YouTube also banned InfoWars and Jones from their platforms.
Apple was reportedly the first content distribution platform to give Jones the boot, according to BuzzFeed News. The company deleted the libraries of five of the six Infowars podcasts previously available through both iTunes and Apple Podcasts over the weekend, citing violations of the company's hate speech guidelines.
"Apple does not tolerate hate speech, and we have clear guidelines that creators and developers must follow to ensure we provide a safe environment for all of our users," Apple told BuzzFeed News in a statement. "We believe in representing a wide range of views, so long as people are respectful to those with differing opinions."
Following Apple's lead, Facebook deleted four pages tied to Jones on Monday, including the Alex Jones Channel Page, the Alex Jones Page, the Infowars Nightly News Page, and the Infowars Page. In a statement put out Monday, the social media network said the pages were removed because they were found to have content "glorifying violence" and "using dehumanizing language to describe people who are transgender, Muslims and immigrants," putting them in violation of Facebook policies regarding graphic violence and hate speech, respectively.
Spotify also announced early Monday that it has removed The Alex Jones Show from its platform, citing repeated violations of its hate content policy. The company's prohibited content policy explicitly states that users who repeatedly violate Spotify policies will lose access to the platform.
But YouTube became the largest distributor of Jones' content to pull the controversial commentator from its platform when it removed a number of channels connected to both Infowars and Jones on Monday afternoon. Among the channels YouTube pulled was The Alex Jones Channel, which, according to CNN, had at least 2.4 million subscribers and videos with more than 1.5 billion views at the time it was axed. A message on what would have been the channel's YouTube page states, "This account has been terminated for violating YouTube's Community Guidelines."
According to BuzzFeed, YouTube had previously warned Jones that he was in violation of their guidelines by slapping him with a 90-day suspension. They reportedly decided to permanently remove him from the platform after he ignored their warning and continued to stream and post on other channels. YouTube told BuzzFeed that Jones had "repeatedly" violated its "policies against hate speech and harassment" and "our terms prohibiting circumvention of our enforcement measures," which resulted in the company terminating his accounts.
In a response issued Monday, Jones claimed he was the victim of censorship.
But a number of activists and social media users have long called for platforms like Facebook and YouTube to remove the Infowars founder, who regularly pushes baseless conspiracy theories like his claim Democrats planned to launch a second civil war July 4th or his claim the 2012 Sandy Hook shooting was a hoax involving paid actors. At the time of publishing, Twitter was one of the last major platforms to still host and distribute Jones' content.