Why Alison Abdullah Can't Represent All Muslims On 'Orange Is The New Black'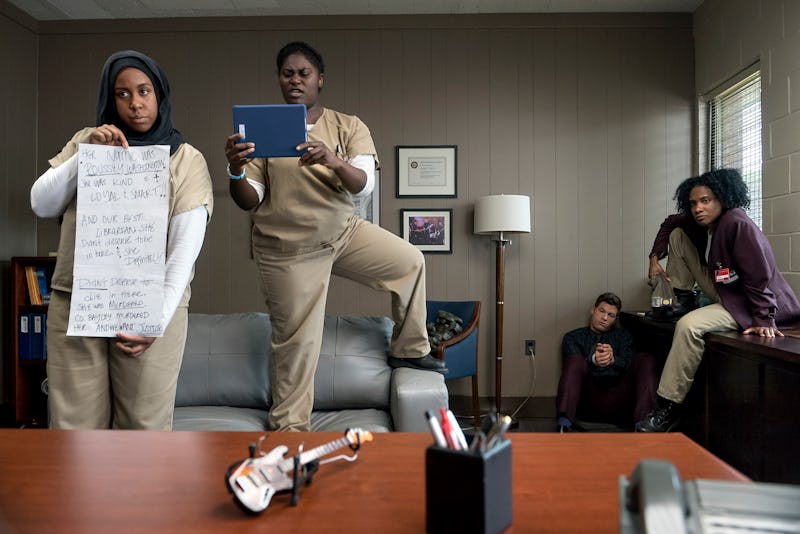 Netflix
The inmates on Orange Is The New Black all have complicated personal lives. For the past five seasons, viewers have met several complex, messy, fearless yet flawed women of Litchfield — and each season gives audiences a new opportunity to see themselves in the inmates and empathize with the challenges they face. In OITNB Season 5, it was Alison Abdullah's turn to have a flashback. She may have only been a part of the show for two seasons now — but Alison is already a stand out character for both her personality and her faith, as she's the first Muslim prisoner the show has featured. Yet actor Amanda Stephen, who plays Alison, tells Bustle that she wants Alison to be more than "the Muslim inmate." As an actor, Stephen says she is responsible for making Alison a complete person as opposed to a stereotype or generalization — and it's not a responsibility she takes lightly.
"I definitely did my research. You have to do the character justice especially being a Muslim character," she says. "You don't see a lot of Muslim characters that are personified. She's in jail and she's a mom and she's seen in the public as just another character, and not just, 'Oh, she's Muslim.'"
Stephen found this distinction to be imperative to crafting Alison's story. By making the character's faith just another part of her narrative as opposed to the sole basis for her relevance on the show, the actor allows the audience to see the woman behind the hijab.
Through OITNB's signature flashbacks, viewers see that Alison is a devoted wife and mother who is separated from her daughter and husband for reasons we have yet to learn. In prison, she shifts from Jewish-convert Black Cindy's enemy to her ally in a passion for faith. Although she is the newest resident of "The Ghetto," where all the black inmates sleep and socialize, Alison quickly commits herself to the riot after the loss of Poussey, whom she hardly knew.
Stephen said, she imagined Alison to be "an organizer." Despite coming into Litchfield with the intention of doing her time and getting home, "She stands up for what she believes is right." Consequently, viewers see her front and center brainstorming demands with Taystee on their quest for justice. But Alison is also on her own journey in prison, and a pretty isolated one and she's the only Muslim inmate viewers get to know. That means Stephen is under a lot of pressure to deliver a universal experience, even though she's just one person.
"The most challenging part is making sure that people can differentiate this is just Allison — who she is, her character and her personality from, 'Oh, this is how Muslims are in general,'" Stephen says. "When you have a marginalized or underrepresented group of people, people like to speculate and make stereotypes. My job was to show Allison — this is who she is as a person and she happens to be Muslim. That's been my M.O. to show that everybody regardless of their political background, race, religion — everyone's unique."
Although aspects of Alison's life remain a mystery, Stephen helped unveil just how strong the outspoken inmate truly is. Never one to be victimized, Alison possesses a resilience that allows her to stay cool, calm, and collected despite her circumstances. Secure in herself and her beliefs, Alison is more integral to the inmates' power shift than she appears. How she'll handle the prisoners' next journey in Season 6 will be an even greater test of faith.