Amy Landecker Joined 'Transparent' At Perfect Time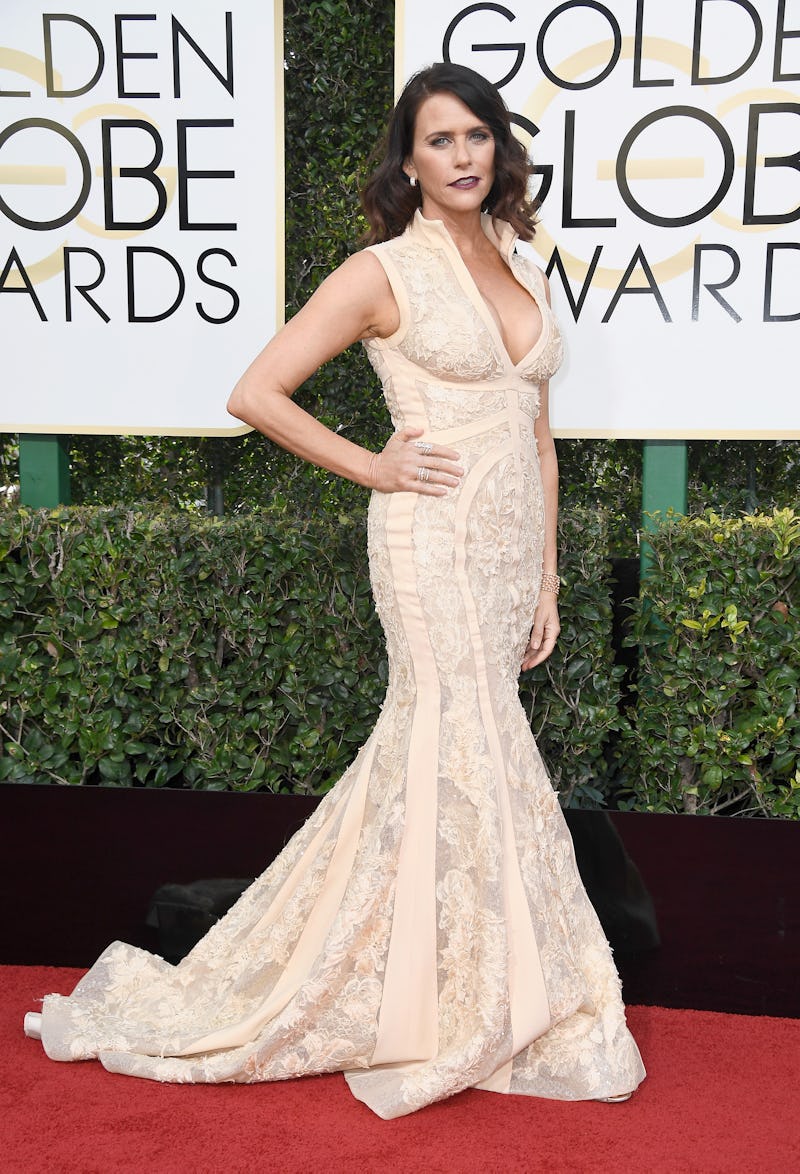 Frazer Harrison/Getty Images Entertainment/Getty Images
On a very A-list Hollywood red carpet amidst awards season, Transparent star Amy Landecker is, in a way, a black sheep. She looks like a starlet, there's no denying that. But as celebs like Justin Timberlake, Emma Stone, and Ryan Gosling dodge by reporters, Landecker takes her time and hangs with the press one-by-one, like it's no big deal. You could say she even feels out of place in the Transparent cast. Three seasons in, she tells me it still "blows [her] mind" that she's part of the Amazon hit, as one of the Pfeffermans, nonetheless. She laughs, saying, "I still think that every year they're going to fire me." Little does she know, she's been referred to as the "secret weapon" of the series. Transparent is where she belongs. And on a personal level, it belongs in her life too.
As the award-winning show (based on Jeffery Tambor's character coming out as transgender) celebrates flourishing in your true identity, the timing of Landecker's involvement in it is pretty spot-on. She explains that she really began coming into her own upon joining the series in her forties. "I think what's really cool is the show is about staying true to yourself and finding out who you are," says the 47-year-old. Ironically, her character Sarah, the oldest sibling, is also on a path of self-discovery (one that includes multiple divorces and a lesbian affair). Landecker can relate now more than ever.
In real life, Landecker is learning to be confident in her choices, as opposed to when she was younger and fresher in the business. "I feel like the upside of coming into a show like this at this point in my career in my forties is that I can really concisely choose to do it, as opposed to being young and really being influenced and not knowing," she says. In a way, the show mirrors her life at this time, as she refuses to be swayed by others. "I can really intuitively figure out how I want to live this chapter of my life. And that's what the show is about."
She says she owes it to the show in teaching her how to live her most honest life. "We're collectively talking about being authentic to yourself and in our lives really, the opportunity to do that," she says. Although she now embraces living authentically, she didn't always. She admits Hollywood has gotten the best of her, especially when the show premiered. "I had people tell me to not eat before events... I was like, 'Oh I need to get this publicist and this stylist and wear these heels'... I just felt like I wasn't myself," she tells The Daily Beast.
Fast forward to 2017, leading up to Season 4, it's like Landecker is a whole new person — one who cares more about being happy than choosing the right dress or second-guessing any other choice in life for that matter.