This Is Why Oscar Celebs Are Wearing Blue Ribbons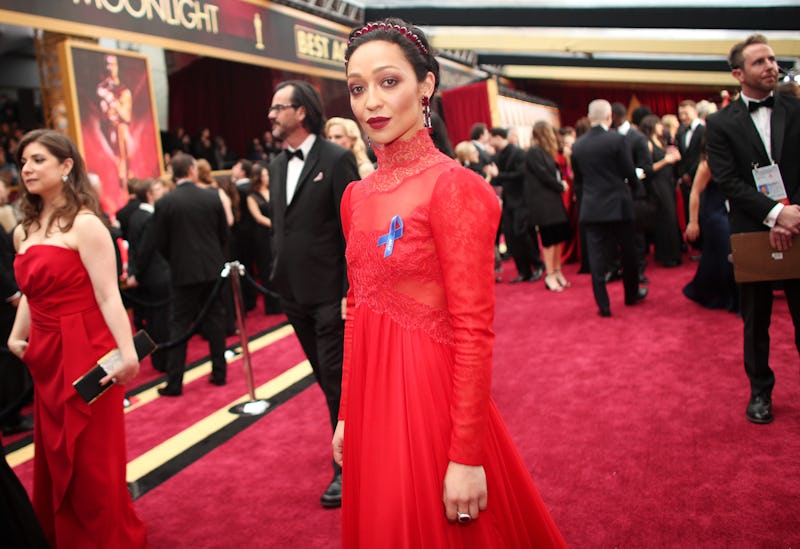 Christopher Polk/Getty Images Entertainment/Getty Images
The 2017 awards season has become about much more than Hollywood's elite patting itself on the back. Celebrities have been using awards shows as platforms to spread social messages, like when Simon Helberg and Jocelyn Townes addressed the refugee crisis. At the 2017 Oscars, celebs are wearing blue ribbons affixed to their high fashion and couture ensembles, like Best Actress nominee Ruth Negga. The stunning star wore a custom red Valentino dress with a high collar and long sleeves, accessorized with a red headband, crimson drop earrings, and scarlet lips. She added a sky blue ribbon to her frock. Why are celebs wearing these blue ribbons to the 2017 Oscars?
According to The Hollywood Reporter, the ribbons represent the American Civil Liberties Union's new "Stand with ACLU" initiative. The program encourages celebs and Hollywood A-listers to wear the ribbon as a sign solidarity with the ACLU, which works tirelessly "to defend and preserve the individual rights and liberties guaranteed by the Constitution and laws of the United States."
That makes the "Stand with ACLU" ribbon the most beautiful accessory of the evening. Sorry, diamond bling! Gorgeous as you are, you are taking a backseat to the "Stand With ACLU" message this evening.
Check out Negga, her stunning gown, and her beautiful blue ribbon.
Negga is nominated for her work in Loving, in which she plays one-half of an interracial couple dealing with discrimination in the 1960s.
Her blue ribbon made a statement of its own and adds a whole other powerful, impactful statement to her Oscar attire.
The empire waist on her dress is gorgeous and is certainly accented by the placement of her stand-taking ribbon.